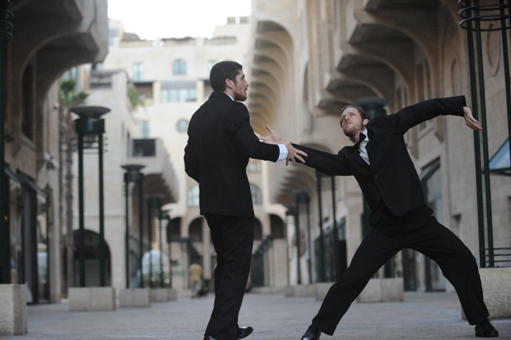 Private I's, a new work by Dana Ruttenberg, performed by Uri Shafir and Ofir Yudilevitch, will premiere at the Curtain Up Festival on November 27, 2010 at the Suzanne Dellal Centre.  Music is a central element in Ruttenberg's choreography, from Kontrapunkt (2008) – a trio for dancer, pianist and grand piano, to NABA (2009), a dance performance with several soundtracks in which the audience, equipped with audio guides, can select the score. In Private I's, the musicians will come onstage to perform live, with a soundtrack composed by Noam Inbar (Oy Division and Habiluyim), and performed by Inbar and Adam Scheflan.
Exploring masculinity and its images, Private I's will have a strong male presence with the two musicians joining the two dancers onstage. "We made the musicians part of the action," says Ruttenberg, "they are like a pair of narrators who create the story. They influence the timing."
Ruttenberg, who is currently studying for an MFA in Dance in a joint program of the American Dance Festival and Hollins University, first began working on the piece while in Virginia. One of her inspirations was a song by Arik Lavie and Sasha Argov: Lama Tzavat et Einayich (Hebrew: why did you paint your eyes?). "I don't know how it got into my iPOD," said Ruttenberg, "I heard it for two months while I was in the US." Immersed in the intellectual atmosphere of an academic program, Ruttenberg recalls, "Because I was thinking so much, I wanted to move and went into the studio with Arik Lavie in a loop. My body was in a different place, in Virginia, experiencing openness, freedom, loneliness."
Returning to Israel with the beginnings of an idea, she says, "I didn't know how the movement would look on men." Private I's originates in Ruttenberg's "desire to look at places where we are still animals." She says, "Choreography has infiltrated every aspect of our lives, even sex. Our lives are choreographed, little girls know what it means to be feminine; gender is choreographed."  In this work, Ruttenberg seeks those rare moments of spontaneity, saying that she finds they appear in extreme situations "when you are afraid or have to fight…those moments when you are suddenly yourself."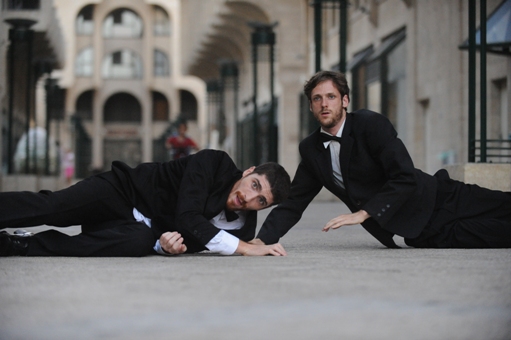 According to Ruttenberg, the finished work is "very much based on the dancers," whom she describes as "brave and curious" saying, "I can think about masculinity but the way they wear it is interesting – the situation of their body and how it moves, the history…they each have their own history." Uri Shafir was with the Bat Sheva ensemble and gaga, the movement language developed by Ohad Naharin is an integral part of his body's "history", Ofir Yudilevitch has been involved in capoiera for many years and danced with Arkadi Zaides, reflecting other ways of working with the body.
Ruttenberg merges the instinctual with the intellectual, saying that often "I go with my instincts and then I understand why I do a certain thing. Images and emotions come to me – like when we dream and later we give them meaning, but these images come for a reason. My work process is to be open to these images. In the end, it all comes together." Arriving from Virginia with a song and the first draft of Private I's, Ruttenberg began an intensive work process with Shafir and Yudilevitch. "When we first entered the studio it was like a handshake," she says, "getting to know one another, how my hand meets theirs. Each one received a notebook and disk on key and we each kept a journal of the process. We sometimes had writing sessions during rehearsals or read things we had written at home. I worked with associations from things like YouTube clips – YouTube generates associations in the same way that our minds do."
In the presentation for Curtain Up, held at the Suzanne Dellal Centre on November 8, 2010, Shafir and Yudilevitch performed a short section from the dance, attired in evening dress. When asked about the costume, Ruttenberg explained, "The costumes were originally inspired by James Bond – it's a kind of masculine pose. I grew up on James Bond, even though it doesn't "fit" Israel: we don't drink Martinis here, men don't wear tuxedos." Although this is the costume that appears in the photographs, the costumes for the finished work, designed by Hagit Abir, will be different. Describing the final version of the costumes as more "opened up to different expressions of masculinity, connecting to associations of Superman, but also more primal, passionate" Ruttenberg adds that "at some point in the performance the costumes are transformed, they somehow come apart and are transformed."
James Bond is only one of the different perspectives on masculinity and male heroes in Private I's, a work which reflects not only the male, but also, inevitably, the female perspective of the choreographer. This multiplicity of perspectives is embodied in the Hebrew version of the work's title: Ishonim, a word which means the pupil of the eye, relating both to private eye/James Bond, to the theme of the gaze and observation, and also the word for man in Hebrew "ish" – to which "ishonim" is a diminutive, literally meaning "little men".
Looking at the concept of heroes, Ruttenberg says that the "Superman narrative is a paradigm for superheroes. There is a narrative, the hero works from internal motives.  In Judaism – who is a hero, he who conquers his yetzer." [the word means passions or instincts in Hebrew, the quote is from Pirkei Avot 4:1 – "Ben Zoma taught: Who is a hero? He who controls his passions."] The same principle holds for Superman, as Ruttenberg says, "Superman can't always be with Lois Lane." Within the context of dance, this creates an interesting tension, as Ruttenberg says, "In dance, a hero is someone who begins to connect to passion."
Private I's will be performed in Curtain 3 of the Curtain Up 2010 dance festival. Renana Raz is the artistic director of Curtain 3 and it will include new works by Ruttenberg, Maya Brinner and Gilli Navot.
Performances will take place at the Suzanne Dellal Centre in Tel Aviv on November 27 and December 1, 2010 at 21:00, and at the Jerusalem Theatre on November 29, 2010 at 20:00.
AYELET DEKEL