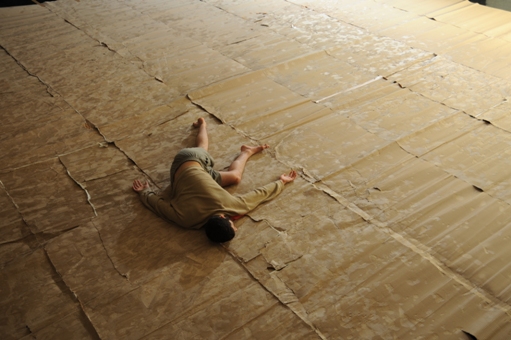 Catching up with dancer/choreographer/actress Iris Erez just before the premiere of Homesick at the 2010 Curtain Up Festival on Thursday, November 25 at the Suzanne Dellal Centre, it is clear that it has been a busy year since she premiered Numbia at the 2009 Curtain Up Festival last December. In addition to presenting an evening of her works – Numbia with two solos in which she performs (next up in January at Tmuna Theatre in Tel Aviv), she was most recently seen on the small screen – as Sharon, the dance teacher in the television series "Hayim Aherim" (Hebrew: a different life) which stars Oz Zehavi (Infiltration) as a religious man who begins to pursue dance.
Talking about the difference between the stage and television, Erez (whose acting roles include Lady Macbeth in that play, directed by Lilach Dekel Avneri) noted that seeing the television show was the first time that she could view her own performance, "To be outside myself, to see my character as apart from me." In television, as in film, scenes are not shot in sequence, and while she enjoyed the experience, Erez said, "It's a fragmented experience I didn't experience it as a process," in contrast to the experience on the stage, whether in dance or theatre, where rehearsals work towards creating a whole, which is experienced by the performers on the stage as well as the audience.
Erez, who has danced for choreographers Yasmeen Godder and Arkadi Zaides as well as in her own works, is strongly identified with performance, last year's Numbia was the first time she created a work in which she did not perform. Homesick will be performed by Asaf Aharonson, Ofir Yudilevitch, and Tami Leibovitch. Erez is outside once more, observing and guiding the process, but performing remains a central part of her identity as an artist: "To perform, to experience a process as a continuum still engages and challenges me. The first thought was that I would be inside, but I felt that I needed to step out. Tamar Borrer, who was the artistic director, said Iris, you have to be in it…and the dancers said at one point – Iris, just come in! But I didn't feel that it was right."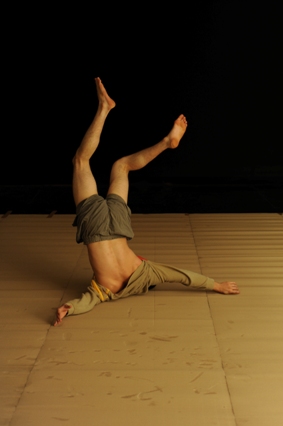 "When you are doing a solo you are both in and out, you are your own witness. When you work with people – I did a duet with Sasha [Alex Shmorek] I enjoyed it but it was hard to be inside the work and observe from the outside as well. Where do I feel at home? It's clear that it's to perform, to dance. The struggle is to remain outside and to create a world. I haven't found the formula for how to be inside but I don't want to give up I want to dance in one of my own works."
Choreographers who are also dancers often do perform in their own works. There is a strong temptation to do so, not only for the obvious logistic reasons, but because, as Erez says, "You know, as a performer, how to convey what you want. How do I show someone else how to follow my path?"
Questions of inside/outside, explicit/implicit are driving issues in Homesick, an intensely powerful trio that works on many levels of associations, individual, artistic and political. Although she says that at first she thought of creating a work for four or five dancers, working with three dancers "creates an unbalance," which, in this case, serves the theme well. Homesick began in the desire to create "Something more connected to this place, this space."
"For many years I took pictures of myself in hotel rooms. Self portraits made during on all my travels as a performer. It sounds super-narcissistic," she smiles, "always documenting…almost always the same – a hotel room, a home, but not my home. This space that is the same everywhere becomes a temporary home for a short time." The photographs became an installation in the International Video Dance Festival 2010, under the artistic direction of Guy Gutman, director of the School of Visual Theater in Jerusalem. In Homesick, Erez says, "I wanted to open up the focus and perspective – less about me and more with what surrounds me –  this space, this place… home…to be outside, to look at the place, to say something about it – this place. I feel most at home here. I have a tremendous amount of criticism. It's tragic, this place. I don't see myself leaving, despite all the difficulties and where things are going…"
The complexity and difficulty of this perspective is one of the underlying themes in Homesick. Describing the process, Erez said that together with the dancers, she explored what it means "to feel at home, to find your place among others in a place that is enclosed and crowded. A piece of land, an intimate physical space with something, always in the back of your mind that demands presence…We worked a lot with foreignness in relation to the place, with yourself, feeling foreign, strange. The circumstances of strangers compelled to be next to one another." One of the ways in which Erez maintained this feeling was through working separately with each of the dancers so that they would retain some sense of unfamiliarity.
This feeling is enhanced by the physical space created in Homesick – it is performed on a surface of corrugated cardboard, creating a physical presence and entity which each dancer in some sense claims as his or her own. Erez says, "I knew that I wanted something as a dance surface. I had thought of newspapers. I consulted with Hila Ben Ari, an artist whose works with paper have always moved me. I was afraid of working with this material. It's a little like a playground, but it's also a little mevaes [Hebrew slang: depressing]. It's a very tiring material to work with, very random. It reacts differently every time." One of the qualities Erez liked about the cardboard was that it gives the work "an image of something shifting beneath your feet."
Although in many ways it was a pain to work with – the "floor" has to be laid down and taped together before each rehearsal, and then patched up and stored, in keeping with the theme, Erez was grateful that Bikurei HaItim "gave it a home" – in addition to rehearsal space, Erez was able to store the cardboard at the dance center. In the context of the performance, Erez says, "The material is another performer in the work, it's a process."
Another aspect of the process that was much appreciated by Erez was working with dancer/choreographer Tamar Borrer, artistic director for Curtain 1. Erez said, "We are very different. I wanted to work with her, she interested me, I was curious. We come from different places but I felt very close to her despite the differences. There was always a sense of dialogue even when we did not agree. The dialogue with her gave me a lot of material to work with, and she was very much with me through the process."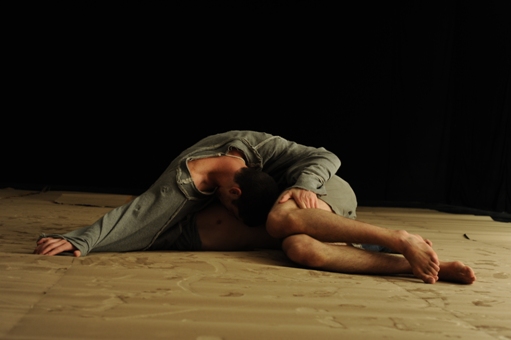 Seeing a run of Homesick in the studio, one senses the intensity of the tensions that run through the work, enhanced by the soundtrack which includes both the evocative "Lost Wisdom" by Mount Eerie, and original music by Reckless Feet. Although it is a work for three dancers, all three are rarely onstage at once, usually appearing alone or in pairs, something which emphasizes the relationships as an element within the piece. Erez says, "Much of the material comes from the dancers. The design is mine, the filter, but each one brings his own world." She reflected that it was not an easy piece to work with, "There is a lot of closeness and intimacy. The dancers had to contend with a lot, even feeling the sweat in someone else's shirt – like two peoples, nations, who have to live like this here." The dialogue between the personal and political realm in the work is always present, and always in the realm of allusion and association, an undercurrent, as Erez refers to it "something in the back of the mind."
When I comment that the work ends on a very lyric note, with a sense of beauty amidst the destruction, Erez responds, "I don't like catastrophes. This place needs change, people need to be brave and make decisions. We are living on borrowed time and what is happening on the other side of the wall is horrible…perhaps creating some distance to look, to understand that this is what we are doing to this place… when you are in it you can't see it. To create something poetic is to create a point of view, a place from which you can see how heart-rending it is. The fact that you can look at it and say that it is beautiful, also asks the question: is it beautiful?"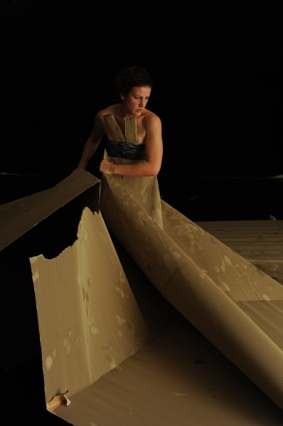 Homesick by Iris Erez
Performers/creative partners: Asaf Aharonson, Ofir Yudilevitch, Tami Leibovitch
Music: Mount Eerie, Reckless Feet and Silver Mt Zion
Costumes: Inbal Lieblich and Tamar Levit, Lighting: Tamar Or, Production: Alon Schwabe
Homesick will be performed as part of Curtain 1, under the artistic direction of Tamar Borrer. Curtain 1 includes: Homesick by Iris Erez and Father and Feather by Michael Getman. Performances will take place: November 25 at 21:00 & December 3 at 22:00, Suzanne Dellal Centre, Tel Aviv, tickets – 03-5105656, and December 2 at 20:00, Jerusalem Theatre, Jerusalem, tickets – 02- 5605755.
AYELET DEKEL