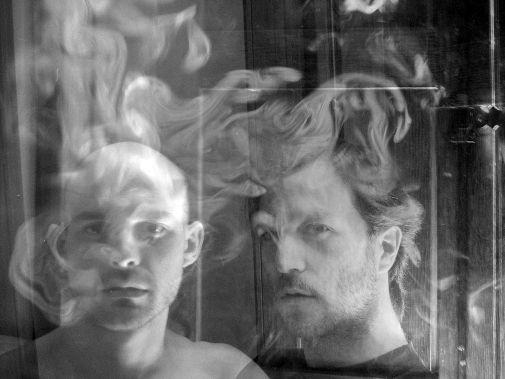 One enters a scene already in progress: three women and a man sit on the rough concrete floor of the warehouse in Jaffa Port, the fifth, another man, is walking; figures in a landscape, each surrounded by space, enclosed in solitude. On the ground: a knife and a persimmon. The vast room accentuates small details as they unfold in time: the taut expression on a woman's face, a man's hands digging painfully, compulsively into his own back, a woman covering her nakedness with bread, hands and mouths grasping, tearing, feeding off her.
This is the opening situation to What On Earth, a new work by matanicola, which will premiere on Thursday, December 12, 2010 at Warehouse 2 in Jaffa Port. What on Earth was commissioned by the Hamama at the Acco Theatre Centre, as part of the Culture Lab – an alternative platform for creating new works, established by the Artistic Committee of Mifal HaPayis to promote culture in the periphery. Matanicola is the creative duo founded in 2005 by Israeli choreographer and performer Matan Zamir and Italian choreographer and performer Nicola Mascia, who met with Midnight East in Jaffa this week to talk about their creative process.
The two met as dancers in the Sasha Waltz & Guests Company. Both had extensive experience as performers, working with several well-known companies and choregraphers: Matan with the Batsheva Dance Company, Yasmeen Godder and the Inbal Pinto Avshalom Pollak Dance Company, and Nicola with Emio Greco and Constanza Macras among many others. They were at a stage in their careers when they wanted to create their own work, and knew that they were interested in a collaborative endeavor.
"We seek interferences in our vision," said Nicola, describing their interest in the different collaborative projects that matanicola has undertaken. Their first dance work, Under, was created in collaboration with Yasmeen Godder and won the Kurt Jooss Award in 2007. Under explores issues of identity and relationship, a recurring theme which can be discerned in different variations throughout their work, with material and visual elements, such as clothing, as a powerful symbolic and physical presence. Yet each project takes the two on a different trajectory, as can be seen in Ladies First, a work for six male dancers inspired by the cabarets of Berlin in the 1920s, playing with concepts of gender ambiguity created in collaboration with Ron Amit, Alessandro Bedosti, Andrea Fagarazzi and Arkadi Zaides. What On Earth marks a departure of sorts for the creative pair – it is the first time that Matan and Nicola will not be performing in their own work.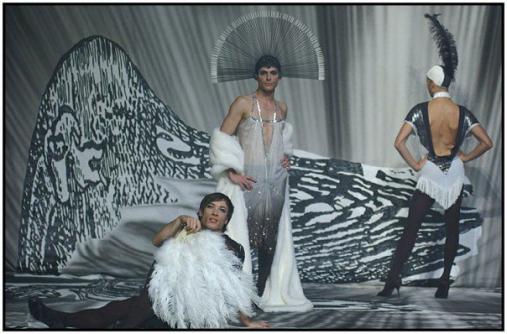 The suggestion to create a work in Acco came when matanicola were in the midst of creating a different piece, a duet that will premiere in Berlin in February, 2011. The two were very interested in working in Israel. "We felt very inspired here," says Nicola, saying that they had previously toured in the area with Sasha Waltz, performing in Beirut, Damascus, Ramallah, East Jerusalem and Cairo, "we experienced the other side of this area. It's amazingly emotional. There are all the preconceptions – the papers, problematics, politics – but when you come and experience the humanity, it's so different. This place is a kind of melting point of international interest, the involvement with the state, possession and borders influences people's perception of the other."
They began a process of working on the two very different pieces in parallel, the different strands of the two projects spiraling around and reflecting on one another. The first phase of auditions for What On Earth was handled long distance at first, as they looked through CVs of 65 applicants, winnowing them down to 35, then 12 and ultimately (after coming to Israel) the five dancers performing: Michal Agasi, Yasmin Farber, Lilach Livne, Andreas Merk, and Gal Naor.
The duet is a coming together of two solos. During artistic residencies in Spain and Holland, Matan and Nicola each worked alone in the studio, showing one another their work only in the last week and a half of the six week journey, as they described it: "We split apart then clash back together. It still reads as our signature." Nicola recounted that he had never done solo work before, saying that at first, "being in a studio by myself freaked me out." 
While their work on the duet took them each alone into the studio, the work in Acco was a communal experience, living together with the dancers for two months in an apartment in the Old City of Acco. They felt from the beginning that they wanted to do something that related to a community, a group that was like a micro-society, a concept that was mirrored in the process. For Matan and Nicola the place provided an "amazing inspiration" connected to the essential questions they explore in their work: "how do you define your identity independent from state or gender? Your life, your being, what you do…" Their initial research involved exploring the Old City of Acco through museums, books, history, and perhaps most important, the stories they heard from people living and working in the city, from Haled, whose memories of the theatre go back to his childhood, when the building was a mental hospital, to the cleaning lady who gave the dancers a workshop on the different ways of tying on the traditional headscarf.
Rather than a political statement, Matan describes their work as "a proposal, it's how we see things." Nicola adds, "It's a cinematic view of the world, turning the camera to see what lies behind. We started with something local, specific, hopefully it will read not as one specific dot but as something more universal." Expanding on their notion of the cinematic perspective, Matan says that they "want to keep it open" with an element of humor in the work, "we take a situation, arrive at a point and then twist it around to see the other side. We keep the image but change everything around it." Much as the way the movement of the camera has the capacity to hide and reveal elements onscreen.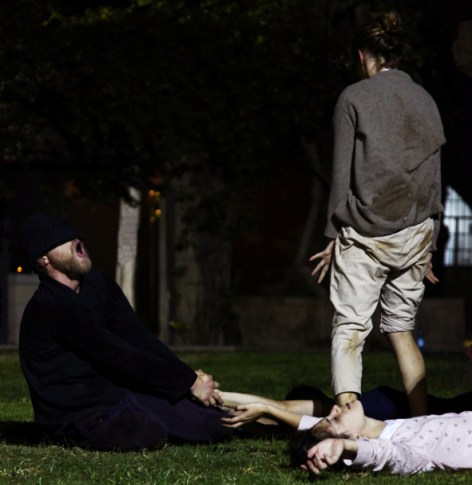 The visual and material elements hold a very prominent place in matanicola's work. Nicola says, "We are maniacs about details," going on to comment that in Germany "aesthetic, visual research has been neglected in the last 20 years. It's considered frivolous and superficial by conceptualists. But you can find a depth of beauty, and find the beauty in the ugly." "Especially," says Matan, "as we are using trash as a set." For manticola, "Connecting to painting or fashion doesn't mean it doesn't have a concept," says Nicola, "Body and physical presence, the human emotional expression of physicality, extending to sound, music, clothing –  how does the concept comes from the body to the mind."
This approach is conveyed through Matan's work with the dancers, which begins with about two and a half hours of movement research that he describes as a "new world of discovery, a very slow long accumulation…expanding your ideas about your body in connection with the soul/mind. I come super empty to the studio and for about ten minutes sense the situation in the studio, the dancer's needs, and start a journey. Sometimes I propose ideas and images; sometimes it can start with stillness for a long time. I tell the dancers not to move until they know what to do. It's self-questioning in real time…to take all our knowledge and clash them in one pot and blur it."
This merging of knowledge, physical, emotional and intellectual, is a sensibility that pervades their work. When asked about the relationship of their work to dance forms and installation, Nicola describes their process as "erasing labels and definitions, relating to different forms of art as art." Matan says, "Nothing is one thing, everything is everything. You can use everything around you to make it happen. You can see dance and see a painting in it."
Bread is used in this new work, something that Nicola describes as "a visual necessity to the work more like layering. Until now we never used food in our work. My mother never threw bread away, even today if a piece of bread falls on the floor she picks it up and kisses it." Matan interjects – "She makes an amazing cake with left-over bread!" They felt that using the bread was essential to the integrity of the work, Nicola said, "the image of food is strong, meaningful, deep – eating each other, feeding each other," yet in order not to feel that they were wasting food, they insisted on fine-tuning the details, to work with a quantity of bread that could actually be consumed by the dancers.
Inside and outside merge in many ways in this work, in the concept and the process, where the life and work of the choreographers and dancers was completely intertwined, and for matanicola, the viewing experience is also a form of encounter where the line between inside and outside is twisted, blurred. When Matan comes to see another artist's work as a member of the audience, he says that he feels as though he is "part of the work without needing to do anything. I don't want to participate, but want to feel that I am part of it. There are many layers of involvement…at the end of our piece there is a solo of Yasmin – she is tired, overwhelmed, cannot deal. It's important to share this with the audience – the sense of overload, annoyance, please lets end everything, stretch over the top to make them feel uncomfortable, to feel exhaustion. This energy that flows between the audience and performers, without imposing physical participation – the audience makes an active choice to be in it or not. If I don't feel or experience anything it's a waste of time – I love the feeling [while watching a performance] when I really hold myself not to enter the stage."
What On Earth by matanicola
World Premiere: Thursday, December 9, 2010 at 21:00, Warehouse 2, Jaffa Port.
Additional performances:
December 10, 11, 14 at 21:00, Warehouse 2, Jaffa Port. Tickets 95 NIS, 03-5107070.
Tuesday, December 21, 2010 at 21:00 as part of "Mahol Shalem" Festival in Jerusalem. Tickets: 02-6251139.
Thursday, December 30, 2010 at 21:00 at the Acco Theatre Center. Tickets" 04-9913834.
AYELET DEKEL