Tel Aviv Museum is celebrating a munificent gift: a bijou collection of German Neo-Expressionist paintings from the 1970s and '80s donated by Susan and Martin Sanders of New York. The Museum's collection already contained fine examples of the paintings of Anselm Kiefer and Georg Baselitz, representatives of the immediate post-World War II generation, who undertook the painful task of facing their country's horrendous past through their art. But the generation that followed them, born during or just after the war, and bringing a fresh spirit to German painting, was until now barely represented.  Thanks to this gift enriching the collection with paintings by some of the most important artists of this younger group – Rainer Fetting, Salome, Helmut Middendorf and Peter Chevalier – this gap has been prestigiously filled.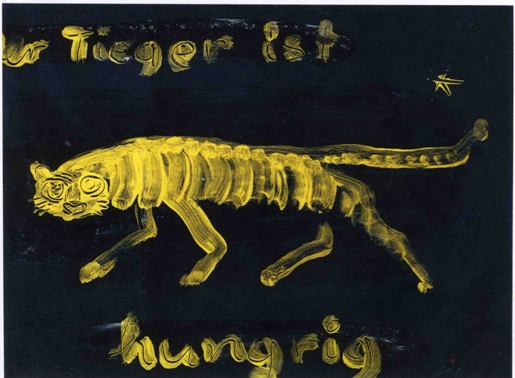 The fifth painter represented in this collection, albeit by a single painting, bridges the generations. He is Karl Horst Hödicke (b.1937), one of the pioneers of the Neo-Expressionist movement that set aside conceptual and minimalist art in favor of a 'return to painting.' As a professor at Berlin's Hochschüle für bildende Künste while Salome, Fetting and Middendorf were studying there, Hödicke was highly influential: alerting his students to international trends as well as revealing to them the possibilities of painting, a medium that had stagnated for more than a decade.
Hödicke was known for his 'portraits' of Berlin that conveyed a sense of threat and distress beneath its vibrant exterior; anxieties to be expected from the citizens of an isolated city living under the shadow of the Wall. This effect was achieved through depictions of empty, harshly illuminated streets and buildings; or by the introduction of wild beasts into his paintings, metaphors for impending disaster. In Tiger, a small but powerful work in the Sanders collection, painted in the year that the Wall was brought down, the animal's body takes shape by means of translucent layers of fluorescent yellow paint. This luminous effect recalls the flickering lights in Hödicke's views of Berlin at night. The phrase The Tiger is Hungry scrawled across this image adds to its menacing impact.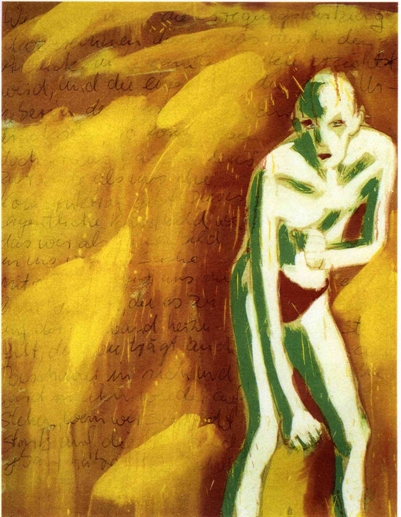 Salome's Kirchner Letter is one of the dominant pieces in this collection. A large format, garishly colored painting it is brushed with a freedom derived from knowledge of American abstract expressionist painting. It is a typical second generation work, both from the painterly aspect, and as regards its subject matter, being one of the many revealing portraits that Salome made of himself or his friends.
This painting is based on a video clip of a provocative show staged in a Berlin night club in 1979 where Salome appeared nude. In this instance, his figure is set against a handwritten text on the theory of art written by German expressionist painter Ludwig Kirchner (1880-1938), an artist who Salome admired. A description of this painting by Ahuva Israel, the exhibition's curator, suggests that Salome's pose may transmit humility. But this interpretation is questionable. Following years when homosexuality was outlawed in Germany, Salome, an performer as well as an artist, was fearless in expressing his sexual identity. Viewed in this light, the pose that he adopts, can perhaps, be described more aptly as defensive.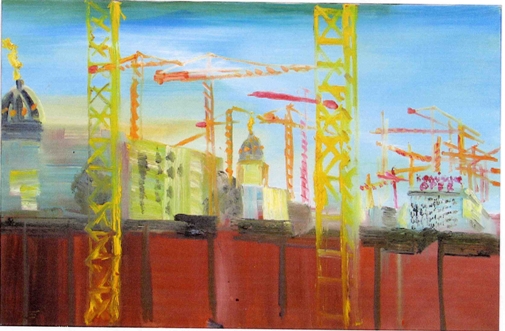 Martin Sanders chooses works for his collections on an intuitive basis, becoming acquainted also with artists who painted them. From a group of sketches, small portraits and paintings by Fetting, including one of the Sanders family celebrating Shabbat, it is clear that this artist, in particular, became a family friend.
Fetting is also represented by other large and more impressive paintings, including one from 1994 – when Neo-Expressionism had passed into the history books. 13 years earlier when the city was still divided,  Fetting returned from a study-trip to New York and created a group of somber paintings of Berlin and the Wall using the figure of Van Gogh as his alter-ego (an example is in the Sanders collection). In contrast, the work from 1994 depicting the construction of a shopping and leisure complex in the center of the unified city is rendered with thin washes of paint in a light-hearted manner.
Yet, there are elements in it that contradict this impression. To the (viewers') right Fetting has painted in the Comic Opera House, identified by the name scrawled across it. During the war, this landmark building housed Hitler's Strength through Joy organization before it was bombed, and then rebuilt. Fetting, himself, describes this painting as having significance beyond the mere portrayal of cranes: "I painted everything in red here, it was supposed to have another meaning…the past, Potsdamer Platz, what's buried there, and history".
The exhibit has no closing date. Tel Aviv Museum of Art, 27 Shaul Hamelech Boulevard, Tel Aviv. For more information: www.tamuseum.com
 THREE CONTEMPORARY ARTISTS FROM BERLIN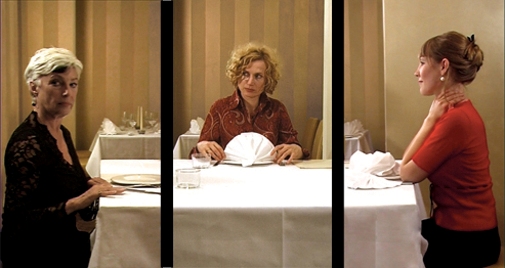 THE GALLERY of the Artists Residences, Herzliya, is hosting the work of three woman artists from Berlin, all with impressive credentials.
The possibility of hidden traumas underlies both Susanne Weirich's video work and Miriam Vlaming's paintings. In Weirich's White Lies, three women from different generations are seated at a restaurant table waiting to order their meal. The screen is split into three, with separate cameras recording their individual actions and responses. They sit in silence, punctuated with sighs, bursts of hysterical laughter, or ambiguous utterances such as 'I'll find out one day' or "I don't know what I found." The impression, effectively conveyed, is of a family secret that none of the women dares to bring out in the open.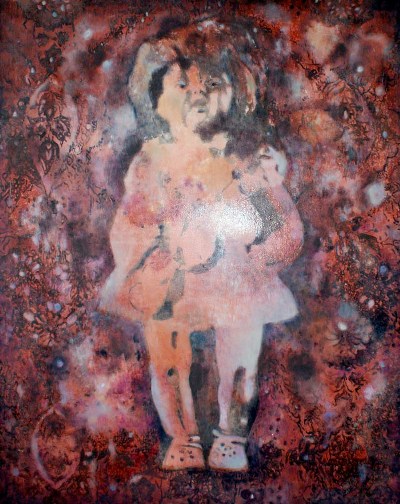 Vlaming is showing two large paintings whose images are derived from internet photos of children's dolls. One of them, rendered in a dense pastel palette, is called Bunny Rabbit; apparently because a toy animal is held in the arms of the doll. But Vlaming has reduced and abstracted much of the original details almost to vanishing point so that is difficult to make out anything more than the vague shape of the little creature. Looking at this melancholy work, one thinks not of abandoned dolls but abandoned children, or else of childhood memories too painful to let go.
The third participant Nicole Schuck is exhibiting a set of superbly executed pencil drawings rendered in the fullest range of light grays to deepest black,. In a style moving between naturalism and fantasy she depicts the body parts, skin or fur of animals, amongst them a porcupine. These drawings are beautiful to look at, but they also allude, perhaps intentionally, to topics of general concern, such as Man's cruelty towards animals. 
Gallery of the Artists Residences, 7 Nordau St., Herzliya Bet.
This exhibition, closing on Dec. 9, is part of a municipal project for hosting artists from abroad. More information: www.artistsresidence.org/
ANGELA LEVINE