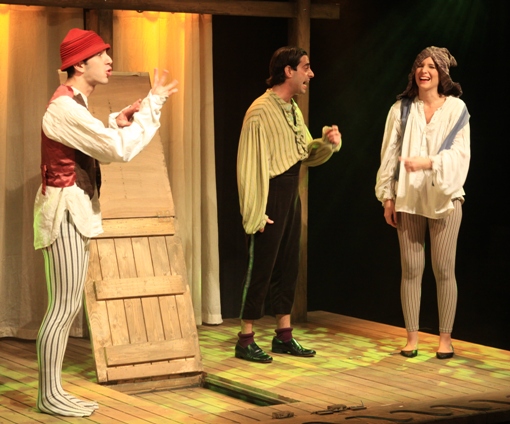 Opening the Short Theatre Festival 2010 at Tzavta this past Wednesday was Gush Lekha – a hilarious parody of the ever-popular telenovela art form written by Roni Hadar and Ori Orian, directed by Rotem Keinan, and performed by Hadar, Orian and Yuval Stunis.
A woman gives birth to four babies in rapid, surprising succession – each one suddenly emerging like a new message popping up in the in-box. Attended by the local priest and midwife, the first baby is still-born, but the mother has little time to grieve as her belly pops out again and she gives birth to a fine, healthy boy. Her belly pops out again and she gives birth to another son, then picking up the pace, she pops out another kid – but this one is ugly, so ugly that she orders the midwife to take the baby away. The priest warns her that she must not reject the baby, but the woman refuses to listen and as a result she and her children will be cursed: if one of the brothers marries, and the brothers meet at the wedding, they will both die.
Ridiculous? Of course, that's the point. Gush Lekha is utter nonsense, a madcap comedy executed with perfect timing, elaborate distortions of pseudo-elegant speech, shocking disclosures, live music and even a trap door! The woman, midwife, priest, Rodriguez the favorite son, Xavier the less favored son, Justine the fiancé, the nun, the sailor, the orphan, Justine's six sisters and possibly some other characters I've forgotten, are all played by the three actors, maneuvering in and out of costumes and in, out and around the simple set in a 25 minute montage of deliciously comic moments.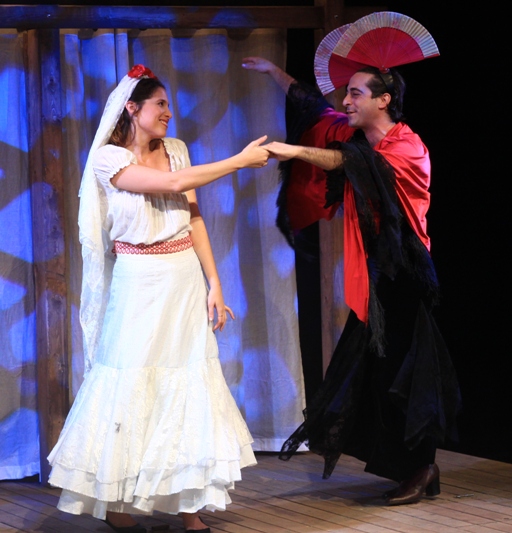 Making the most of the form, the very short play is studded with humor – visual and verbal. The gallant Rodriguez saves a deer from a fire and gives instructions to care for the animal by "laying it gently on a soft bed of potatoes and rosemary." When Rodriguez and his fiancée Justine hear a crow, he reassures her, "Have no fear, my little one, see how handsome I am!"  Not to mention Justine's many beautiful sisters, who give her very graphic and gruesome descriptions of all that awaits her on her wedding night.  It all works, and works beautifully.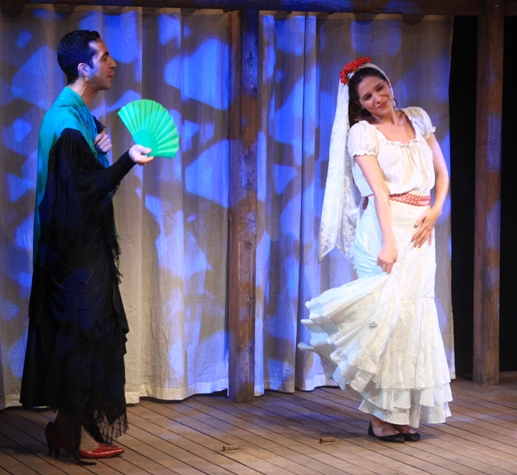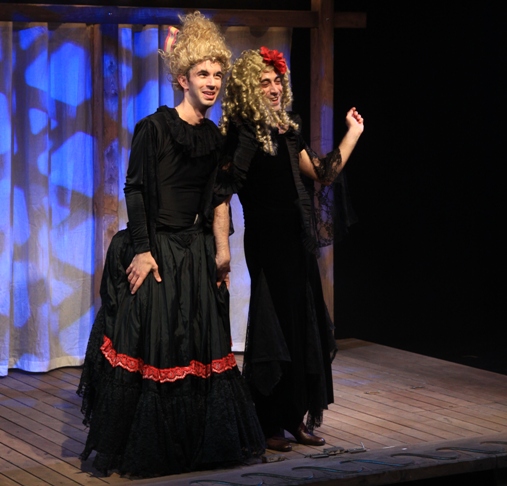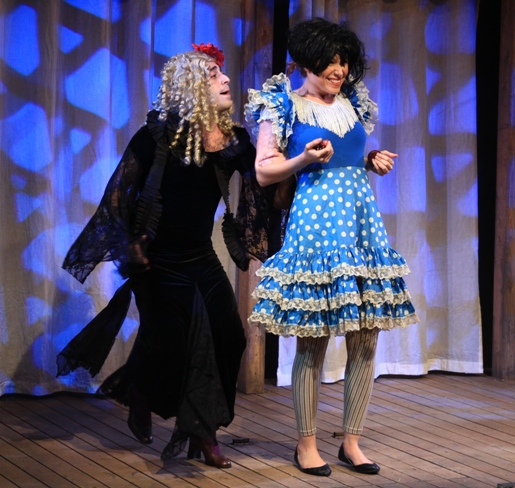 Gush Lekha by Roni Hadar and Ori Orian, directed by Rotem Keinan.
Music: Ziv Kessel. Classical guitar: Yair Ferber.
Performers: Ori Orian, Yuval Stunis, Roni Hadar.
AYELET DEKEL