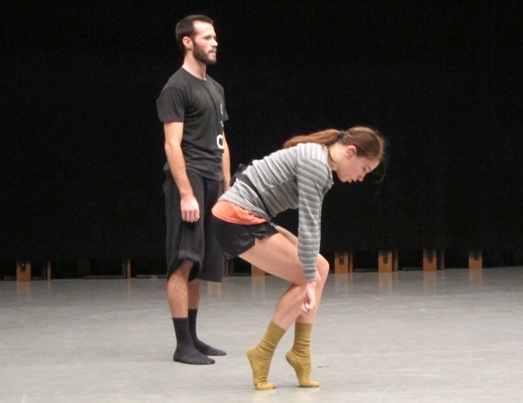 MAX is back! The Batsheva Dance Company will be performing Ohad Naharin's MAX from January 5 – 8 and March 8 & 9, 2011 at the Suzanne Dellal Centre in Tel Aviv.
Naharin invited the press to an open rehearsal of MAX that took place in Batsheva's Varda Studio in Suzanne Dellal – a wonderfully spacious black box with room for experimentation. For Naharin, the creative process is ongoing and the dance works take on an almost organic character, changing and evolving over time.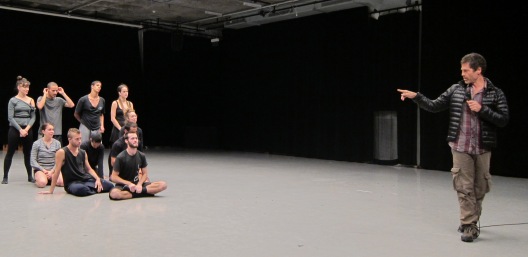 Watching the rehearsal in progress, the energy of this experimentation is in the air, and the dance to word ratio is just the way I like it – nowhere near even. MAX has many sequences, each with its own mood and flow. In his work with the dancers, Naharin gives a name to each sequence for easy reference during rehearsals. When the dancers work on a sequence called "Isa Nori" he explains to the visitors that the dancers "know that I have constant debate with this section."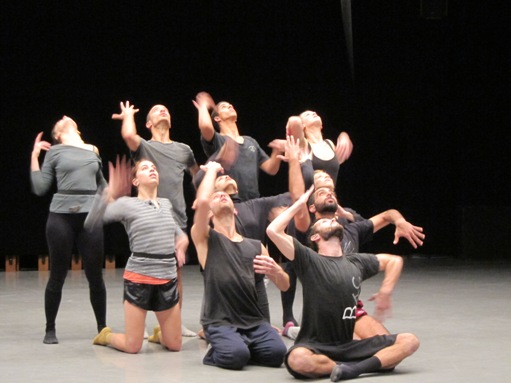 In "Isa Nori" the dancers kneel in a group, facing the audience, their bodies almost immobile, with only the hands and upper body involved in a series of articulated gestures that give the impression of a symbolic private language. After they perform it once, Naharin says, "What if we double the speed and create a little bit of discomfort?"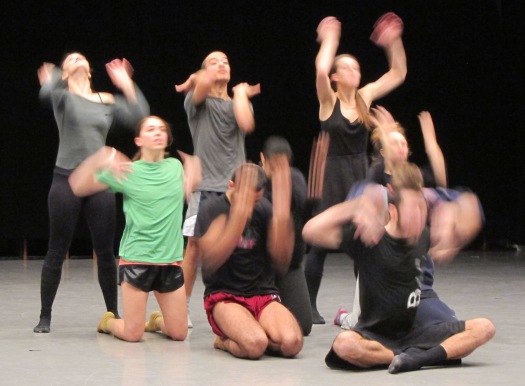 Then they move on to "Yash" a sequence that is truncated by complete blackouts between its internal segments, the light revealing a solo that is then taken up and developed by the group. Contrasting elements – the one and the many, slow undulating movements and sudden shifts, create a stimulating tension. When they finished, Naharin said to the visiting press, "We can think and talk a little together but perhaps before we reflect, let's dance some more," and the dancers continued with a sequence they call "Russian Jazz."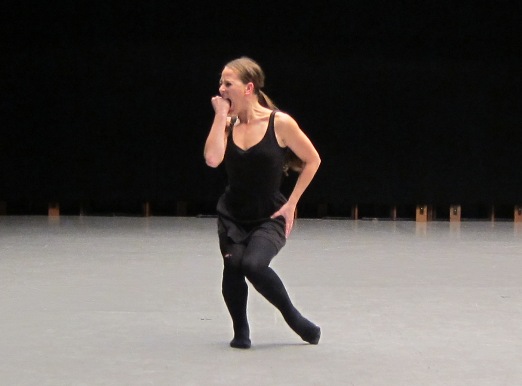 Later in the conversation, Naharin shared his perspective on his creative process, saying, "It is the continuation of a process that does not end with the premiere. Dance is a disappearance act; it allows us to discover it anew each time. The work does not end – there is no deadline marking the end of a process for me." One of the inevitable changes that occur in any dance work over time is a change of cast. Yet Naharin said that the changes he introduces into a work are not products of necessity, saying, "It is created from my obsession not affected by the fact that the cast changes. There are new interpretations and discoveries that nurture one another. The change is not for the sake of change."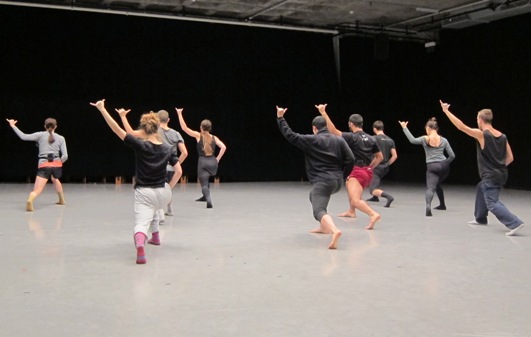 Naharin explained that when he creates a new dance work, he has a sense of the "spirit of the work" and through it, a knowledge of the elements it will contain, although these may change over time, through the process of working on the dance. When he first created MAX, Naharin says he "planned to make a work with a quiet soundtrack." The final product, with original music composed and performed by Maxim Waratt and music production and mix by Ohad Fishof may not be what most people would consider "quiet," yet Naharin says, "The quiet takes on more meaning when it is in the spaces…a slight decrease in volume creates an enhanced awareness…quiet is a place of surging life and music can also symbolize this thing that I call quiet."
The final word is that there is no final word, as Naharin says, "The process takes place in a playground that I create, and it has its own rules, and the good part is that we can break our rules."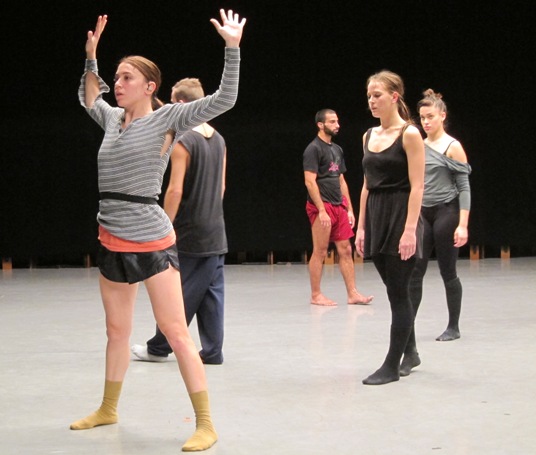 MAX by Ohad Naharin.
A work for 10 dancers, performed by the Batsheva Dance Company, 60 minutes without intermission.
Original music composed and performed by Maxim Waratt
Costume Design: Rakefet Levy
Lighting Design: Avi Yona Bueno (Bambi)
Music Production & Mix: Ohad Fishof
Mastering: Binya Reches
MAX will be performed by: Rachel Osborne, Iyar Elezra, Shachar Binyamini, Shani Garfinkel, Matan David, Tom Weinberger, Erez Zohar, Adi Zlatin, Chen-Wei Lee, Doug Letheren, Bosmat Nossan, Michal Sayfan, Bobbi Smith, Ori Moshe Ofri, Shamel Pitts, Ariel Freedman, Ian Robinson, and Idan Sharabi.
MAX will be performed January 5 – 8, 2011 at 21:00, January 7 at 22:00, at the Suzanne Dellal Centre, 8 Yehieli Street, Neve Tzedek, Tel Aviv. Tickets can be ordered online (in English) on the Batsheva site, or call 03-5104037.