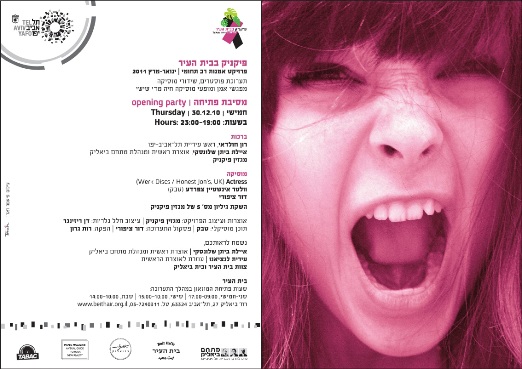 Innovative and optimistic, Picnic Magazine is an Israeli-based text-free international publication of visual creation – coming soon to an historic Tel Aviv site near you! On Thursday, December 30, 2010 the exhibit Picnic at Beit Ha'ir will open with a huge party from 19:00 – 23:00 featuring music from Actress (Werk Discs/Honest Jon's, UK), TABAC, Dor Zippori, and appearances by Picnic Magazine editors, Ayelet Bitan Shlonsky, Chief Curator and Director of Bialik Square and most appropriately, Ron Huldai, Mayor of Tel Aviv.
Beit Ha'ir is the beautifully renovated historic Town Hall of Tel Aviv, currently functioning as a museum and cultural center. Bialik Square and its surrounding buildings, including Beit Ha'ir, have been declared a World Cultural Heritage Site by UNESCO.
Picnic at Beit Ha'ir is a multi-disciplinary art event that will take place at Beit Ha'ir over the course of the next three months. Now in its fifth year, Picnic Magazine will launch volume no. 5 on the opening night, with the first 100 guests receiving free copies of the magazine. An exhibit of posters, with images from the current and past issues of Picnic will be on display in the main gallery. Leading designer Dan Reisinger (Israel Prize recipient 1988) was commissioned to design the main exhibit area, and a soundtrack for the exhibit was created by Dor Zippori. More freebies: a collection of posters and postcards will be distributed free – as long as supplies last! Opening night events on Thursday, December 30, 2010 are free and open to the public.
A music studio has been set up on the ground floor and every day between 15:00 and 17:00 DJs, and musicians will present live sets in a wide range of musical styles from Canaanite Blues to Futuristic House, Contemporary Electronic and Egyptian Classical. The music will be heard throughout the building and will be available on a daily basis for downloading. 
Friday happenings at Beit Ha'ir – every Friday between January 7 and March 25, 2011 from 12:00 to 16:00 there will be live music concerts with reduced admission of 10 NIS.
Beit Ha'ir
Opening hours: Monday – Thursday 9:00 – 17:00
Fridays, Saturdays and Holidays: 10:00 – 14:00
Admission: 20 NIS
27 Bialik Street, Tel Aviv. Information: 03-7240311, www.beithair.org