My recent visit to the Bezalel Academy of Arts and Design in Jerusalem on January 4, 2011, can best be described by paraphrasing a character from the well known Israeli children's story by Leah Goldberg: the chilly, labyrinthine building was not to my liking, but the people and myriad activities within generate an air of excitement. 
The main event of the day was a conference organized by the History & Theory Department, loosely translated as "Odd or Even: Creators, Researchers, Conversations," which presented one fascinating duo after another talking about everything from fashion, to post-modernism from the perspectives of theoreticians and practitioners.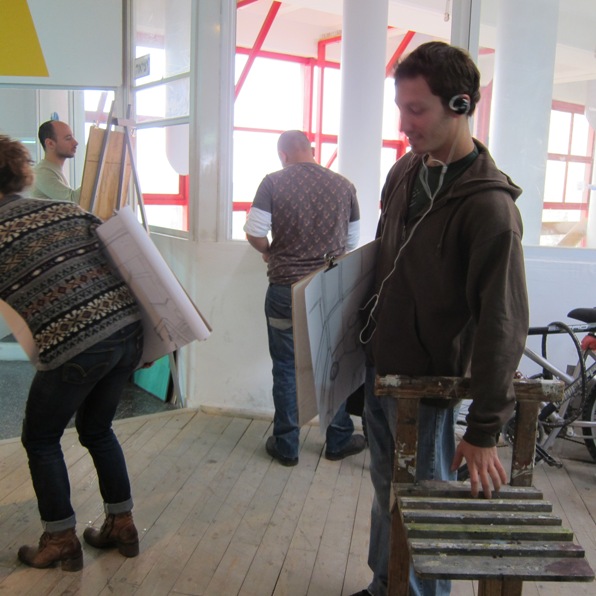 Bezalel's energy is not confined to the classroom: art is everywhere. The wide corridors are full of students and teachers – drawing, filming, talking, with bicycles and paint-splattered wooden easels the de rigueur accessories.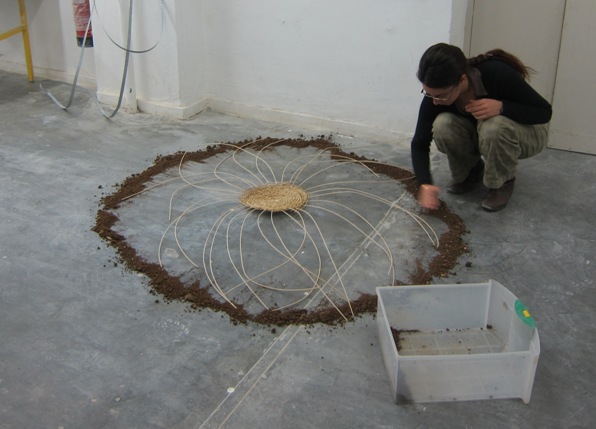 Making my way through the building my eye was drawn to a woman kneeling on the floor, working with a heap of dirt and what looked like the beginnings of a woven basket. Yeela Wilschanski, a second year student in the Department of Ceramics & Glass Design, majoring in sculpture, explained that she was working on an assignment – creating a work inspired by Richard Long.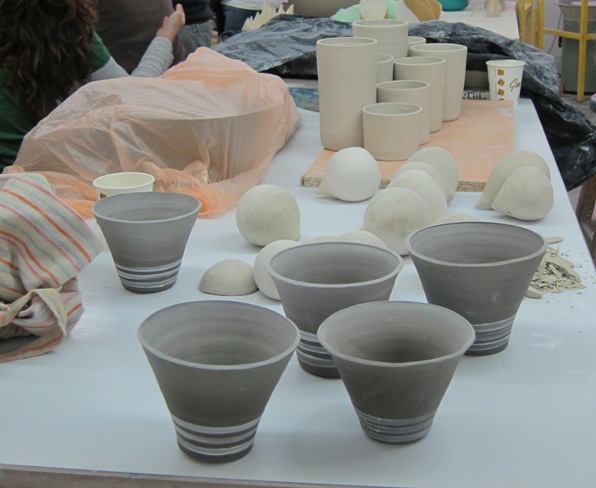 Down the hall, past the kilns, to peek into 3rd year Ceramics.
Not quite sure how I arrived at the glass-blowing workshop (that is where the labyrinthine reference comes in, the building does not lend itself to easy navigation for first-time visitors), but I was mesmerized. Artists Oben Abright, Guido Gherlitz and James McLeod, were guests of the department, conducting glass workshops with the students. The three artists came to the region as part of The Floating World Projects, founded by James McLeod and Leo Tecosky in 2008 to create communication across cultures through art, replacing stereotypes through personal encounters and artistic exchange. En route to Hebron, where they will be making a documentary film "The Road to Hebron" they were invited to Bezalel by Dafna Kaffeman, lecturer and coordinator of Glass Studies in the Department of Ceramics & Glass Design at Bezalel.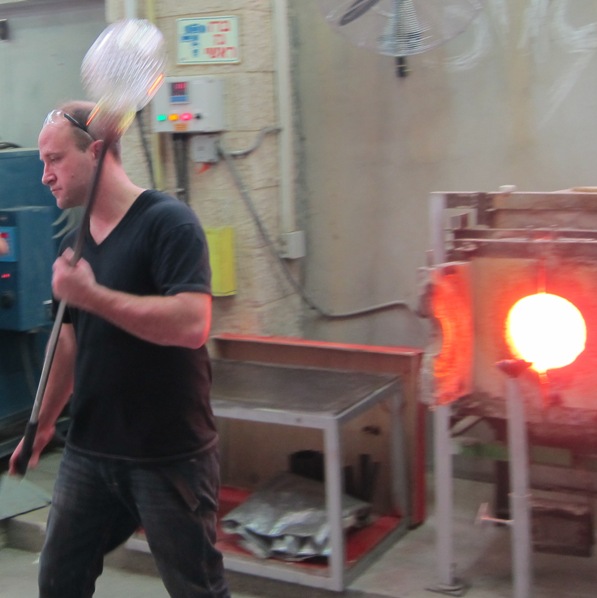 The choreography of glass blowing is beautiful and dangerous: working with glass, fire and heavy metal props, speed and agility are of the essence. While Gherlitz and McLeod worked with the students, I had the opportunity to catch a few words with Oben Abright. Abright creates primarily figurative glass work, making "sculptures of the people I meet" whether in East Oakland, or Southeast Asia. "There are no fictional characters in my storytelling," said Abright, whose recent show at the Echt Gallery in Chicago was based on the artist's experiences on the front lines of the war zone in Burma. When I asked him how he managed to get there, he acknowledged, "It took a lot of convincing." His portraits are based on the photographs of people he encounters on his journeys. "Glass is an integral part of the subject," he said, "I try to make transparent those people who are marginalized in society."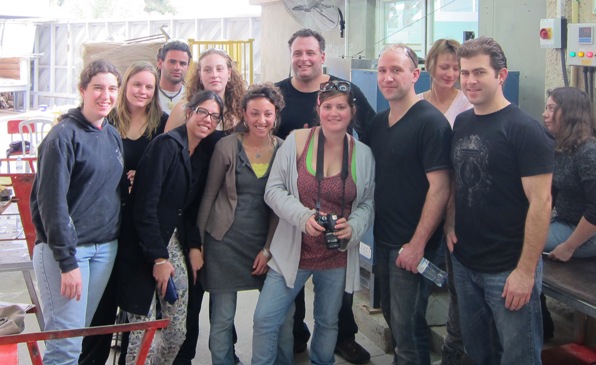 In addition to hosting visiting artists and lecturers, Bezalel has a very active exchange program with 170 institutions worldwide. Each semester about 100 Bezalel students spend a term abroad in different programs, and Bezalel hosts visiting students. At the time of my visit, an exhibit of works by the exchange students was on display.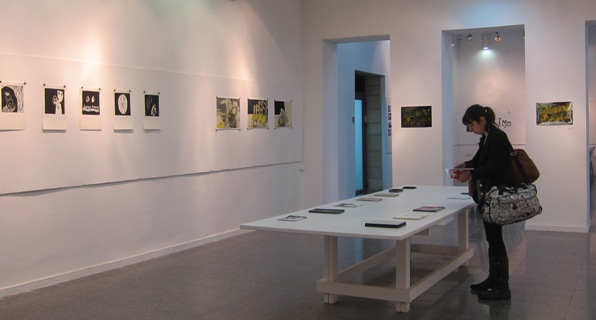 Amidst the sketching, glass-blowing, filming and working with the clay, equally impassioned conversations went on through the day, reflecting the individual perspectives of artists and theoreticians. The discussions ignited the imagination and suggested many different avenues of thought, from Professor Ezri Tarazi, Head of the M.Des program expressing concern with regard to diminishing resources to designer Tal Gur talking about the catalyst for his designs as "Hunger. I wake up in the morning with a kind of hunger that drives my action. The studio is a kind of refrigerator that stores nourishment for the body and the spirit. That is how the dialogue begins: basic, intuitive, between materials, context, spirit, and a process of creation whose destination is unknown."
AYELET DEKEL