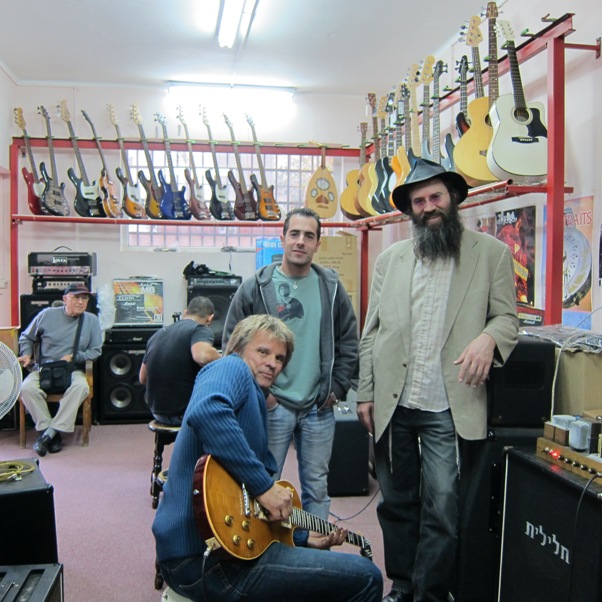 Lazer Lloyd walks into the Vintage guitar store on Hamelech George Street in Tel Aviv, saying, "This is my favorite place in Israel."  Surrounded by an amazing array of guitars, we find a relatively quiet corner to talk about the blues in anticipation of The Lazer Lloyd's Blues Band (Lazer Lloyd – guitar and vocals, Moshe Yankovsky – drums and vocals, Andy Watts – guitar, Ilan Hillel – bass guitar and vocals) performance at Levontin 7 on January 23, 2011 in the Tel Aviv Blues Festival.
My first encounter with Lazer Lloyd was at the Woodstock Revival II concert last summer, and his electric version of HaTikvah has burned itself into my memory. Born in the US, raised on the blues and beginning to record with Atlantic Records, Lazer Lloyd changed course after meeting Shlomo Carlebach – an encounter which led to his move to Israel, where he continues to play the blues, writing his own songs. The Lazer Lloyd Blues Band were the opening act for Snowy White in Tel Aviv last spring, and the band is currently touring Israel with new material.
Lazer Lloyd can take a guitar on a wild journey and his conversational riffs have the same amazing energy. I asked him to talk about writing blues in Israel, and he took it from there:
"Israeli Blues wow…you know it's obviously very deep. Blues in general, for me it's the deepest, this is my religion, I grew up on it.  The blues is like such an incredible…there is something very powerful in the blues itself, so when you talk about Israeli Blues for me it's that much deeper, you know, but on the other hand you have to be really careful. My Israeli friends can be very… Kalut rosh (Hebrew: light headed) – because of all the, how its so… so much tension here, all the pain that Israeli people have had. I find that Israeli people tend to be a little bit light, so also, you have to be careful not to be too heavy. There's something deep about just making people happy with the blues with the music.
So at the shows we try to give them a taste of some things that are really deep, but at the end I really feel that these people really want to be happy, so we rock about a little bit and we have a good time with them. And the blues is deep, but if you see B. B. King and Buddy Guy – they're the kings of the blues – they're always smiling. They're singing 'how I'm so broken' but they're always smiling.
So it's almost like – make that balance. Make it deep but at the same time, people come, they want to have a good time with the blues. I think that's the depth of it knowing how to be deep without getting caught into the really…[he laughs]…deep unanswered questions. Sometimes the deepest thing is just laughter.
I grew up on the blues. I didn't grow up frum [a religiously observant Jew]. Blues goes down into so many areas. I really feel that the first blues man in the world was David Hamelech, King David, I mean if you read Tehillim, [Psalms] this is the realest real you can get. I mean, can you imagine a person who's the king, he's the king and he's writing about his mistakes, you know, and big mistakes.  He's King David and he's made big mistakes with women and he's writing it – you know what I'm saying, he could have kept it a secret.
When I listen to John Lee Hooker – he's so great. It's the feeling… it's so hard to say something you're just feeling and want to say it without getting anything else involved with it, what people are going to think. To say exactly what you're feeling, it's such a hard art and David Hamelech – he really did it. So for me, my struggle with the blues when I was young (this happened before I met Rav Shlomo), I was really struggling to find, ok I hear John Lee Hooker's blues and I hear Buddy Guy's blues and Blind Lemon Jefferson's blues, the musical depth is here but I want to sing, I want to find what my blues are.
The worst thing for me is when I see somebody trying to imitate someone else. I never want to do that in life. I didn't want to just imitate, you know, try to be someone else. So the greatest thing was when I met Rav Shlomo and came to Israel I realized – Hey! Not only is it not in conflict with the blues, but the real depth of being able to really just say over what's really paining you, I really feel it's in our tradition. And if you read the Psalms, King David, he was master of all time of being really able to describe…the phrasing there… every year I'm seeing more, learning Hebrew it's a deep language, so deep if you read the English translation of the Psalms it doesn't really give you… you can read 5, 10 versions of it… Sometimes my Israeli friends ask me what is John Lee Hooker really saying so I try to translate it – it doesn't work so well because well he's not just saying 'ani mitga'agea leisha hazot' [I miss this woman] – it's the way he's phrasing, it's so important.
So this is where I really feel it is the musical content for sure is something that Black Americans, coming from Afro Americans – the blues note. I can show you [he plays it on the guitar) the riff note, the famous blues note, ok that's a flat five. You hear that sound, that note? That's one of the notes…ok, now listen, listen to this – tell me what it sounds here. [He plays something I recognize as a Hassidic nigun on the guitar] it's a Hassidic song. This is a Hassidic song from 300 years ago. This Hassidic music comes about, this flat five note; the only other place you find it is in this Hassidic music. It's not in classical music. This note is a mistake in the Western World.
This note it's a mistake it doesn't come out, but in the Klezmer, in the really traditional Hassidic melody, they also use the flat five. It's the struggle note. This is a note that when the rabbis describe what they say in the niggunim, this is the note of the struggle of the soul being trapped in the body. This note was like a …you hear that? You hear that struggle? So, for the Black people it was a struggle of mamash [Hebrew: real] the body just itself entrapped in slavery. So I really loved finding that …I love that note.
 
All the Classical music I studied my teachers used to get crazy – why do you like B. B. King so much? I said: that note, that one note he plays for me is worth all the Mozart in the world. It's such a deep note I was so happy to find it, not only intent of the lyrics are really trying to describe what's really paining you is in the blues, but also the music."
Although Lazer Lloyd has a strong connection to Jewish religion and tradition, his songs are not necessarily religious, and neither are most of his fans. When I ask him about religion, he says:
"I leave it outside. I'm not a big fan sometimes of religious people…[he laughs again] people who think they're religious…I'm a fan of real people, you know I like people who are really real… I don't want to preach. The thing is, Judaism is so deep, I've been studying Torah for 16 years…I don't want to say anything that I'm not really in touch with, and I don't feel yet like its something …people ask me why don't I sing more in Hebrew and I don't feel like Hebrew is like, even though I can get by on the bus and my wife's Israeli, I want to write, explain something in Hebrew I don't feel like I can just do it, because it's not like really inside me. So also with the religion, people think like because I have a beard they think well, he must be some real…I don't know, I'm not the typical religious guy you know, I've played in clubs and concert tours, and I keep Shabbat…
I want to explain in music – what I'm feeling myself… not what this thing is holding but how do… you know, you put the water in the jug and you have to see what it's holding… I don't know how to explain it exactly. I feel, especially in Israel, I really feel like we [the band] have a big thing, we bring a lot of people together. We play mostly 95% for people without kippahs and you know because of the politics here people are not, and I'm also not happy with the Haredi politics. It separates the people. Even if I'm going to alienate one person by saying some text that they really can't relate to – why do that? I want to connect with this person, you know what I'm saying? You have to be really ready …everybody has to know what their shlihut [Hebrew: mission] is in the world and I feel that for me, I prefer… when people ask me – oh, why don't you… I just like to hang out with the people and I don't like to get the religion in the way you know."
The show at Levontin 7 will be a blues show, with original songs written by Lazer Lloyd, he describes it as 50% Blues and 50% Blues-influenced Rock.
Tel Aviv Blues Festival, Levontin 7
January 23 & 24, 2011. First set at 20:00, second set at 22:00. Tickets are 60/70 for each set, 110 NIS for an entire evening, and 200 NIS for the whole festival. To order: www.misterticket.co.il, or call: 03-5605084. See the full program here.
AYELET DEKEL