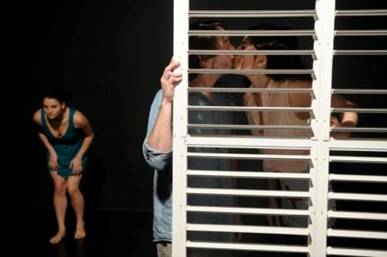 Two women live in the same apartment building in Tel Aviv, each with her work, her daily routine, and her dreams. One is a dancer and choreographer, the other is, as they say, a working woman. Neighbors – two lives separated by a wall. This is the starting point for choreographer Ronit Ziv's new work, With Subtitles, which will premiere Thursday, January 27, 2011 in the Yaron Yerushalmi Hall at Suzanne Dellal.
Ziv has spent several months working on With Subtitles, saying that she felt she needed time to find her perspective on the work because she was creating a dance from materials that came from her own life. "I live in an old apartment building from the 50s," said Ziv, "there is a synagogue across the street and all sorts of neighbors; one is a call girl. You can't tell by looking at her, but men come and go at all hours. It's strange. Once someone knocked at my door, and I called out: 'It's not here'. How can I express this in dance?"
"I began with a realistic approach. But when I looked at what I had I felt: this isn't the whore I'm looking for. It's not a documentary film. It's dance."
The short preview seen today reveals a work that is both abstract and theatrical, with two female dancers, Tamar Gross and Sophie Krantz, a male actor, Benny Eldar, and one of the ubiquitous Israeli "trisim" – the plastic shutters that adorn every available window in the country. A multi-faceted "reality" is presented onstage. The narrative of "rehearsing" for the performance becomes part of the performance itself, which narrates the different realities of the two women, exploring and questioning the similarities and differences.
Ziv is a sharp observer of the human condition, with a sense of humor and an ear for dialogue. Many of her previous works have involved text and dialogue – With Subtitles includes both spoken dialogue and text projected on the shutters.
With Subtitles by Ronit Ziv
Performers: Tamar Gross, Sophie Krantz, Benny Eldar
Music: Stefan Ferry, Lighting Design: Tamar Or, Costumes: Meytal Gueta
January 26, at 21:00, January 27 at 22:00
Yaron Yerushalmi Hall, Suzanne Dellal Centre
Tickets are 80 NIS, to order call: 03-5105656