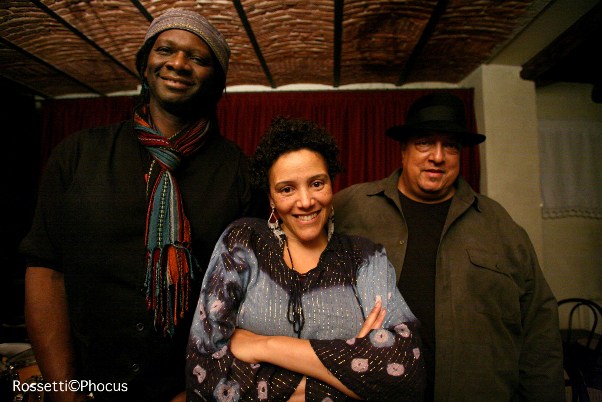 The Tel Aviv Jazz Festival is a four day party from February 15 – 18, 2011 at the Tel Aviv Cinematheque. Bringing jazz musicians, many who have never before performed in Israel, to play their own music and jam together with Israeli musicians for one-time only concerts, the festival has a jazzy feel – warm, spontaneous and all about loving the music. Unlike many concerts coming in from abroad, where each musician or band usually has just one set, the Tel Aviv Jazz Festival's unique productions allow you to see different facets of the musicians, and become better acquainted with their music.
Coming to Israel for the festival are several internationally known musicians and groups:
The festival will open with The George Colligan Trio – pianist and composer George Colligan, Boris Kozlov on contrabass and Donald Edwards on drums – in Come Together, a performance of selections from their new CD. On Wednesday the trio will be joined by rising jazz star alto saxophonist Jaleel Shaw for an evening of standards, originals and compositions by Wayne Shorter.

New York trumpeter, band leader and arranger Steve Bernstein will perform in a special festival production that is also his first performance in Israel. Diaspora Soulon Tuesday night, will feature a septet of three American and three Israeli musicians: Steven Bernstein – trumpet; Paul Shapiro – tenor saxophone; Yakir Sasson – baritone saxophone; Erik Deutsch – keyboards; Assaf Hakimi – bass; Roberto Rodriguez – drums; Gilad Dobrecky – percussion. Berstein has a series of "Diaspora" albums, produced for John Zorn's "Tzadik" label. Bernstein's sound merges Jewish musical tradition with jazz, Afro-Cuban music, Soul and R & B. Get your dancing shoes on for their funky renditions of "Ma Nishtanah", "Let My People Go" and "Aveenu Malkenu".

 
Nicole Mitchell—winner of the "Flutist of the Year 2010″ award for new, daring and original jazz will perform with her Indigo Trio on Wednesday: Nicole Mitchell – flute; Harrison Bankhead – contrabass; Hamid Drake -drums and percussion. The evening before, on Tuesday night, Hamid Drake will perform with Israeli saxophonist Albert Beger – Fire from Within, a special festival production.

The Dee Alexander Quartet – Dee Alexander: vocalist; Miguel de la Cerna: piano; Harrison Bankhead: bass; Erine Adams: drums & percussion – will perform on Thursday with "Wild in the Wind" songs from their latest album, and on Friday – Feeling Good, a tribute to Nina Simone and Dinah Washington.

Armenian pianist and composer Tigran Hamasyan and Israeli saxophonist composer Shauli Einav have performed together many times in New York, will be together for the first time on an Israeli stage in a special festival production – marking Hamasyan's first Israeli performance. Hamasyan and the Shauli Einav Quartet – Shauli Einav – saxophones; Tigran Hamasyan – piano; Or Bareket – contrabass; Amir Bresler – drums; Yonathan Voltzok – trombone (guest appearance) – will perform on Wednesday night. On Thursday, the Tigran Hamasyan Trio will make its Israeli premiere. The young Hamasyan blends Armenian and classical influences as well as rock in his music, which has received international recognition. The trio includes: Hamasyan – piano, Sam Minaie – double bass, Mark Guiliana – drums.

These abundant offerings are only half the story – there is an amazing lineup of Israeli musicians at the festival. Updates from Midnight East to follow.
Tel Aviv Jazz Festival February 15 – 18, 2011
Artistic Directors: Nitzan Kremer and Barak Weiss Tel Aviv Cinematheque 2 Shprintzak Street, Tel Aviv Tickets: www.cinema.co.il, or call: 03-6060800 Discounts for Tel Aviv residents, Cinematheque members and Maximum Tel Aviv card holders – with advance purchase only.