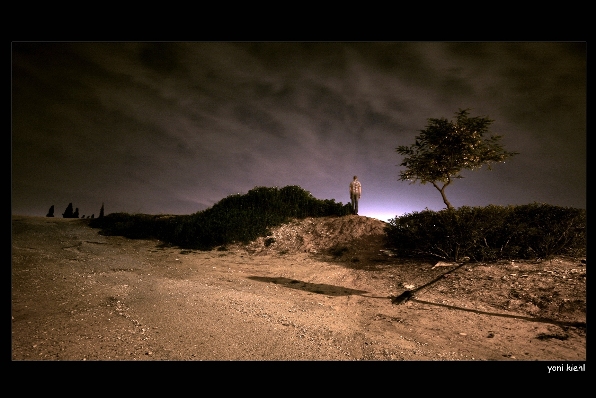 Cameo – an exhibit of photographs by Yoni Kiehl, curated by Maya Kashevitz, will open at the Container on Wednesday, February 2, 2011 at 20:00.
A graduate of UCLA film school, Kiehl relates to the world of cinema, organizing the photographs in story-board form, frame after frame. Each is an independent image, yet together they create a narrative. Kiehl creates an environment of mystery in the dramatically lit photos, with his own figure becoming part of this landscape. The exhibits title – cameo – refers both to the original sense of the word – a method of carving, usually a relief image in contrast with the background, and the dramatic term cameo appearance – a known figure appearing in a brief role in a film or play.
The Container is a restaurant-bar at Hangar 2 in Jaffa Port, providing different atmosphere and setting for exhibits. Opening hours are: Sunday – Thursday from 12:00 – 24:00, Friday – Saturday from 10:00 – 24:00.