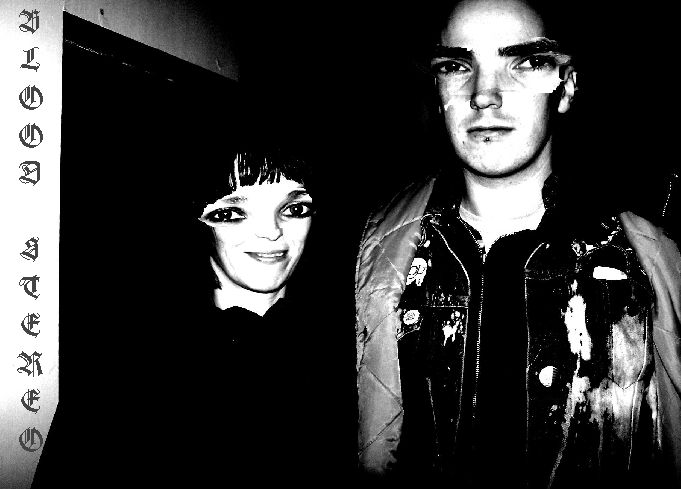 PRIMATE ARENA Festival for experimental art will open on Saturday, February 19 at Levontin 7 in Tel Aviv, and continue through the 23rd, with events in Jerusalem and Haifa, including live performances, art exhibits, talks & workshops.
Primate Arena is a platform for experimental and improvised music curated by Eran Sachs and Alex Drool. Hosted mainly at the Zimmer Studios in Tel Aviv, Primate Arena is a bi-weekly freeform happening for experimental & out muzak events, dedicated to Psych, EAI, Noise, Speech/Sonic/Concrete Poetry, Avant Rock, post millennial obscurities, pre millennial obscurities, the history of 20th century experimental music & other adventurous ventures. Over the past three years they have created a platform that has nurtured a community of adventurous local musicians including Maya Dunietz, Assaf Talmudi and Yoni Silver, and hosted visiting internationals such as Jérôme Noetinger, Arnaud Rivière, Fritz Welch, Ignatz Schick, Daniel Padden, and Bob Ostertag among many others.
The festival will feature Dylan Nyoukis and Karen Constance, who form Blood Stereo and are the folks behind the label Chocolate Monk and the free spirited festival Colour Out of Space, held annually in Brighton. The festival will also premiere a performance piece by Dave Phillips, of the Schimpfluch-Gruppe.
Blood Stereo's visit is the second part of the exchange between Primate Arena and Colour Out of Space, following a series of Primate Arena events which were held earlier this month in Brighton, London, Glasgow, Edinburgh, Manchester and Newcastle. The exchange is organized in collaboration with the META Association – Merkaz Tarbut Acher, and is supported by the British Israeli Arts Training Scheme (BI ARTS) a British Council initiative in partnership with the Ministry of Foreign Affairs and the Ministry of Culture and Sport in Israel.
THE FESTIVAL PROGRAM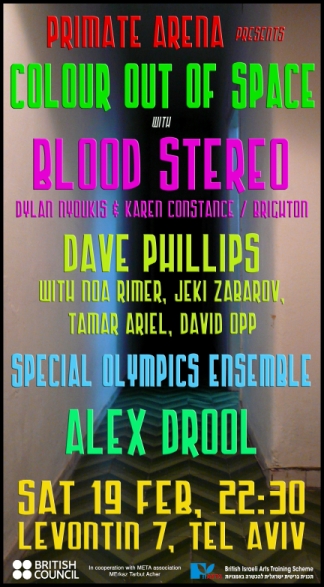 Opening Event – February 19, 2011 at 22:30, Levontin 7 in Tel Aviv 40 NIS
Alex Drool & Maya Duneitz
Dave Phillips (CH): Abolishing Religion: An Exorcism
With Tamar Ariel (M.E.S.S.), Jeki Ameamemet (Zaka/Mambas), David Opp. (Lietterschpich/Barbara/3Het), Noa Rimer (Pisuk Rahav)
Blood Stereo (UK)
Special Olympics Ensemble
Eran Sachs & Rani Zager
with Daniel Davidovski (sax), Yoav Beirach (contrabass), Ram Gabai (drums), Yoni Silver (bass clarinet), Gigi Ophir (bass clarinet)
February 22, 2011 at 21:00, Tichon Bar, Haifa 20 NIS
Toxicon
Dylan Nyoukis & Eran Sachs & Alex Drool
Smack Music 7 & Brainholes
Ofer Bymel (drums), Yoni Silver (violin clarinet), Grisha Shakhnes (tapes), Ofir Bakhmutzki (turntable)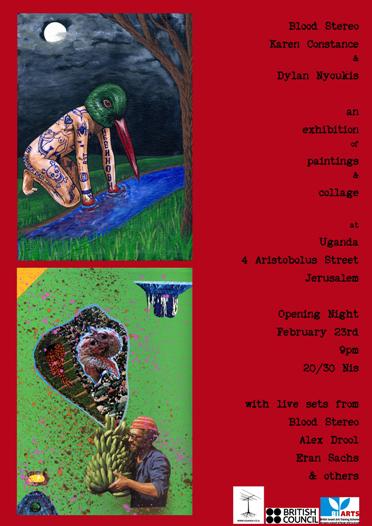 February 23, 2011, Musrara Art School & Uganda, Jerusalem
Musrara Art School
15:00 FREE Artists workshop with Dylan Nyoukis and Karen Constance
Uganda, 4 Aristobolus Street, Jerusalem
20:00 Artists talk and opening of exhibit – FREE
21:00 Live Performances – 20/30 NIS
PICA/CAIN & ZAX
Cassexxe Vibrato & Alex Drool
Blood
Check for updates on the PRIMATE ARENA facebook page, and listen here: