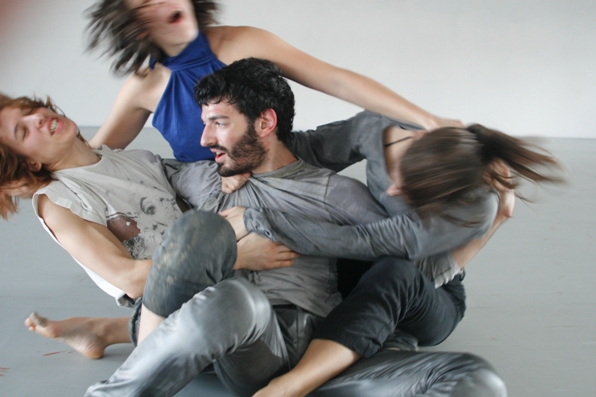 STORM END COME is one of Yasmeen Godder's more abstract works. Performed by six dancers on a bare stage with a white floor and white backdrop, creating a stage environment in which the individual is the narrative. Godder's movement language originates in the body of the individual – an internal landscape hidden beyond words, private and detailed, yet always in relationship to the surroundings, whether explicit or not. The composition created between the dancers and the negative space of the stage performs an almost narrative function, emphasizing the quality of relationship itself, in its presence and absence, yet at the same time, is almost aggressively aesthetic in the fluid, articulated movements of the dancers starkly delineated against the white background.
One cannot identify a traditional trajectory of plot, with situation, conflict, and resolution – instead, there are a multitude of stories within and between individuals, sometimes intersecting, sometimes creating layers of movement and motif. Each encounter, with the self or with the other, is not necessarily self-contained; the skin of story is open, permeable, constantly moving, changing. One, two or more individuals may be involved in narratives of different duration – an instant of proximity, a brief glance across the stage, or a sequence of interactions, a single dancer occupying the entire stage, or several focal points of equal intensity, the viewer drawn into one narrative or another, moving through images and experiences.
Reflecting the internal rather than external atmosphere, one can imagine this work taking on a different feel, depending on the situation of the viewer at any given performance. How we see and respond to the narratives of others is context dependent, those demons we see may be our own.
A work of compelling intensity, it demands a heightened sense of awareness and involvement. The dancers commit entirely. Tsuf Itschaky, an outstanding young dancer with powerful grace and reservoirs of emotional complexity, ventures ever further to fathom those depths. Danny Neyman conveys a tensile expressiveness in moments of acrobatic tenderness, fragility and desire.
Excruciatingly physical, Storm End Come is an exhaustive exploration of experience, from existential angst, fear and alienation to orgiastic embraces and the harsh pleasure of children on a playground – sweaty, rough, triumphant, breathless, a human calligraphy of the emotions on white canvas.
Future performances: March 16, 2011 at Suzanne Dellal in Tel Aviv, at 21:00. Tickets: 03-5105656.
STORM END COME
Choreography: Yasmeen Godder
Co-creation and Dramaturgy: Itzik Giuli
Creating Performers: Dalia Chaimsky, Shulamit Enosh, Tsuf Itschaky, Danny Neyman, Anat Vaadia, Sara Wilhelmsson
Music: Hajsch "1992"
Lights: Omer Sheizaf
Rehearsal director: Ilaya Shalit
Sound Editing and Design: Eyal Shindler
Costumes: Michal Bassad
Production: Yasmeen Godder Studio
Administration and International Touring: Guy Hugler
Co-Production: Culturescapes Basel, Switzerland; Grand Theatre Groningen, Groningen, Netherlands, Centro per la Scena Contemporanea, Bassano del Grappa, Italy