The Helena Rubinstein Pavilion of the Tel Aviv Museum is hosting eight of Israel's leading street artists: Yochai Matos, Foma <3, Adi Sened, Zero Cents,  Klone, Broken Fingaz, AME72, and Know Hope. They are all quite young and are cultivating an international rather than a local persona, probably due to the fact that nearly all of them were born outside this country; in England, USA, or the former USSR.
Accustomed to working quickly and clandestinely, they are fully aware that the images and texts they paste, paint, spray or stencil onto the walls of city buildings and derelict sites have a transitory life. They may vanish within days or hours of completion, removed by aficionados, or scrubbed out by Municipal inspectors who view their activity as illegal, even criminal.
Coming indoors, faced with pristine spaces and sterile white walls, and with more time than they ever dreamed of to plan and create, these guerilla artists have been faced with a real challenge. Can their work that looks great in the context of the street 'survive' in the staid environment of a gallery?
Not all these artists have met this challenge successfully. Take the brilliantly simple mural that Matos created in 2006 in the Florentin neighborhood of Tel Aviv. Splattered with blue glitter, it spelt out the word Fame, the title of a cult TV show from the 1980s; a logo with heady connotations of success. Eventually, the word took on a new identity when some anonymous artist ringed it in orange and linked it to a sketch of gray buildings and streets. But now, transposed onto an expanse of white wall, together with Matos' other signature images – a swan and a sparkling heart – it becomes drained of its original intensity.
Similarly, Foma<3, the only woman artist in this show, also encounters difficulties in this transition. Her specialty is portraiture, likenesses of women she fleetingly encounters in the street, depicted in an intricate network of undulating lines. But she seems to have lost her way in this exhibition; her huge self-portrait (which includes wires floating out from her hair) comes across as ornamental and marginally interesting. While her other drawings on an adjacent wall lack substantiality.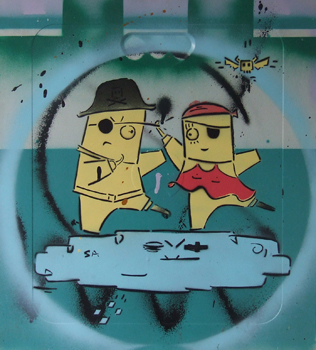 And then there is Sened, one of Tel Aviv's most prominent stencil artists. Sened is best known for creating lovable little figures which he calls Kufsonim (mini-boxes) which are inspired by the Simpsons and other zany TV and film characters. He casts them in humorous or tender roles, such as children, pirates,  loving couples or part of a shipwrecked crew. On the street Sened sites his Kufsonim in out-of- the- way places, so that his fans have to hunt them down. In the gallery, with the fun of the chase missing, these little characters appear vulnerable and forlorn.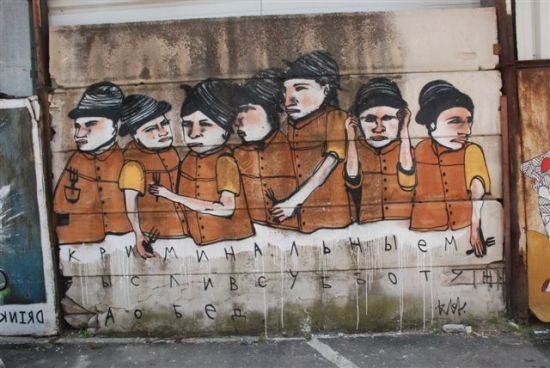 Zero Cents and Klone are two artists who have made effective use of the space allotted to them. Both conjure up scary futuristic worlds. Zero Cents' wall piece, relating to the follies inherent in scientific experimentation and plastic surgery, depicts a jumble of grotesque faces, half-human- half mechanized figures, and the grossly distorted body parts of women.  Klone, known for his visualization of an equally disturbing society, where animals strive to become humans, and humans turn into animals, has produced an effective if rather morbid installation. True to his name, identical images are a major feature, starting with painted plaster heads piled on the floor, as if fallen from an executioner's cart. This gruesome offering is placed at the foot of an outsize mural where cloned figures and hybrid creatures either huddle together or stare out into space. Some of them have pitiful or anxious expressions on their faces, as if willing the viewer to come to their rescue.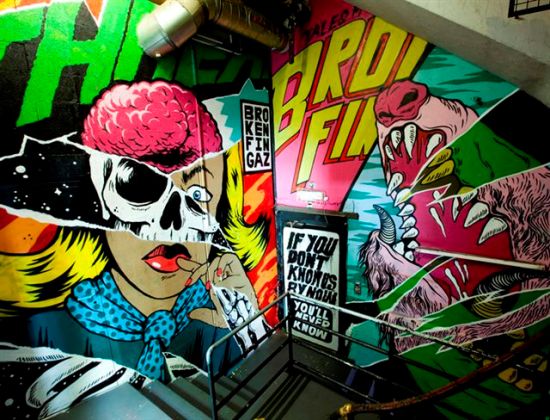 Broken Fingaz, a design crew from Haifa, (Tant, Unga, Deso and Kip) have imaginatively transposed their work and aims. Theirs is an appealing, super-colorful installation set up in a cave-like space decorated with twinkling lights. It comprises scores of boxes, piled up, one on another, giving the impression of miniature dwellings. On their sides are painted or pasted an extraordinary mixture of images drawn from early 20th century American comics and adverts, skateboard graphics, horror movies and tattoos. The total effect is exhilarating, touching, so it seems, on so many aspects, good and bad, of contemporary urban life.
.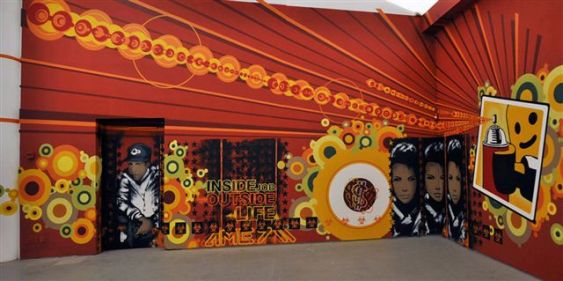 AME72 has also not been fazed when bringing his work indoors. His identifying image, a free spirit in the form of a smiling Lego man, appears twice in his presentation. First, as an interactive figure painting created by the iPhone application that is his invention, and secondly, in the role of a broadcaster beaming a sunburst of psychedelic circles onto the gallery wall.  The words Inside Job, Outside Life, a play of words on the title of the exhibition, are stenciled over this colorful ornament which is broken up in two places by black and white portrayals of young women – one in uniform, the others appear to be glamorous models, AME2 is perhaps suggesting through this imagery that in Israel real life has to take over from teenage dreams.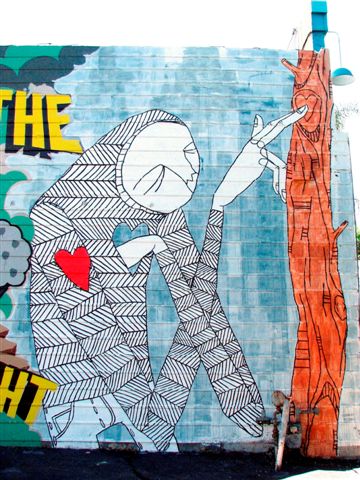 Know Hope's Bound by Burden is the most striking – and desolate – piece in this show, its character exactly reflecting the type of art he creates on the streets. It comprises a forest of wooden poles, some stretching from floor to ceiling, others heaped up on the ground.  With white flags of surrender hoisted, we are apparently looking at the aftermath of a battle. The survivors are Know Hope's readily identifiable cardboard figures. Rendered in delicate black and white lines, they wear their customary jeans and hoodies, and have red hearts pinned to their bodies. In this instance, these figures have mostly become cripples; arms missing, strings tying their sinews to upright posts. At ground level, amidst the rubble, long thin arms and hands 'call out' for help.
There is no evidence that Know Hope is referring to any specific catastrophe here, although this work could have been inspired by images of recent earthquakes. In general, he and his colleagues tend to focus on social rather than political issues.  But in this instance one is not so sure; with these strange characters existing in limbo, eyes shut because they cannot face up to reality. Know Hope seems to be saying that this path leads to disaster.
This exhibition was curated by Tal Lanir who is also the editor of, and contributor to, the fully illustrated book Street Art in Israel published by Tel Aviv Museum this month. It is not a catalog of the works on view, but a first-class survey of the subject as a whole, including descriptions of the activities of other Israeli street artists, not represented in this show.
Tel Aviv Museum's Helena Rubinstein Pavilion for Contemporary Art,
6 Tarsat Boulevard, Tel Aviv. Tel: 03-5287196
No closing date.
.