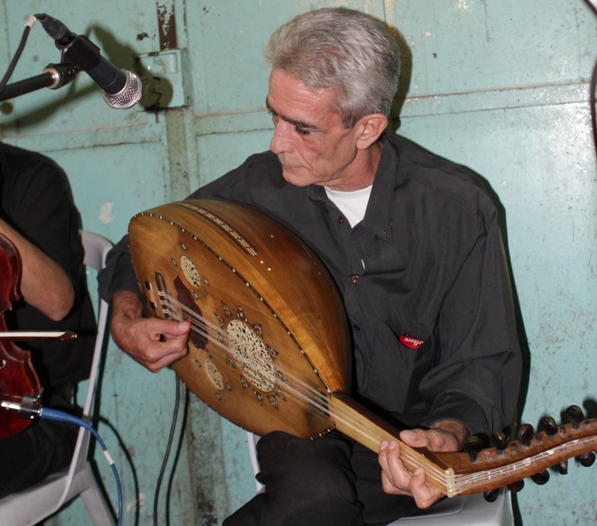 In the spirit of the coming holidays the Piyyut Festival reflects the many traditions of piyyutim with ancient melodies and new arrangements. The festival will take place at Beit Avi Chai between September 19 – 22, 2011, and the artistic director is Yair Harel. In addition to the main concerts, there will be free performances every night in the Beit Avi Chai courtyard from 22:00 to 23:00. There will be neighborhood piyyut events in Gilo, Kiryat Yovel and Nachlaot, and guided tours of neighborhood synagogues. Full details and contact information can be found on the Piyyut Festival website.
Piyyut, Emotion and Thought – an exhibition of multidisciplinary art inspired by piyyut curated by Yoel Gillinski is on display in the Beit Avi Chai gallery. Participating artists: Orna Oren Yizraeli, Arik Weiss, Archie Granot, Jack Giano, Dov Abramson, Dorit Feldman, Zohar Yules, Chaya Esther Goldlavsky, Hani Liron, Tal Ora Bar, Yossi Lemel, Israel Rabinovich, Nona Orbach, Prof. Yoram Vardimon, Israel Prize laureate for design in 2007, Nechama Golan, and Roni Someck. Opening hours are Monday – Thursday 10:00 – 19:00, Friday 10:00 – 13:00, entrance to the exhibit is free of charge.
Even if you are far from Jerusalem you can still enjoy the festival, several concerts will be streamed live on the Beit Avi Chai website: http://www.bac.org.il/bac/piut/live.html. Click here for the complete program of events available for viewing.
Beit Avi Chai, 44 King George Street, Jerusalem, 02-621- 5300. To order tickets call: 02-621-5900.
Piyyut Festival Concerts and Events:
Opening Concert
Babylonian Maqam
The Piyyut and Musical Tradition of Iraqi Jews
~ Monday, September 19, 8 PM
Admission: NIS 60, students: NIS 30, BEIT AVI CHAI courtyard
Piyyutim, Ladino and Turkish
A tribute to Rabbi Itzhak Algazi, one of the most important Jewish singers in the Ottoman Judeo-Spanish tradition
~ Tuesday, September 20, 8:30 PM
Admission: NIS 60, students: NIS 30, BEIT AVI CHAI courtyard
Songs of the Mountain Jews
The Caucasian Jewish Tradition of Piyyut and Music in New Arrangements by Piris and Marc Eliyahu
~ Wednesday, September 21, 8:30 PM
Admission: NIS 60, students: NIS 30, BEIT AVI CHAI courtyard
Ahavat Olamim
Rabbi Haim Louk and the New Jerusalem Orchestra
~ Tuesday, September 20, 8:30 PM
Admission: NIS 60, students: NIS 30, Gerard Behar Center
The Aleppo Machzor
A gala event in honor of the new album "Ten Zemirot Ami" with new melodies for piyyutim from the Aleppo machzor
~ Wednesday, September 21, 7:30 PM
Admission: NIS 60, students: NIS 30, National Library (Givat Ram), Weintraub Auditorium
The High Holy Days in Hassidic Courts
Project Halev Vehama'ayan in a moving piyyut concert
~ Wednesday, September 21, 7 PM
Admission: NIS 50, Students: NIS 20, BEIT AVI CHAI Auditorium
Zalevski's Melodies
A retrospective of the music of composer Zvi Zalevski
~ Tuesday, September 20, 7 PM
Admission: NIS 50, students: NIS 20, BEIT AVI CHAI Auditorium
Nino Biton: in the Mood for Oud
Nino Biton in a piyyut concert inspired by the traditional Andalusian nûba
~ Thursday, September 22, 7 PM
Admission: NIS 50, students: NIS 20, BEIT AVI CHAI Auditorium
Piyyut 'n Roll
Piyyutim, Prayer, and Rock 'n Roll
~ Thursday, September 22, 8:30 PM
Admission: NIS 60, students: NIS 30, BEIT AVI CHAI courtyard
Festival Events in the Neighborhoods of Jerusalem
Piyyutim in the Streets of Jerusalem
Admission: NIS 30, students: NIS 20
Gilo
A mosaic of North African piyyut, Chassidic melodies, Ashkenazi Chazzanut, klezmer, and Israeli prayer songs
~ Tuesday, September 20, 8 PM
Qiryat Yovel
Piyyutim from the Moroccan, Aleppo, and Babylonian traditions, in ancient and unique melodies
~ Thursday, September 22, 8 PM
Nachla'ot
Stories, Piyyutim, Aggadot, and Bakkashot
~ Thursday, September 22, 8 PM
Guided Tours
Piyyut in Nachla'ot
Tour and encounter with the neighborhood synagogues
Tour: 4–5:30 PM
Program in the synagogue: 5:30–7 PM
Admission (tour and program): NIS 30, students: NIS 20
Advance registration, BEIT AVI CHAI box office
Meeting Point: Outside the Gerard Behar Center, 11 Bezalel St.
In conjunction with the Sephardic Heritage Alliance and Ben-Zvi Institute
The Sha'arei Rachamim ("Bana") Synagogue
~ Tuesday, September 20; meet at 3:45 PM; tour starts at 4 PM
The Chessed Verachamim Synagogue
~ Wednesday, September 21, meet at 3:45 PM; tour starts at 4 PM