Under Repair – a group exhibition featuring designs from seven Masters of Design graduates from the Bezalel Academy of Art and Design, Jerusalem opens tonight, September 22, 2011 at 19:00 at the Bezalel Gallery, 60 Salame Street, in Tel Aviv. A gallery talk led by Yuval Saar with featured guests, lecturers and students of the program, will take place on October 6, 2011 at 18:00, entrance is free. The exhibition will remain open through October 15, 2011.
About the exhibitors: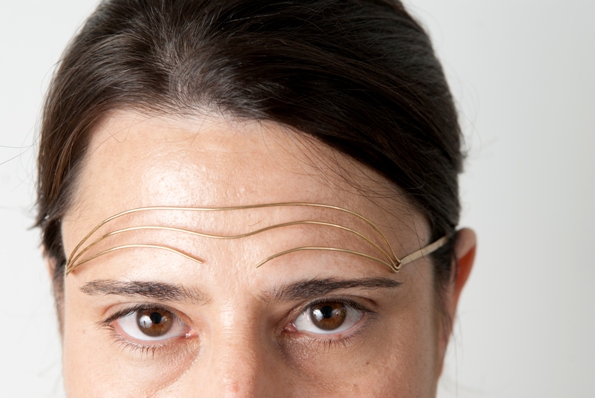 Noa Zilberman – "Jewelry Wrinkles" – a series of pins was created each emphasizing a different area of the body where wrinkles will eventually show.  She created a map of wrinkles on her face, which were filled and repaired using a gold wire, which led to a series of "wrinkle masks": Jewelry for the skin of the face, neck, and neckline.  This emphasis creates a focus on areas perceived as supposedly "broken" over time and actually gives them a new and more compassionate meaning.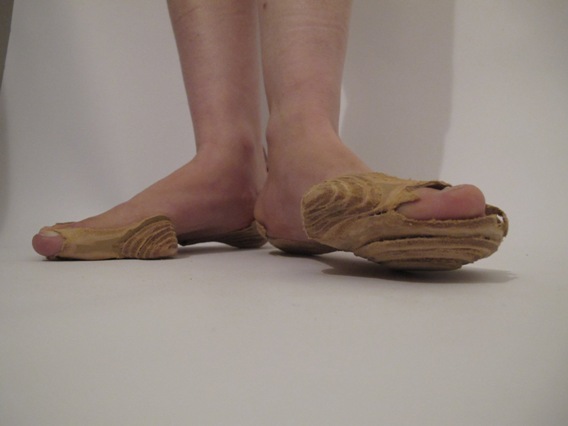 Daniella Silverstein – "Barefoot Shoe" – deals with questions of beauty and ugliness.  Silberstein built an insole from pieces of skin, which minimally covers the foot.   The object highlights the toe bone, exposing the toes and revealing rough and warty skin. The insole emphasizes the "blemished" regions of the foot, but also gives them as aesthetic wholeness, and raises questions about the need of a shoe as an expression of fashion.
Lee Osheret – "Improvisation" – focusing on office rubber bands and following morphological and functional research, the artist developed a series of five flexible connectors, each of which is a new object, which allows all sorts of different improvisations.  Lee created a project that by definition deals with the relationships between people and objects, with features that turn three-dimensional objects into platforms for improvisation and upgrading, so there is also a study that looks at improvised objects in the home and urban space.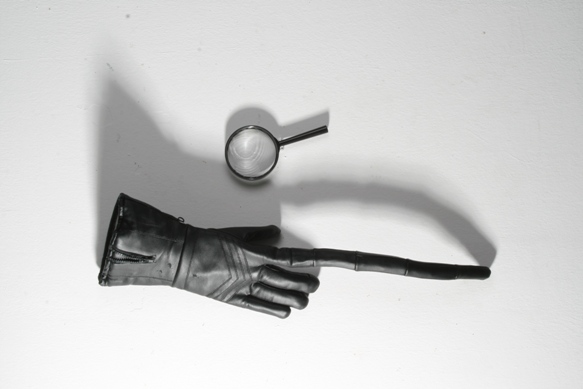 Vadim Prokofiev – "Arachnophobia – Coping with Spiders" Utilizing a childhood memory of his, the artist uses it as a source for material design.  At the age of 4, a spider latched on to him for several minutes without letting go.  From this trauma, he created a "kit to deal with memory", which includes a finger-long glove and a "diminished" glass.  The kit allows for safe observation of the menacing spider, as it pokes fun at the threat and offers a humorous way of dealing with anxiety.
Liran Elbaz – "Breakdown Facility" – focused on the existing external defects in the southern Tel Aviv neighborhood of Florentine – emphasized by what is missing – puddles of water over the cracked sidewalks, dirt being used to feed cats – and in fact turned these defects to something being "treated" – the sidewalks were painted and the puddles were colored, the food collected in neat piles on decorated paper, in sensitive adjustments and small steps.
Tal Frenkel Alroy – "Family Table" – gave a motif to a dining room table which was present-absent during her youth, as a daughter of her Holocaust survivor father.  Through extensive research, she reveals the table's biographical components, as someone in which a sense of family did not exist, or as she puts it, "how do we make a table empty of matter?  As a result, she has created a project that includes paintings, photos, video and graffiti signatures which all investigate childhood through a therapeutic process that aims to repair what has been broken.
Yevgeniya Zeitlin – "Alias" – uses the eternal conflict between the desire to integrate into Israeli society and the desire to preserve the world she left in Russia as source for her design.   The project deals with the life left behind, using visual images, which are linked to memories from different ages.    One of the significant images is of "Babushka" dolls, which her mother worked with in her paintings and from which Yevgeniya needed to coat with the last layer of lacquer.  Yevgeniya created a "mobile coffee kit", which corresponds with the principles identified with the Babushka: dismantling, assembling, and containment.  Coffee, which for Yevgeniya is one of the most prominent symbols of assimilation, along with the 'Babushka' object, constitutes a bridge between the atmosphere of "here" against the memory of "there."