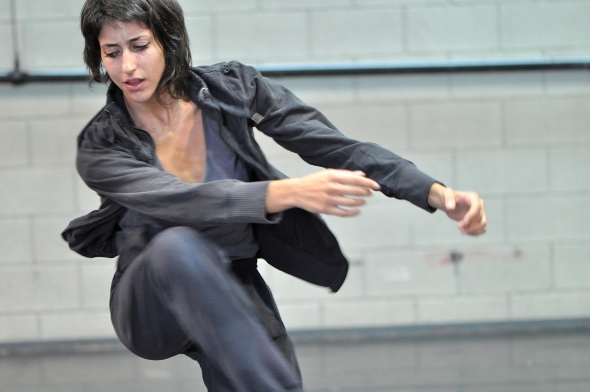 The Project, an ensemble of Israeli dancers performing works by contemporary Israeli and international choreographers, will perform two new Israeli premieres on October 13, 2011 at the Israeli Opera, Tel Aviv Performing Arts Center: William Forsythe's Double/Single and a new work by Idan Sharabi.
The Project was launched two years ago by the Israeli Opera in collaboration with the Suzanne Dellal Centre, to create an ensemble to perform a repertoire of contemporary international choreography. The ensemble dancers are: Tamar Son, Tamar Sandler, Sharon Vazana, Oryan Yohanan, Omri Albo, Noa Cohen, Naama Tamir, Morial Debby, Ilan Kav, Dor Mamalia, and Amit Mersino.
William Forsythe's Double/Single is an excerpt from Kammer/Kammer (2000), a work set in a hotel room, performed to a soundtrack of Bach. Forsythe is an American dancer and choreographer who lives and works in Frankfurt. Forsythe directed the Frankfurt Ballet from 1984 – 2004, when he founded his own dance company, the Forsythe Company. Forsythe's choreography has been performed by: The New York City Ballet, The San Francisco Ballet, The National Ballet of Canada, The Royal Ballet Covent Garden, The Paris Opera Ballet, The Bolshoi Ballet and many others.
The second part of the evening will be a world premiere of a work by a young Israeli choreographer Idan Sharabi, who will also be dancing in the Forsythe piece. A graduate of Thelma Yellin High School for the Arts and Juilliard, Sharabi was a member of NDT for four years, where he won their "most promising future choreographer" award. This new work relates to Freud and the relationships between fantasy, sexuality and creativity.
Performances will take place on October 13th at 21:00, and October 14th at 13:00. Israeli Opera, Tel Aviv Performing Arts Center,  19 Shaul Hamelech Street, Tel Aviv. Tickets: 03-692777, www.israel-opera.co.il