Disco lights, loud music, models dancing down the runway –by international standards, the closing runway show of Tel Aviv Fashion Week  was positively vulgar. As a charity event for IGY, the LGBT teenage organization in Israel, the affair was heartwarming. Forty Israeli designers were asked to create looks for a celebrity model of their choice. Prominent members of the LGBT community such as Dana International and K- Long as well as actors, musicians and athletes paraded down the runway in drag and other thought-provoking, gender-challenging getups.
The variety of models chosen for the event was queer, pardon the pun. While in traditional runway shows the models are made to appear as facsimiles of one another, the diversity – not just in terms of gender – presented at IGY was wonderful to behold. Model after model defied fashion industry conventions of age, size and even grooming. News reporter Dalia Mazor, 62, and Judy Shalom Nir-Mozes, 53, represented an age-group rarely seen on the runway. Stella Ellis wearing Efrat Kalig, Singer Dafna Armoni  wearing K-Long and Yoav Meir wearing his own design sported very bold, unapologetic plus-size designs. An unshaven Yermi Kaplan waltzed onto the runway wearing his usual eyeglasses, without going through hair and makeup prior to the show.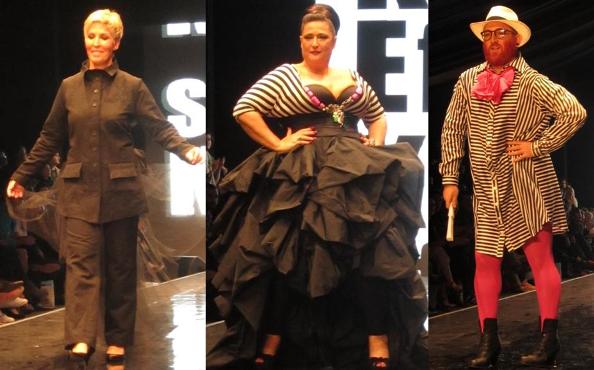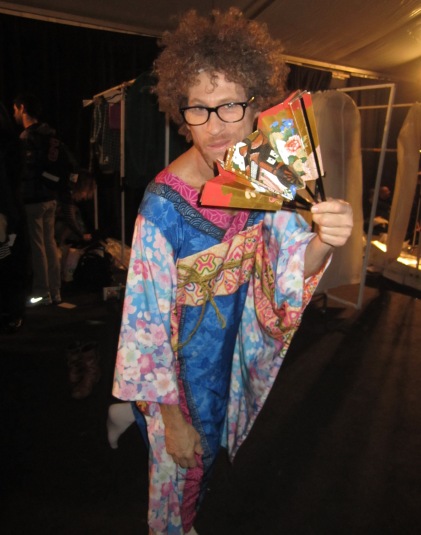 Spirits were high and support was vocal; the tolerance was almost tangible. K-Long, Israeli drag queen/fashion designer, designed a look for the event and walked down the runway herself. "My name is K-Long, because I'm so long," laughed K, who towers well over everyone around her. "Dorin Frankfurt designed a Greek gown for me. Fortunately it's sheer and shows a lot of skin." About her own design, K shares: "I designed looks for the wedding of two women. A big gown for Dafna Armoni, because she is very big. She is feminine, and Natalie Dadon is a tomboy. It's very extravagant." Of K's own sexual orientation, she shares, very graciously: "I am somewhere between man and woman."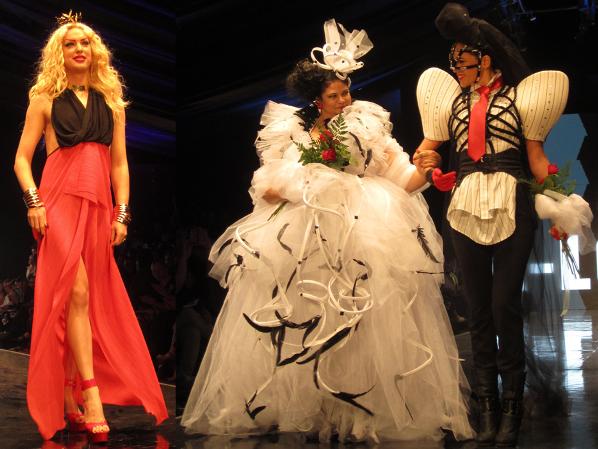 Alon Livne, Project Runway Israel winner who also presented an entire line of clothing at Fashion Week (ME link), designed a look for Dana International. "She is my Barbie," he says, "the message I want to send is this: flaunt your femininity and your power! Dana is the perfect way to say this." Dana International, born biologically male, is now a female singer with eight albums and a Eurovision win under her belt for the song "Diva".
"I'm a very appropriate choice for this event," Dana says. "I am one of the main spokespeople for the Community because of who I am and what I do. I want everyone to know that there's no separation here; everyone is on the same level. We are one big family and I'm very happy to support it whenever I can."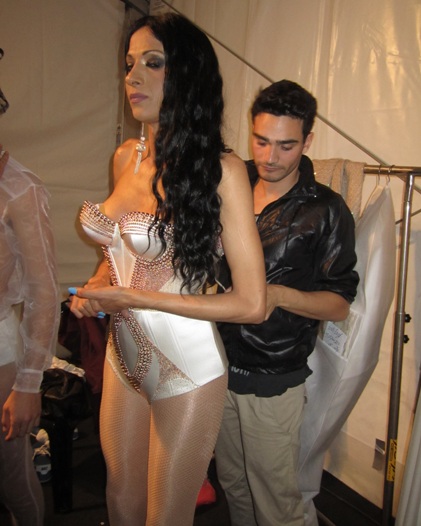 Despite the diversity of models and the diversity of designers, the show presented an oddly cohesive group of looks, in terms of colors, fabrics and theme. One could imagine all of the models attending the same theme party at a goth-punk-kitsch S&M club. Leather, sheer fabric and bling were frequent motifs. There was one puzzling detail – two of the models smoked cigarettes down the runway.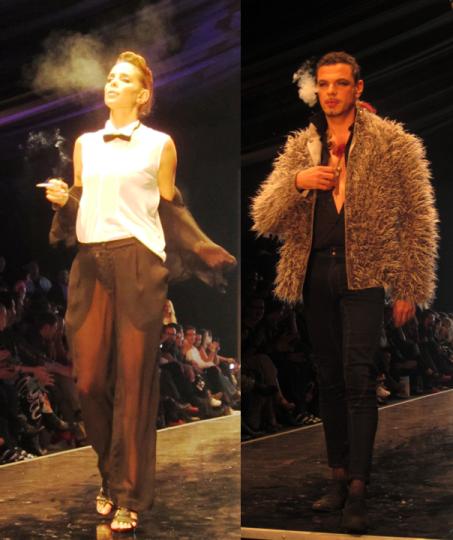 Some of the looks made their pro-difference statement loud and clear. Several looks, like K-Long's, featured two models walking together down the runway, with a gender twist. Yoav Meir sent a female and a male model down the runway as bride and groom, with the bride in a white dress and the groom – in drag. Tal Berman and Aviad Kisos walked down the runway together, wearing Yossi Katzav Menswear. Many women sported suits or other typically masculine clothing; several donned dresses and skirts. Judy Shalom Nir-Moses wore a dress in the colors of the Pride flag.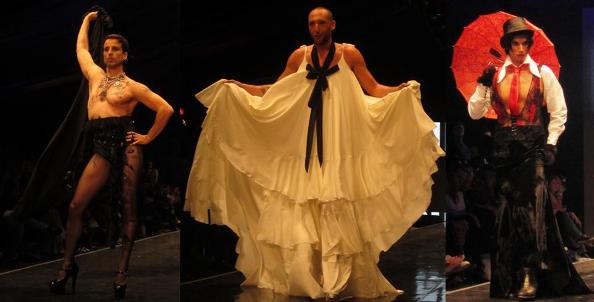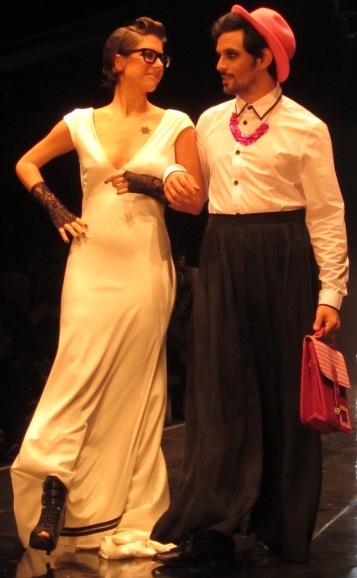 Other designs were more subtle. Model Liel Denir wore an extremely modest shirt and skirt, designed by Lila Mist, with an antiquated hairdo and a bonnet collar. A closer look at the Quaker-like ensemble reveals the skirt is made of leather and the top is subtly sheer. The overall effect is that of covered sexiness, of contained yet powerful femininity. Model Yael Reich wearing DoDo (Dorit Bar-Or) was also very modest, but with a different effect. The Spanish silhouette is very maternal, and the bouquet, flower headdress and shirt elements are evocative of a very pastoral, Heidi-like innocence. At the same time, however, the outfit is black. Is the model mourning or celebrating? Does she embody an innocence lost or retained? Are both possible?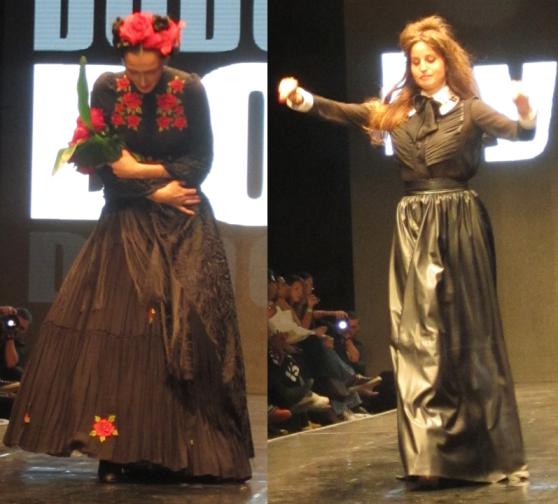 Two of the looks challenged the particularly sensitive issue of religious gender stereotypes. Actor Moshik Galamin, wearing Dorit Sharon, walked the runway in a turban and a dress, leading a dog. Maoz Dahan had Anna Aronov in a shtreimel, peyess and tzitzit under a sheer white dress shirt with sheer black trousers. A penciled-on mustache and polka-dotted underpants completed the look.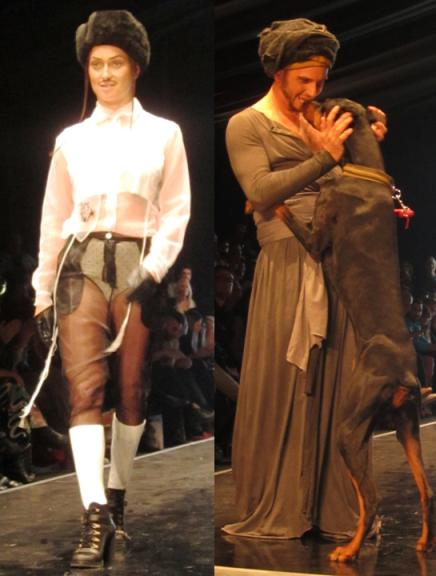 What do you think about this show? What are your favorite looks and why?