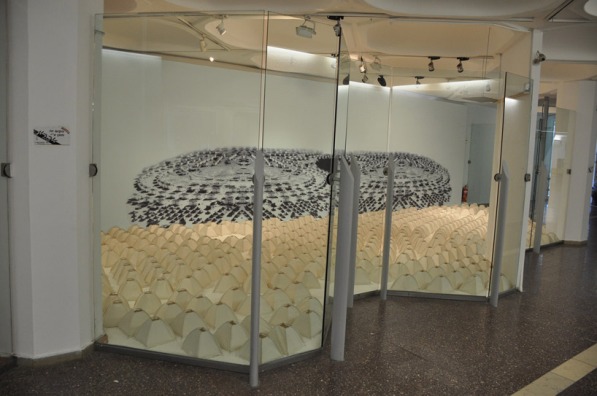 Industrial designer Ido Bruno and photographer Yael Rubin have an exhibition on display at the Hebrew University's Stern Gallery, relating to the tent protests this past summer on Rothschild Boulevard, and the image of the tent in Jewish and Israeli history.
Bruno's installation of 420 tiny tents reflects the tent in Israel's history: the 'maabarah' transit camps of the 1950s, through the tents of the first settlers in the territories, and other historical references. Bruno is a senior lecturer in the Department of Industrial Design at the Bezalel Academy of Arts and Design.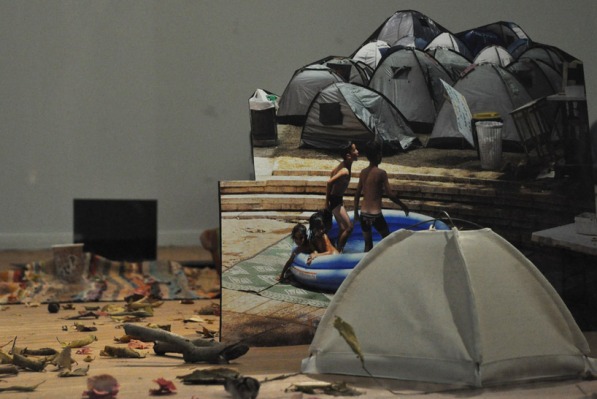 Curator Michar Mor writes of the exhibition: "The tent city, the huge installation that took shape in Israel, is conveyed by a duo of artists – Ido Bruno and Yael Rubin. A virtual protest turned into a real one, struck a tent peg in the ground of the boulevard, reached the streets of the cities and spread throughout the country. Like a stone creating ripples when thrown into water, in his Transit Camp for Immigrants (Maabarah) installation Ido laid out historical context and connected it to the present day. His transit camp tents entered every home, and their orderly installation is reminiscent of the settlements of immigrants in the white city during the early phases of Zionism. Ido scatters the tents and makes room for the protest activists in Yael's work. Yael creates different sounds and voices, colorful and lively, and thereby groups cities, people and places together."
See the work in process on YouTube:

Stern Gallery, Hebrew University Har HaZofim Campus (near the Academon Bookstore), opening hours: 9:00 – 20:00. There is no closing date.