At long last Israel's Ceramists Association, with a roster of more than 600 members, has a home of its own. Its offices are now housed in South Tel Aviv, in the sparkling new Benyamini Ceramics Center, a non-profit making venture, established through the generosity of the late Yehudit and Issachar Benyamini, ceramic artists and teachers.
This center, open to the public since June 2011, operates under the guidance of  its trustees Shlomit Bauman, Ilan Meyer and Marcelle Klein who is its director. Taking up three floors, it has two spacious exhibition areas, a library, and a studio furnished with kilns, wheels and other equipment, with working space for 12 students. The staff includes many volunteers. Masters classes and workshops for professionals and beginners with the participation of guests from abroad are already taking place; and exchange visits are planned. And, to encourage the next generation of ceramists, two art school graduates have been awarded scholarships that entitle them to their own 'first' studio on the premises for a full year.
Voyage – A Boat to Nowhere, the group show currently on exhibit, showcases the work of 16 artists. The majority are showing ceramics, but paintings, photographs, drawings and a video installation are also on display.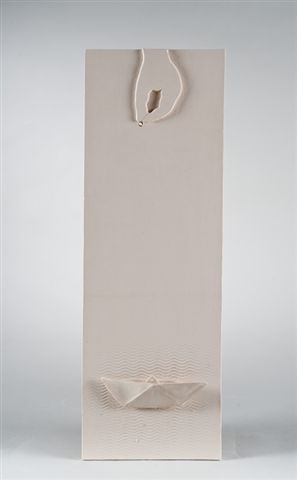 A feature that immediately strikes one when first looking at these works is the wide diversity of materials, techniques and styles. Meira Una Ben-Hanan, for instance, chooses painted slab-built stoneware to give the illusion of boats whirling around the eye of a storm. In contrast, Talya Bar's applies a variety of stains and glazes to her small earthenware vessels to produce delicate, painterly effects. And then there is Benjamina Nadler-Naor whose 'canvas' is a ceramic plaque with graphic illustrations etched in relief invariably 'freezing' a moment of perfect balance. In Pendulum, a trio of works, she explores the tension between hands connected to a paper boat by a visible or imaginary cord.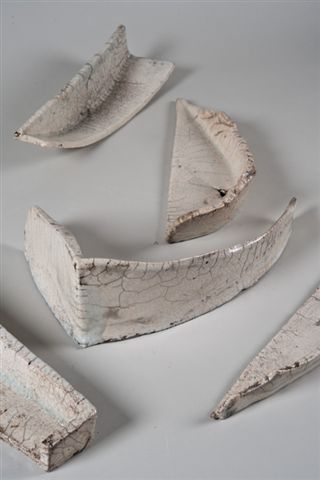 The nautical theme is expressed in various symbolic ways. A number of pieces touch on human frailty or the burdens of life. Truly effective in this respect are Eva Avidar's unadorned lithograph of a weather-beaten boat filled with stones; Ruth Barkai's configuration of the sails of a ship where porcelain has replaced sturdy yarn; and Anat Bar El's exhibit Phoenix, an apparent allusion to this mythical fire-bird's ability to be reborn from his own ashes. Consisting of an assortment of boat fragments with a cracked or veined appearance (caused by smoke generated during Raku-firing,) this work comes over as a successful metaphor for 'a bruised and battered world,' – Bar El's own description.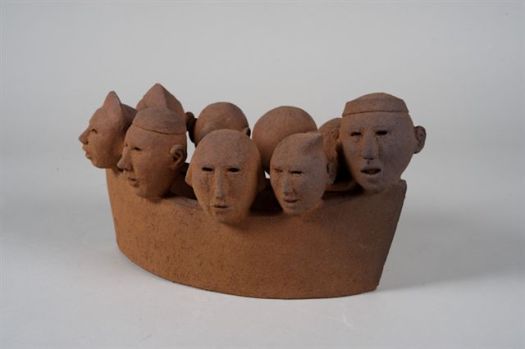 Ship of Fools is the title that David Morris gives to his wood-fired stoneware pieces fashioned to create two boats stuffed with human heads. The grotesque expressions on their faces – of pain, fear and horror – provokes in this writer a sense of déjà vu: Menashe Kadishman's Fallen Leaves – thousands of metal discs depicting the face of the screaming face of Isaac – on permanent exhibit at the Jewish Museum, Berlin.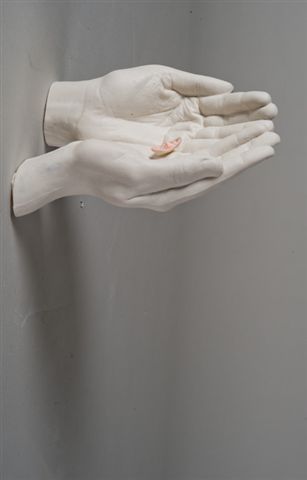 In contrast, boats fashioned by two recent Bezalel graduates offer a safe haven. Shulamit Etzion's open hand encloses a tiny leather ship, while Svetlana Faerman's deep earthenware bowls act as a sanctuary for a small boat, but their surface interiors also suggests the rush of turbulent waters.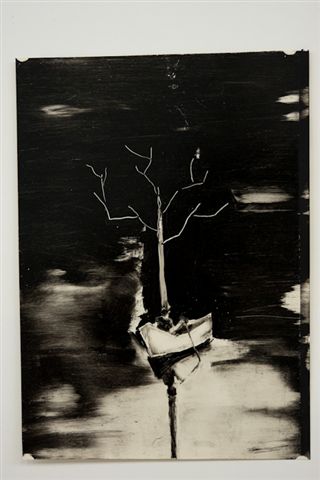 Some fine works project a yearning for the sublime. Among them are Ronen Siman-Tov's nocturnal paintings of a man rowing a boat towards a pitch-black horizon. The surreal aspect of his scenes is particularly emphasized in The Branch Boat where the boatman has come to rest alongside a thin, bare tree with a single bird perched atop. Equally picturesque is Noa Ben-Nun Melamed's splendid photo of a single tree in silhouette, with a toy boat set alongside.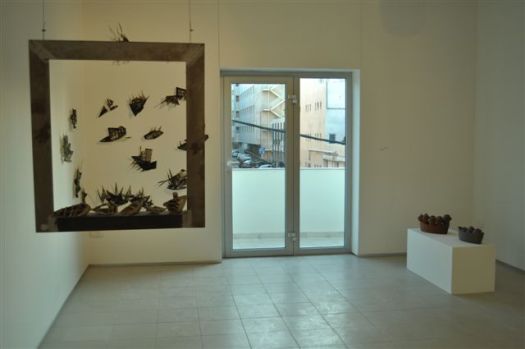 Leonid Gosin's installation combining sculpture with ink drawings makes a strong impression which is not evident in the photo reproduced above. It comprises fragments of boats resting on a window frame through which one can view black and white fantasy drawings of ships and deserted buildings. Gosin titles his work Fata Morgana – a mirage consisting of multiple, distorted images – but the mysterious element in his work brings to mind the legend of the Flying  Dutchman, a ghost ship doomed to sail the oceans for ever.
This attractive exhibition, curated by Tirza  Yalon Kolton, is open until January 14th.
Benyamini Ceramics Center, 17 Ha'amal St., Tel Aviv (opposite the offices of Haaretz). Tel: 03 – 5182257