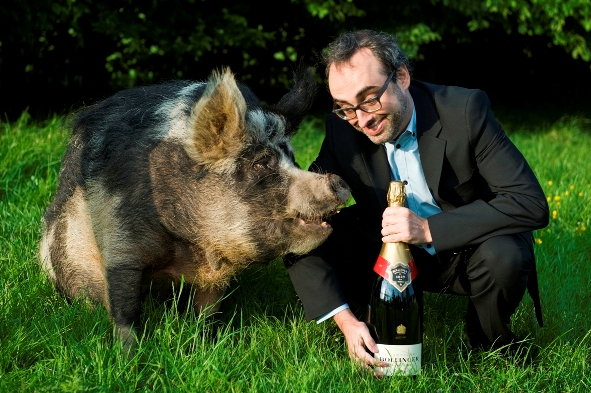 Even quiet, bookish types like to get all excited sometimes – at least every other year when the International Writers Festival brings a bevy of celebrated authors to Mishkenot Sha'ananim in Jerusalem. The 3rd International Writers Festival will take place from May 13 – 18, 2012; a wonderful chance to hear favorite authors in readings, seminars, interviews and discussions on writing, literature and culture.
Howard Jacobson (USA) – 2010 Man Booker Prize for his novel The Finkler Question; Vikas Swarup – Q & A, the novel that was the basis for the 2008 film Slumdog Millionaire; Tracy Chevalier (UK) – Girl with a Pear Earring; Gary Shteyngart (USA) – Super Sad True Love Story, winner of the 2010 Bollinger Everyman Wodehouse Prize for comic literature; Gerard Donovan (Ireland) – Julius Winsome (2006), Lorenza Mazzetti (Italy) – The Sky Falls; Claudia Piñeiro (Argentina) – Widows of Thursdays; Aimee Bender (USA) – An Invisible Sign of My Own; Tom Rob Smith (UK) – Child 44; Herman Koch (Netherlands) – The Dinner; Arnon Grunberg (Netherlands) – Blue Mondays; László Krasznahorka  (Hungary) – War and War; Solveig Eggerz (Iceland) – Seal Woman; and Boualem Sansal (Algeria) –  The German Mujahid; are the international authors who have already confirmed their participation in the festival.
Israeli authors who confirmed their attendance include: David Grossman, A. B. Yehoshua, Eli Amir, Meir Shalev, Eshkol Nevo, Etgar Keret, Zruya Shalev, Yochi Brandes, Dorit Ravinian, Alon Hilu, Nir Baram, Hagai Linik, Matan Hermoni, Moshe Sakal, Yael Neeman, Einat Yakir, and Yair Asulin.
Special events at the festival will include theatre and music performances as well as screenings of film adaptations to novels, followed by a discussion with the authors. A children's activity area will be set up near the windmill, book signings will take place at the bookstore, and a literary café will complete the festive scene.
The complete festival program is available online in English.
Uri Dromi is the Director of Mishkenot Sha'ananim, and the Festival Director is Tal Kramer, Program Director of Mishkenot Sha'ananim. The festival is produced by the Program Department of Mishkenot Sha'ananim, under the artistic direction of Tal Kramer and Tzila Hayun, CEO of Hotam. The International Writers Festival is made possible through the support of the Jerusalem Foundation, the Jerusalem Season of Culture, Mifal HaPayis, the Culture Administration and other organizations.