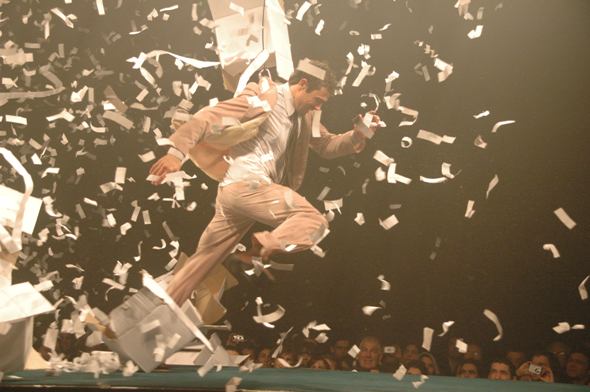 The key to Fuerza Bruta, Diqui James and Gaby Kerpel's new show, is getting involved. This is not a performance where the audience sits back and stares. Taking place in a giant tent at the Tel Aviv Exhibition Grounds, it's a standing show, with most of the action taking place either just above eye level (short people are at a disadvantage), or way up high. You can move around freely on the floor, dancing to the music – it's as much a party as a performance.
Fuerza Bruta is a sensory experience with lights, music and elaborately and constructed effects, best enjoyed with alcohol and friends. A non-verbal, non-narrative world of images, sound and motion – a man running, furniture appearing out of nowhere and disappearing just as fast, and confetti galore.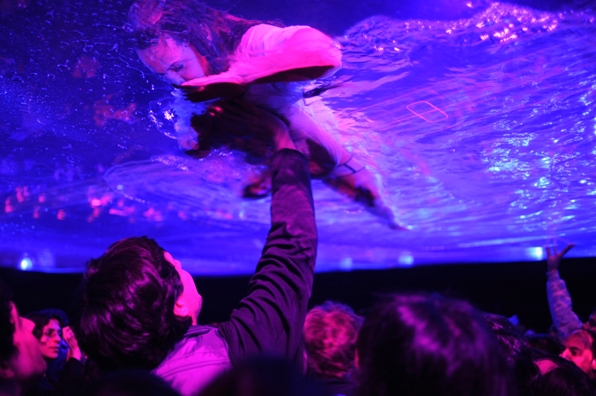 A beautiful sequence in the water is the highlight of the show, as a huge mylar pool is suspended in the air. A shallow amount of water flows from one end to the other, creating shapes and images, as four women in flimsy dresses swoop, slide, and splash; evoking a sense of the poetic and pornographic.
Fuerza Bruta is brought to Israel by Orange, and will be performed through February 18th at the Maxi Dome, Tel Aviv Exhibition Grounds. Tickets for Orange subscribers are 119 NIS, 149 NIS for Leumi Card holders, and 249 NIS for the general public; to purchase call *2207.