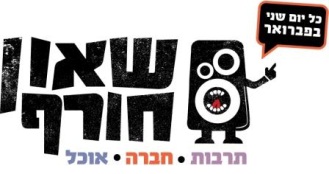 Liven up those winter Mondays with Shaon Horef – free events taking place in a different neighborhood each week throughout February.
What's in store for tomorrow?
Animation celebration – short films from Bezalel students @ Jabotinsky bar, 1 Ben Shatach Street, 19:30 – 21:30, then a music master class with Eric Berman.
Visuwall – VJ Felix Offermann will create a show of lights outside of Cawa House Café, 3 Yanai Street, 19:00 – 22:00.
Chef Avi Betito will share some yummy tapas secrets at 7 Koresh Street from 19:30 – 21:30. Admission is free but does require advance registration, call: 02-6298148.
French/Israeli night – Ilan Amram with French songs and poetry at the Vice Versa bookstore, 1 Ben Shetach Street, 19:30 – 22:30.
Whiskey & Blues with the GREENBAUMS @ Glen Bar, 18 Shlomtzion Street, 20:00.
Rotem and Tal invite you to their home for a party at 14 Koresh Street, Entrance Daled, Apartment 14 from 21:00. Good music & cheap alcohol.
Irish groove with Balkan touches from La Basta Band (and soup!) at Ha'marakia, 4 Koresh Street, 21:00.
Tarantina – all female rock band @ Hamikveh, 4 Shushan Street, 21:00.
Amy McKnight – Australian folk singer at Glazgo Bar, 11 Shlomtzion Hamalka Street, 21:30.
Knockin' on Tuvia's Door – Dylan fans come out to hear Daniel Dor (he's really great!) at Tuvia Bar, 4 Shushan Street, 22:00.
W.I.N.T.E.R.A.V.E. https://www.facebook.com/events/371473862866882/ – DJ Assaf Amdursky at Barake Club, 7 Koresh Street 22:00, followed by DJ Luminol with a trance set til dawn.
TAPET & Control Delete @ Hasira Bar, 4 Ben Sira Street, 22:00.
And more….check out the Shaon Horef facebook page!