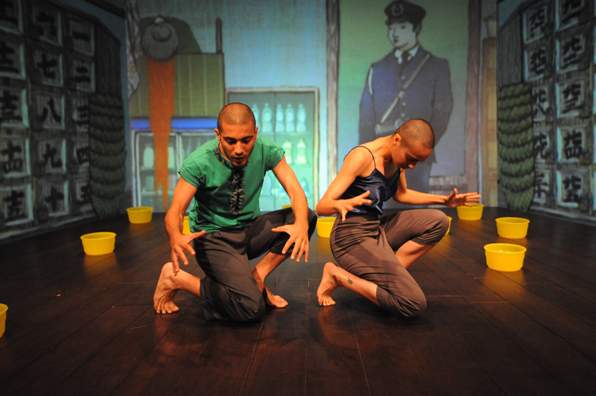 FURO is an immersion in a flow of movement and images. An installation/performance piece merging the choreography of Ohad Naharin with the animation of Tabaimo, one enters the space through a dark labyrinth, as if returning to the waters of one's birth.
O-furu means "respected bathouse" in Japanese; the space is arranged with rows of benches facing three screens that enclose a wooden floor. Sitting in the front rows, with Tabaimo's images of the bathhouse moving across the three screens, is like entering a world of water, color, whimsy and danger.
FURO is on view in repeating 45 minute loops, with a different pair of dancers each time. The relationship of the movement to the animated images is not illustrative, but rather a dialogue of association. As images, movement and lighting change, one's attention drifts from the screens to the dancers, in fluctuating waves of thought and emotion. The dancers begin in the center of the wooden floor, surrounded by small yellow plastic bowls. An asymmetric shudder, a discontinuous groove in unison, an intense stillness as they reach into the distance between their bodies and hold hands; then each dancer walks off to a different side and stands on a pedestal at the edge of the screen.
Gentle colors and soft lines, shifting perspectives and scale, Tabaimo's animation draws us into a world where the almost realistic meets the strange: people in business attire slosh around in the bath while naked women climb over the wall; beautifully rendered wooden lockers with Japanese characters line the wall of the bathhouse, inside, one might find a giant baby; a man walks in and begins to take off layers of clothing, then casually unzips his naked back, over and over again.
Yellow bowls float on the rising waters; a black bird flies out of the bath. The dancer on the right, Yaara Moses looks out into the distance with a kind of foreboding in her eyes as if this Cassandra were looking into a dark future. Arms outstretched, hands cupping emptiness, and then drawn in towards the body, climbing up the torso and finally clasped behind the neck, elbows out, as if in a relaxed pose. Looking across at the other dancer, Eri Nakamura, the two dancers, both in the same pose, gazes locked, pelvis insistently rocking, connected in an alienated sexuality drained of eroticism or passion.
Working with a wide spectrum from an over-powering white to a warm candle-like glow, Avi Yona Bueno (Bambi) creates emotional resonance that is a strong element in the installation.
The different sets of dancers perform the same movements, yet this repetition has the potential to heighten the intensity of the experience. What is the elusive element that evades perception, making the same movement performed by different dancers not the same? It is as if one could look at the molecular level of the soul – not of the individual dancer, choreographer, image, gesture, or one's own perception, but the soul of that which is created in the coming together of all these elements as a work of art.
FURO is currently showing at the Batsheva Dance Company Varda Studio in the Suzanne Dellal Centre, and the artist Tabaimo will be arriving in Israel and will discuss her work this coming weekend:
Friday, March 23rd at 12:00 at the Tel Aviv Museum of Art in a gallery interview with Hagit Peleg-Rotem as part of ARTWEEKEND events.
Saturday, March 24th at 19:00 in a discussion with the audience at the FURO performance.
FURO is performed three times each evening, with each session lasting an hour and a half, in other words: three 45 minute loops. After entering, the audience can come and go freely, but it is recommended to allow at least a 45 minute viewing period. Tickets may be purchased online or call:  03-5104037.
http://www.batsheva.co.il/en/Work.aspx?iid=1052
Performance schedule:
Wednesday, March 21: 19:00 – 20:30; 20:00 – 21:30; 21:00 – 22:30
Friday, March 23: 11:00 – 12:30; 12:00 – 13:30; 13:00 – 14:30
Saturday, March 24: 16:30 – 18:00; 17:30 – 19:00; 18:30 – 20:00; 19:30 – 21:00
Monday, March 26: 19:00 – 20:30; 20:00 – 21:30; 21:00 – 22:30.
Furo
By Ohad Naharin and Tabaimo
Originally created for, and produced by Stockholm's Judiska Teatern in 2006
Lighting Design: Avi Yona Bueno
Soundtrack Design: Ohad Fishof
Costume Design: Alla Eisenberg, Sharon Eyal, Mirit Weinstock, Sason Kedem
Photography: Gadi Dagon
Dancers: Stav Struz, Ori Moshe Ofri, Eri Nakamura, Yaara Moses, Chen-Wei Lee, Rebecca Hytting, Adi Salant, Doug Letheren, Ian Robinson.
Music:
Brian Eno, "Condition 7 ("Compact Forest Proposal"); Dafeldecker, "Bern" (Dafeldecker st"); Hazard, "Meteosat" ("Light"); Ohad Fishof, "Zipper" (Unreleased); A Small Good Thing, "Let's Get Ripped" ("Slim Westerns vol. 2"); Peaches, "AA XXX" ("The Teaches of Peaches"); Gino Vanneli, "Crazy Life" ("Crazy Life"); The Anomoanon, "Planet Caravan" ("Everything Comes and Goes"); Raymond Scott, "Twilight in Turkey" ("The Music of Raymond Scott: Reckless Nights & Turkish Twilights"); Atom tm, "I Love (easy love)" ("Imix"); Nim, "Raouchen ist Todlich" ("Editorial EP"); Turbonegro, "All my Friends Are Dead" ("Party Animals")