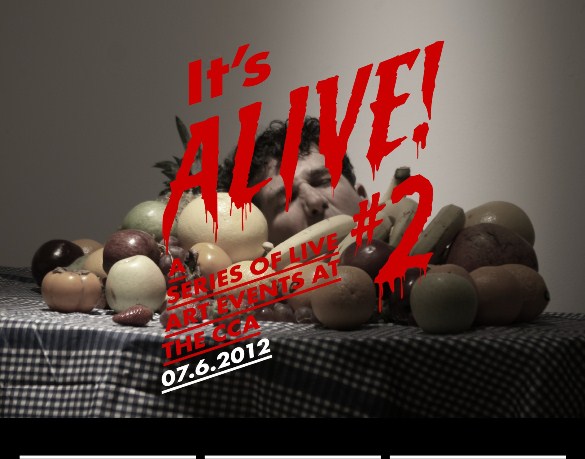 "It's Alive! #2" – the second in a new series of live art events will take place at the Center for Contemporary Art (CCA) on Thursday, June 7, 2012 at 19:30.  Curated by Maayan Sheleff, each evening will be composed of several multidisciplinary works, creating an experience and experimental space for artists and audience.
The evening will include performances by: Nezaket Ekici (Turkey/Germany), Sean Rogg England), and Shahar Marcus ( Israel). The program:
Nezaket Ekici– living ornament 19:30- 21:00. A living Installation by Nezaket Ekici & guest participants. The Installation idea derives from the ornament which is composed of elements that repeat as well as have individuality.
As a master student of Marina Abramovic, Nezaket Ekici is working internationally for more than 10 years as a performance artist. Her work has been shown at various Biennales and art venues such as PS1, NY, Istanbul Modern, and MOCA Taipei.
Sean Rogg in collaboration with Uri Frost– wonderful little creatures 20:30- 21:00. A small laboratory set is constructed. A series of liquids are mixed together each containing various formulas to create fluids that when heated to extreme temperature behaves like living organisms.
Sean Rogg is a young British Artist working in the field of video and performance. His work has been exhibited at The Wapping Project, Bloomberg SPACE and ICA in London, TinaB Biennale in Prague, Modern Art Oxford, and The CCA, Tel Aviv, among other venues.
Uri Frost started out as a rock-musician and later branched out into increasingly experimental forms. He produces albums, composes music for theatre, dance, film and video installations. He has worked in Israel, Brazil and the U.K.
Shahar Marcus– The kitchen 21:00 – 21:30. In the kitchen of pleasure and pain, the actions of the housewife/artist are used to create objects of pleasure which quickly disintegrate.
Shahar Marcus is an interdisciplinary artist. Marcus had exhibited in many exhibitions around the world including Tate modern in London, The Moscow museum of modern art, The Israel museum in Jerusalem and the Tel Aviv museum.
CCA, 5 Kalisher st., Tel Aviv. *Entrance to "It's Alive!" program – 25 NIS