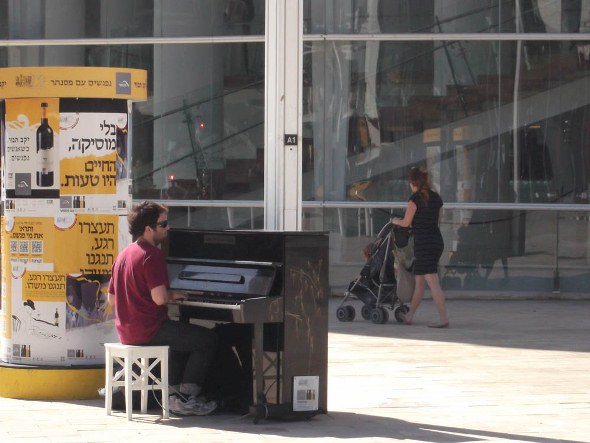 Piano sighting in Tel Aviv by Midnight East's go-to person for visual insights and observations – Tsvika Oren, animation expert and all-around interesting fellow. What are these pianos doing on the streets of Tel Aviv?
Inspired by British artist Luke Jerram's project "Play Me I'm Yours" that has been touring globally since 2008, placing pianos in public places for everyone's enjoyment, the Tel Aviv-Yafo Municipality in collaboration with Tabor Winery launched "Encounters with the Piano." 20 pianos were set up throughout the city of Tel Aviv on May 25, 2012 – the public is invited to sit down, play and even gather a group around the piano and sing. Even better, if you happen to stroll by at the right time, Tabor Winery reps will be offering a taste of the vineyard's harvest. The pianos and wine will be there for your pleasure through June 6th.
The Tabor Winery facebook page has a map that may help the truly dedicated music fans figure out the locations. Enjoy!