"I wanted to give Israeli music a chance to be presented to normal crowds – not just Israeli and Jewish communities," Claudia Frenzel told me over cappuccinos on Sheinkin Street. Frenzel, along with her fellow members of  Interkult Unterwegs, Katrin Werlich and Uve Stamnitz, is the creative energy behind ILanD – a 2 year project that has brought German and Israeli musicians together – onstage, in workshops, and just hanging out. It all comes together this week with the screening of the documentary "ILanD meets Germany" at the Tel Aviv Cinematheque on November 2nd, and two consecutive nights of concerts in Tel Aviv and Jerusalem, November 5 & 6th.
Frenzel, a music journalist, first came to Israel in 2003 through her work for the Heinrich Böll Foundation. She inevitably wound up in a music store, but only knew the name of one Israeli group – HaDag Nachash, which she had found on the internet. She asked for "recommendations for music that is not mainstream, cool stuff," and after listening to the likes of Mook E and Shabak, recalls, "I was wondering why I hadn't heard this?" Frenzel became more involved in the Israeli music scene, visiting Israel several times, meeting people and promoting Israeli music on "Multi Kulti", the radio station where she worked.
Wanting to introduce Israeli music to German clubs, she realized that by pairing an Israeli group with a local band, "people would come to hear the local band and get something extra." Bringing bands together musically was a fairly easy task for Frenzel, but her vision extends beyond creating a cool jam. "Pros can do this," she explains, "play together in 24 hours. But the time of being together is so short. It doesn't leave much." Wanting the encounter to become meaningful on a personal level she wanted to bring the musicians "together for a week to give them a chance to get to know one another" – and that is the essence of ILanD.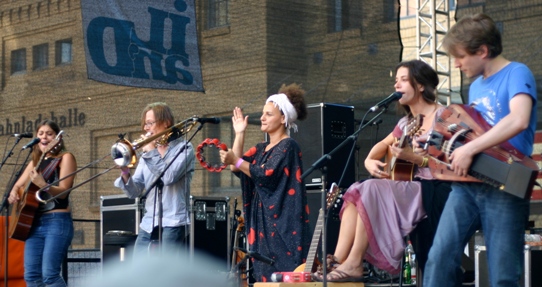 The first part of the project brought Israeli musicians to Germany in 2008, where they were paired with German bands that would be compatible musically. However, she said, "You can't plan what happens between two people who meet for the first time. The combination is right musically, but personally – maybe not." However, the "luck of the project" as Frenzel describes it, is that the musicians connected powerfully on a musical and personal level, something she still feels is "thrilling, a bit not believing" the impact of the project on the people involved.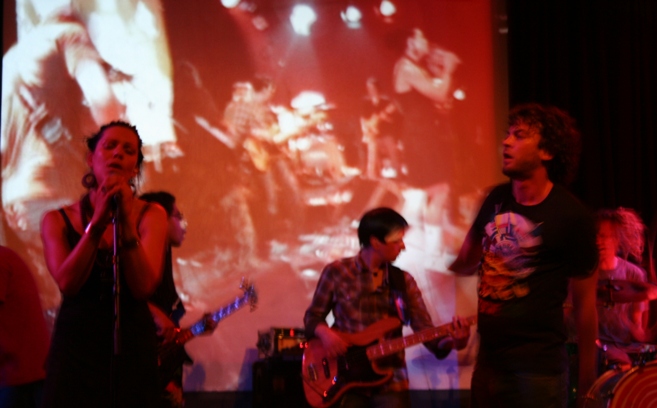 The success of ILanD 2008 has led to the coming week's events which will commence with a screening of a documentary movie created by students of two Berlin schools on the workshops and concerts held in Germany last year. 19 of these students are now visiting Israel for the first time, to document their journey. They have created a website – www.youngILanD2009.de, where people worldwide can follow ILanD 2009. There will be a special workshop project for the young participants, who will be hosted by Israeli families so that they can experience everyday life in Israel. Their partners in this adventure will be students from Tichon Ironi Alef Art School.
It's an amazing musical intercultural adventure, and a one-weekend only opportunity to hear the German bands and the unique sound of ILanD 2009.
 
The participating bands:
Germany
17 Hippies www.myspace.com/17hippies, www.17hippies.com
M.A.R.S. Allstars www.myspace.com/marsallstars
Jahcoustix www.myspace.com/jahcoustix
Erobique www.myspace.com/erobique
Ulman www.myspace.com/ulmanmusic, www.ulman.info
Do I Smell Cupcakes www.myspace.com/djgracekelly
Israel
Mook E & Yossi Fine www.shabak-music.com
HaBanot Nechama www.myspace.com/habanotnechama
Boom Pam www.boompam.org
Onili & Barak Kram www.myspace.com/onili
Nadav Ravid
Laroz
Public Events
November 2 at 19:00 Tel Aviv Cinematheque
First screening in Israel of the documentary "the ILanD project – Israel Meets Germany". The movie will be followed by a discussion presented by Dubi Lenz.
November 5 at 21:00 Ma'abada (The Lab) Jerusalem
Special Show of Boom Pam, featuring the 17 Hippies
November 5 at 20:00 Levontin 7, Tel Aviv
Live presentation of Young ILanD with a show of
Do I Smell Cupcake & Israeli guests
November 5 at 23:00 The Block, Tel Aviv
ILanD party with Onili (IL), Erobique (D), Grace Kelly (D), Terry Poison, Walter, Nadav Ravid and many more
November 6 at 21:30, Riding, Tel Aviv
ILanD Festival with HaBanot Nehama, Ulman, Boom Pam, 17 Hippies, Mook E & Yossi Fine. MARS Allstars & Jahcoustix, Laroz and many more.