The Negev Museum of Art, Beersheba is hosting an exhibition by Sigalit Landau, an Israeli artist with an international reputation. That she agreed to show her work outside the major venues in Tel Aviv or Jerusalem is surely a coup for Dr. Dalia Manor, the Museum's dynamic director and curator who is breathing new life into a place that has languished too long in obscurity.
Until now Landau has invariably created mixed-media installations under unified themes. Here is it different. She presents a medley of selected works from the last decade, most of them linked to themes from past shows. On display are two video works, and a dozen or so installations that reflect through symbols and metaphors her concerns as an Israeli, as a woman, and as a person with a highly developed political and social conscience. This striving to create art resonating with so many meanings must be hard, and it may be the reason for the choice of Caryatid as the title of this show. Identifying herself with the female figure that once held up the superstructure of some Grecian temples, Landau may perhaps feel that the weight of the world is on her shoulders.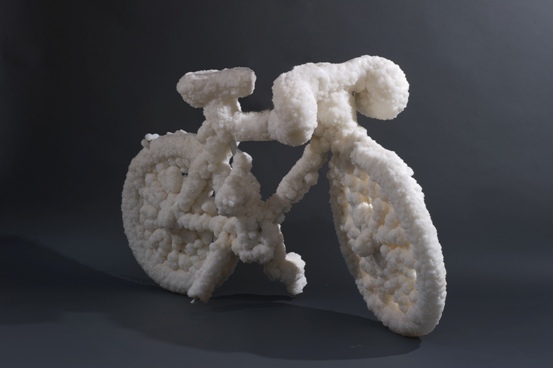 The exhibits are displayed on two floors of the Museum. Bronze figure sculptures referencing the subject of motherhood are on display in the entrance level gallery. But one's eye is drawn rather to two other sculptures in this room, both employing non-traditional materials.  One of these is a bicycle that has been immersed for a long period in the Dead Sea, and is now blanketed with crystals of salt; a process of petrifaction that Landau calls 'speed archeology.' This object and others, like the barbed wire 'crystal' chandeliers that Landau exhibited in 2007 in Berlin, illustrate the centrality of the Dead Sea in her art and thought. "This is the place," she says, that gives life to the world…salt both preserves and dissolves – and it is important that I participate in the preservation and promotion of the Dead Sea, for myself and for future generations."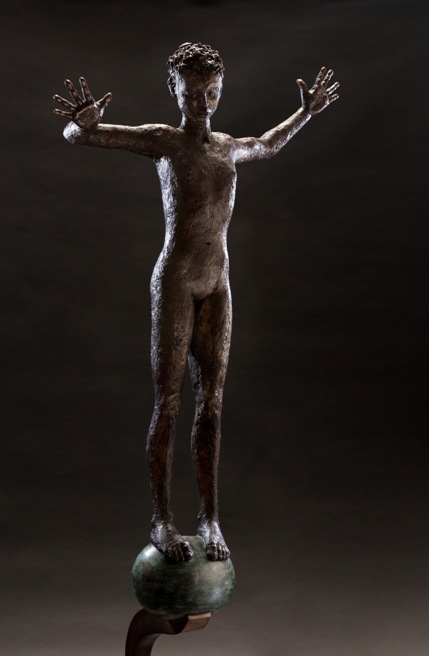 Landau's most admired work to date is her 2008 video DeadSea (currently on display in the Israel Museum.) It shows her floating naked at the center of a spiral formed by some 500 watermelons joined by a long cord. While it is not on exhibit here, a  bronze sculpture of a youth 'stranded on a watermelon' alludes  to this  seminal piece where Landau touches the red flesh of the open, splitting fruit, trying, symbolically, to heal its wounds.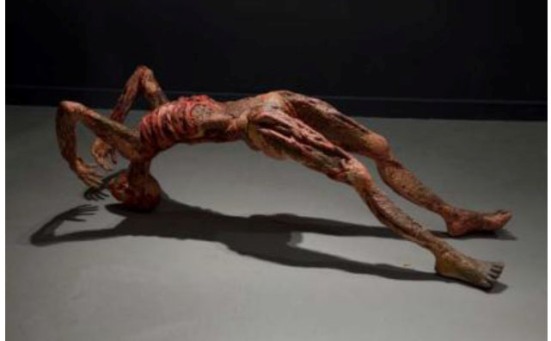 Much of Landau's work is rooted in the Jewish-Israeli experience, expressing fear of an imminent catastrophe, of a world order turned upside down. Connected to these themes is a flayed, sexless body made from papier maché, splashed with red paint to resemble blood, and with muscles and body parts fully exposed. This figure arches backwards to touch the floor. (In other versions, its head is stuck in a cooking pot.) Sheets of Ha'aretz newspaper that Landau began collecting in October 2000, at the start of the Arab intifada, were used to construct this figure and many others featured in The Dining Hall (KW Institute for Contemporary Art in Berlin, 2007) where they were part of her vision of a gastronomic hell.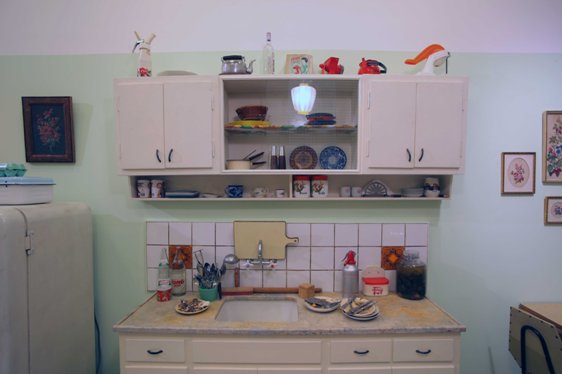 Represented on the upper floor of the Beersheba Museum are a kitchen and a living room furnished with household items and ornaments in the utilitarian style of a home from the 1950s or '60s, perhaps in a kibbutz. In the area of the kitchen, emanating from the valves of a stove, is a recording of the  voices of elderly women telling stories about their lives. This detail is drawn from Landau's installation in Berlin.
But there, the emphasis was on food: an ordered Kibbutz setting giving way to scenes of gluttony and violence, metaphors for the demise of traditional Kibbutz life, but also for universal chaos. In Beersheba this connection is not made. Instead, presenting an empty sitting room in which  a gravestone is tucked under a sofa, Landau has set about memorializing her uncle Yisrael Landau, a Holocaust survivor and a Youth Aliya  veteran who took his own life. Wall texts are generally missing in this show, but here, in particular, this very personal and somewhat strange installation desperately needs some explanation. Otherwise, the spectator may detect a sense of nostalgia and loss, but nothing more.
Located in the garden of the Museum is Shelter, a monumental sculpture by Landau. 5 m. high and having the appearance of a monster with gaping jaws, it is actually a bronze cast of a disused public shelter in Tel Aviv. I question the necessity of the placement of this unlovely metaphor for war and destruction in a city currently under missile threat.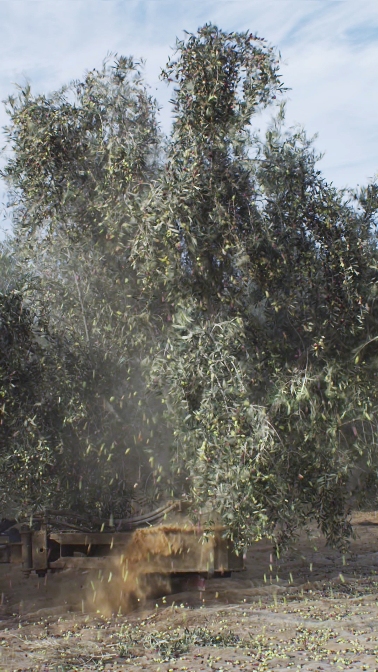 The most memorable work, both for its visual appeal and for its subtle message, is A Tree Standing, (2012), a video filmed in the olive grove of Kibbutz Revivim where the camera follows the brutal harvesting of an olive tree – a symbol of peace. A sound track records the noises of the machines rising in intensity as the tree is repeatedly shaken to denude it of its fruit.  Although this is a process orchestrated by men, they are not present, so the impression given is that of tree battered by a natural, terrible wind.
After seeing and thinking about this work, and others featured here, I located a prophecy by the 16th century seer Nostradamus that seems to echo Landau's themes of destruction and loss:
The great city of the maritime ocean
Surrounded by a swamp of crystal:
In the winter solstice and spring
Will be tried by a terrible wind. (Quatrain 9:48)
Some visitors to this exhibition may find themselves perplexed by this medley of images and themes. But I believe that the aim of this show was to introduce the essence and breadth of Landau's art to a new public, and there it has certainly succeeded.
Art Museum of the Negev, 60 Atzmaout Street, Beersheba. Tel:08 6993535
Till December 29th 2012