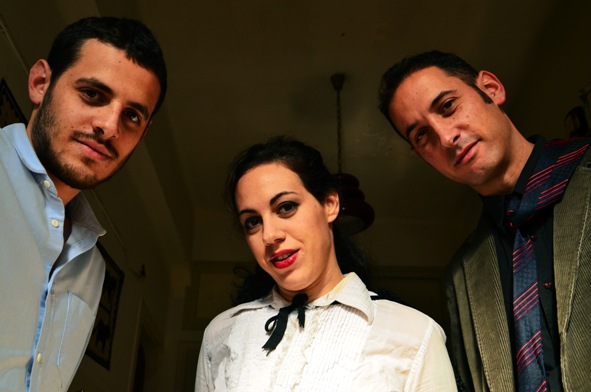 Music makes its own path, cutting across time, language, distance to enter the mind, to move you and make you move.  It's immediate. You hear it and its already inside you – that new song you just heard, that has already become a part of you.
That is how I felt when I heard Guy Levy's music to Alexander Penn's poem Ze Over (rough translation: it passes/you'll get over it), performed by Levy, Talia Eliav and Ben Aylon. Listen.

Guy Levy, a versatile bass player who has played everything from classical to jazz and world music, performing with Shlomi Shaban, Gal Toren, Efrat Ben Tzur, Black Guru, The Israeli Chamber Orchestra, Jerusalem Symphony Orchestra and many more, will be launching his new project "Penn" at Tmuna Theatre on Wednesday, February 13, 2013, at 22:00, together with Talia Eliav on piano and vocals, and Ben Aylon on drums and percussion.
The project focuses on the lyric poems of Alexander Penn (1906 – 1972), with new compositions to the poems by Guy Levy. In working on his debut solo album The Bridge, which included his own texts as well as a poem by Alterman and one written by a friend, Guy found that he preferred working from words to music, rather than composing music and then writing the lyrics. He began searching for texts to work with, and a friend lent him a small blue book of poems by Alexander Penn.
"I had not been familiar with his poetry," said Guy, "but I connected to it immediately. Two poems just jumped off the page: Ze Over and Shir Hashikor (the  song of the drunkard)."
"Penn had different periods in his writing," said Guy, adding that Penn wrote Shir Hashikor in 1934, and set it to a Russian folk tune. The song was popular and often sung in cafes and pubs, yet was not published until 1954. Guy's musical interpretation of the poem is worlds apart from the folk melody, with a dark, edgy, indie sound.
Boker Tov (good morning) another song that will be performed at Tmuna, is a later song. Penn, who was popular in Tel Aviv's bohemian poetic circles in the early 30s, became an ardent Communist, veering away from his early lyric poetry to write more political verse, then returning late in life to lyric poetry.
"I think it's a kind of tragedy," said Guy, referring to the years in which Penn drifted away from lyric poetry, and was ostracized by the literary community, "His lyric poems are timeless."
The enduring quality and emotional intensity of Penn's poems is expressed in Guy Levy's compositions, in a very contemporary musical language.
Penn – Wednesday, April 3rd, the Ozen Bar, 48 King George Street, Tel Aviv, 03-6215210. Links: facebook event page.