Find pleasure in difficulty: it's a simple directive and useful, familiar to dancers, athletes, avid pursuers of physical perfection, those virtuous folk who exercise for health, and fidgety folk who just like to move. Yet its implementation is not trivial. In that difficult moment, painful, sweaty, the feeling that emerges is usually far from pleasure; often one avoids  those moments, attempts to elude difficulty rather than seek it out.

The difficulty of my time and place is the question of Arabs and Jews, otherwise known as "co-existence." How do we live together? How do we see one another? How do we feel about one another? Surrounded by "the conflict," its reverberations the underlying rhythm of our days how can we find pleasure here? One possibility is to look at the funny side of the situation, and yes, it is funny.
Hillel Kogan dances into the heart of this difficulty and great pleasure ensues. His most recent works, Rite of Spring and We Love Arabs, are an extreme and often comic adventure in the most treacherous Israeli cultural terrain, exploring its sacred sites and hidden places.
As I've said in regard to Rite of Spring: The seriously seditious artist finds ways of working with and within conventions, undermining and confounding expectations explicitly and implicitly within the work itself, in a performance so brilliantly executed and enthralling that the viewer is mesmerized, heart racing, mind dazzled. Hillel Kogan is that kind of artist… Kogan is an endlessly versatile performer and creator with a volatile imagination capable of igniting several revolutions at once.  (read the full review here)
While Rite of Spring encompasses a vast array of characters and situations, We Love Arabs is a more intimate work, yet no less charged. We Love Arabs directly addresses the anxiety, fear, prejudice and hypocrisy that all too often accompany the encounter between Jews and Arabs, yet the outcome of this encounter onstage is uproarious laughter.
Hillel (who would have made a great stand-up comedian) plays the role of a choreographer working on a new piece, speaking to the audience, and sharing his process, feelings and creative dilemmas. With a mischievous take on contemporary dance, its conventions and power relationships, he talks of creating a dance on the subject of "co-existence" and the necessity of finding an Arab dance partner for this work. But where does one find an Arab dancer?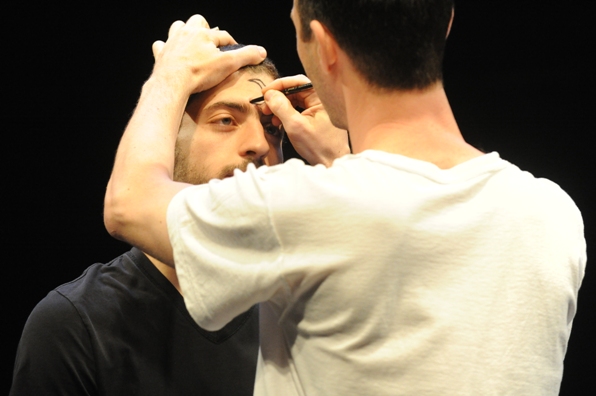 Exposing unconscious prejudices with every word and gesture, Hillel does indeed find just the right dance partner for this piece in Adi Boutrous, an accomplished and creative dancer who holds his own here with subtle humor, giving the piece balance and energetic tension.
Meticulous in his attention to nuance and detail, joyous in his sense of movement and space, Hillel challenges the viewer to see things as they are, the fiction of the stage offering up moments of truth. We Love Arabs is a brave and brilliant work, venturing into the most difficult, painful places and finding pleasure there.
Rite of Spring and We Love Arabs by Hillel Kogan will be performed at the International Exposure for Dance on December 6, 2013, at 20:00, Suzanne Dellal Centre. Tickets may be ordered online or call: 03-5105656.