"All we are is dust in the wind" Kerry Livgren – Kansas
Dust. Speck or storm, the pervasive domestic scourge, the ethereal beauty of floating dust motes in the light, a microscopic world teeming with life, symbol of our beginning and our end: "Golden lads and girls all must/as chimney sweepers come to dust."*  And then again, there's stardust, the stuff of fantasy.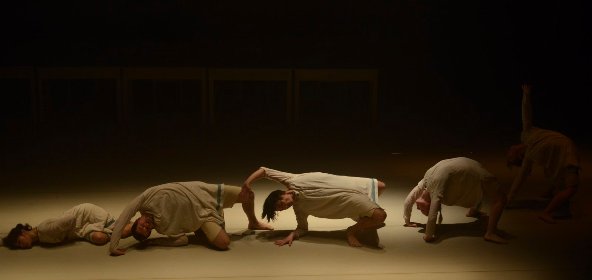 Inbal Pinto and Avshalom Pollak have a knack for taking material elements and very specific, concrete details in tandem with a distinct movement language, and creating an entire world of images, feelings and associations. It's a strange world, with its own internal logic, at once different from and yet reminiscent of our own and often difficult to decipher. Yet always, for me, very alluring and compelling. I can't always explain what I see, yet I'm quite content to follow these visions and creatures wherever they may lead, because this other world, whether I understand it rationally or not, is fascinating.
Most fascinating perhaps is the very suggestion that there are other worlds, different worlds, just within the reach of the imagination. Very often there is a door in these works, a box that can open and shut, an opening in a wall – places where people and objects travel from one world to another, just as fantasy penetrates and transforms reality. A door can keep someone out or keep someone in, it can lead to new vistas, it is a place of action. A door has no given meaning, it has the possibility of meaning.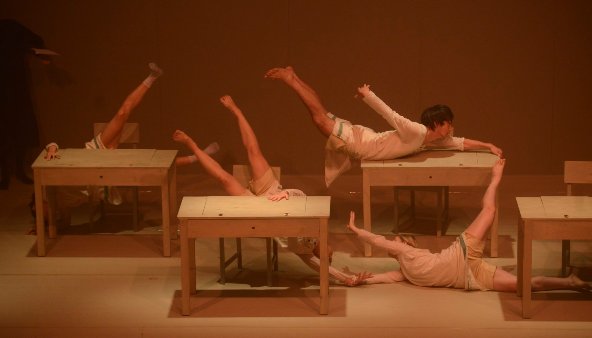 Dust (Avak), Inbal Pinto and Avshalom Pollak's new dance theatre work, invites the viewer into a world with several doors and possibilities of meaning. Different artistic mediums flow into one another here. Dance, performance, animation, illustration, design and sound – each gives hue, tone and resonance to this fanciful work. Fanciful, yet neither simple nor serene.
The prologue, a short, animated black and white film by Shimrit Elkanati and Roni Fahima, sets the scene for surreal, with images that sent my mind from Katsushika Hokusai to Lewis Carroll, with a touch of Gothic British and contemporary graphic novel.   And that's just the first few minutes.
The dancers are clad in simple off-white gowns that suggest private boarding schools of another era, a nostalgic sense of childhood, haunted by  secrets and dreams. The stage is set with several tables, much like school desks. Lurking in this landscape is the requisite shadowy figure, and other surprises await. The cast is beyond superlatives. I've seen two full runs of Dust, one in the studio and one onstage, and they have left me starry eyed and breathless every time.
There is no text, yet the theatricality of this work is deeply felt in every scene. The individuality of each character, and a sense of back-story is conveyed in movement and expression, emotion informs each moment of this piece. Intensely physical, comic and carnivalesque, Dust encompasses tenderness, violence, hilarity and utmost sadness in its cosmic embrace.
Dust will premiere on Wednesday, December 4, 2013 at the International Exposure for Dance, Suzanne Dellal Centre.
Dust
Choreographers, Costumes, Set and Soundtrack: Inbal Pinto & Avshalom Pollak; Lighting Designer: Yoann Tivoli; Illustration and Animation: Shimrit Elakanati, Roni Fahima; Props Designers: Roi Vaspi Yanai, Shlomi Eiger; Assistant Choreography and Rehearsal Manager: Dina Ziv; Assistant Costume Designer: Rosalind Noctor; Assistant Choreography Development: Ella Rothchild; Performers: Avidan Ben Giat, Zvi Fishzon, Noga Harmelin, Tamar Heonig, Cordelia Lange, Mayumu Minakawa, Mirai Moriyama, Andrea Martini, Stav Struz, Tom Weksler, Gil Shachar; Production Coordinator: Keren Yuval; Master Carpenter: Gilad Bonneau; Lighting: Oren Elimelech; Sound: Asaf Ashkenazy; Wardrobe: Ela Givol; Manager: Adva Mainz; Marketing: Nurit Fridman; Administration: Rotem Mizrahi; PR: Michal Sabel Weisze; International Tours: Gal Canneti; Graphic Design: Tamar Bar On.
*William Shakespeare, Cymbeline,  Act IV, Scene 2.