During a interlude of quietude – an a-cappella song called Ai Li Lu Li Lu, based on a family lullaby – at the Three Cohens gig last weekend, I found myself wondering about family favourites. Every family has one, I thought to myself rather ruefully. (I wasn't mine, you see.) I wondered which of the siblings was the apple of their parents' eye. Could it be Yuval, studious and a little introspective on the soprano saxophone, recalling Bradford Marsalis more than a little? Maybe Avishai, who cites Miles Davis as a key influence and plays his trumpet just as loud and proud? Or perhaps Anat, switching from clarinet to tenor sax with the ease of an accomplished mom-and-pop pleaser?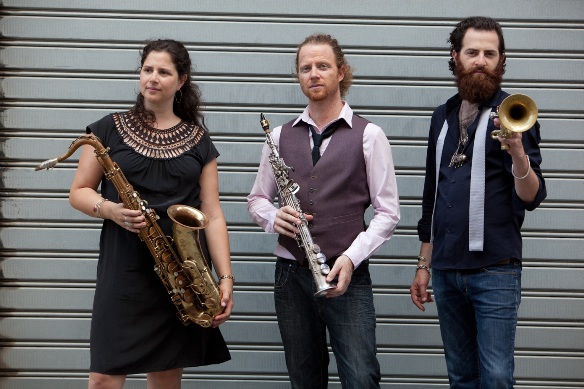 But that's to miss the point. The Cohens, who played an absolute stomper of a concert at the Israeli Opera House last weekend with their 3 Cohens Sextet, play into and around each other with the contentment of siblings who have done so all their lives, but still nowhere near tired of it. Having said that, part of the evening's magic lay in their capacity to open up beyond the defining nub of family ties. From the opening song, Blues for Dandi's Orange Bull Chasing an Orange Sack, the concert was equally founded on the reliability and virtuosity of their rhythm section – Jonathan Blake on drums, Rueben Rogers on bass and Yonathan Avishai on piano.
Selections from Family, the 3 Cohens' penultimate album, and last year's Tightrope featured prominently on the night. As the title suggests, the former plays on the familial ties of the principals but goes further; it's much more brothers (and sisters) in arms than blood brothers, if you catch my drift. With Soul of the Greatest of them All (Dedicated to Charles Mingus), Tiger Rag and Shufla de Shufla all leaned heavily on the rhythm section's contribution. Blake, all boundless enthusiasm and lightning-quick hands, suffers – like most drummers, I think – from a slight tendency to over-elaborate. Always entertaining, he did  once or twice overwhelm Avishai's more subtle piano. Rubens started and ended the evening with the broadest grin imaginable, and kept it up pretty much all the way through. Close your eyes and you'd think these guys were playing for fun. Open them, and it still seemed so.
The Cohens differ as much in playing style as in stage presence. Yuval, the oldest of the three, sometimes seemed to be playing as much for the simple pleasure of it as for the audience, his ambient noodlings a counterpart to sister Anat's confident, at time strident, phrasing. Avishai, in between, both physically (taller than his siblings, he stood ramrod straight between the two) and in playing style, was always technically impeccable. There wasn't a need to think about the balance between the wind instruments and the rhythm section, because they complemented each other perfectly. Call me fanciful, but more than once I wondered whether this was what it was like to listen to Miles Davis's second great quintet, live. Not only did the 3 Cohens Sextet swing hard, they did so as equals too.
Collectively, individually and in various ensembles (Third World Love, the SF Jazz Collective etc), the Cohen siblings are first-rate ambassadors of the Israeli jazz scene, and deserved the accolade of  a venue as grand as the Opera House. There was scarcely an empty seat, which says something about their drawing power. Being both romantic and selfish, I did briefly wonder whether the acoustics and the ambience might have been better served by a smaller, more intimate venue. But by the time they returned for their well-deserved encores, the aforementioned lullaby and Freedom, a rousing number guesting "brother from another mother" (Avishai conceded, to general laughter, that this sounded much better in Hebrew than English) Eli Degibri, my reservations had been long banished. And as for which of the siblings their parents, in the audience, would have been most proud of? Why choose? If I were Mr and Mrs Cohen, I'd take them all home with me.