What is contemporary dance? This is the question that Itzik Giuli, artistic director of Curtain Up, places at the center of this year's program. Curtain Up is an annual event at the center of the Israeli dance scene, providing a platform and showcase for independent choreographers. Now marking its 25th anniversary, Giuli stated that he would like the festival not only to support and promote individual choreographers, but to take a role in fostering contemporary dance through asking questions and engaging in dialogue. To this end, this year's program will place an emphasis on the process as well as the performance of dance.
Take note of two programs that are open to the public, admission free:
Arkadi Zaides and Talia de Fries – Research lab on the performative aspect of sound and its presence in the Israeli social-political sphere. The lab will be open to the public on Friday, November 14, 2014 from 10:00 – 14:00, advance registration is required. Please write to: curtainup2014@gmail.com.
Curtain Up 2014 Conference– the conference will explore the concept of "contemporary" in its relation to dance, uses of the body and its presentation in culture and dance. The conference will take place on Friday, November 21, 2014 from 11:00 – 14:00, in Yerushalmi Hall, Suzanne Dellal, Tel Aviv. Admission is free.
Curtain Up 2014 Program
Curtain One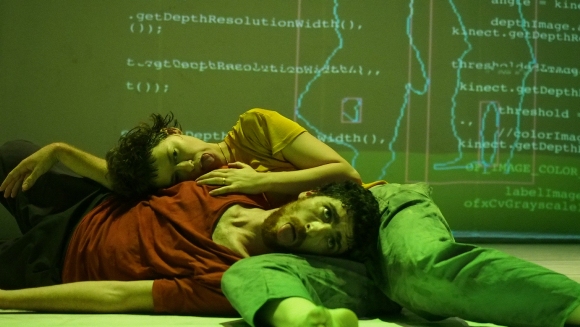 Iris Erez – A work that explores the complexity of intimate relationships in an age when the division between public and intimate spheres has become blurry. The relationship of a couple is explored through two dancers (Ofir Yudilevitch and Ayala Frankel) who are a couple in real life as well, and through the idea of variations, relying in part on Johann Sebastian Bach's Goldberg Variations.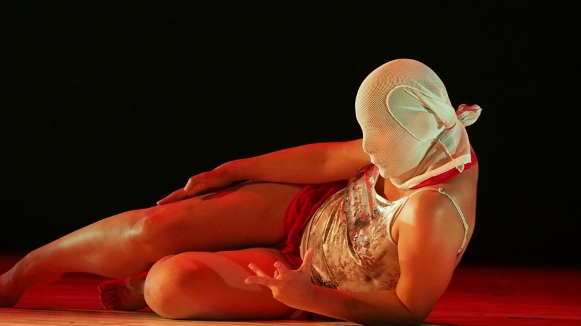 Merav Cohen – The body becomes an arena of action, bringing consciousness to a different state, in order to create a transformation of experience within the dimension of the stage, observing the body that disappears from the daily identity it represents. A dialogue between human and non-human action. A dialogue between object and subject.
Performances
Suzanne Dellal, Tel Aviv: Thursday, November 13, 2014 at 21:00; Friday, November 21, 2014 at 15:00.
Rebecca Crown Auditorium, Jerusalem Theatre: Tuesday, November 18, 2014 at 20:30.
Curtain Two
Ido Feder – The work deals with the encounter between the artist and reality, through two characters. One is a kind of ultra-prince of dance who exists only onstage, and the second is a young man of our times who is looking for meaning wandering through the streets. The encounter between them, that comes from the passion for meaning, becomes the meaning of the art itself.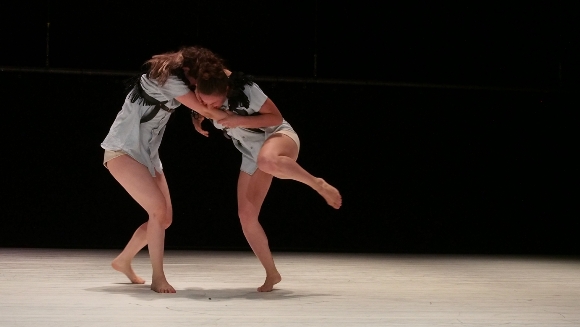 Bosmat Nossan – A duet dealing with the gap between one meaning and another, and relating to it as a field of action. The action in this field shows itself, autonomous, without being engaged to meaning, it allows a new logic to emerge and invites us, through this, to understand anew, again and again.
Performances
Suzanne Dellal, Tel Aviv: Friday, November 14, 2014 at 21:00; Saturday, November 22, 2014 at 21:00.
Rebecca Crown Auditorium, Jerusalem Theatre: Wednesday, November 19, 2014 at 20:30.
Curtain Three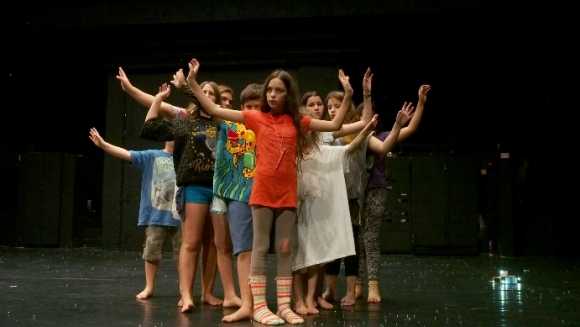 Shay Granot and Nevo Romano – The work will be performed by children (a group of about seven children between the ages of 10 – 13). "In choosing a work performed by children and watched by adults, there naturally exists a mirroring that raises the past of the adult, the future of the child and the connection between them. What do we see in children? What do we want to see in children? Can we escape the cycle of the commercialization of childhood and take apart the archetype that unites and traps children?"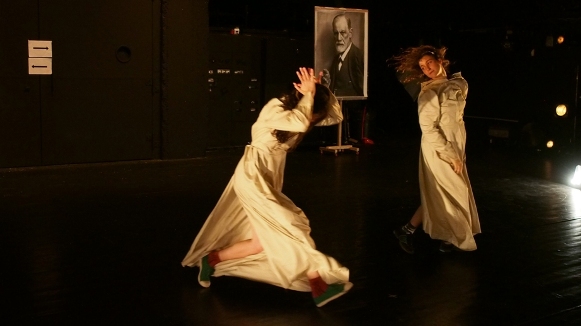 Tami Leibovitch – The staged work sets a body acting in the contemporary field, situated between youth and adulthood, in black and white and in color. The process took place with different individuals: dancers, artists, choreographers, fragments of knowledge and study on the subjects of history, individual identity, knowledge of the body, composer and performer, master and model.
Performances
Suzanne Dellal, Tel Aviv: Saturday, November 15, 2014 at 21:00; Thursday, November 20, 2014 at 21:00.
Rebecca Crown Auditorium, Jerusalem Theatre: Monday, November 17, 2014 at 20:30.
Curtain Four
Maya Weinberg and Maya Matilda Carol – A duet for two in a temporary room. The process of installing a body in space, and space within the body. A dialogue with the desire to feel at home in the body and in the space. A dialogue with a live sound artist creates research with the idea.
Michal Samama – A solo work that explores the tension between the body divided into functional parts, and the harmonic, whole, body, working as a single unit. This work was inspired from the image of the body as seen in art (painting, sculpture, photography), as well as the commercial body that is presented and hidden – in advertisements, organ trafficking, the sex industry and meat industry.
Performances
Varda Hall, Suzanne Dellal, Tel Aviv: Friday, November 14, 2014 at 22:00; Saturday, November 15, 2014 at 22:00.
Curtain Five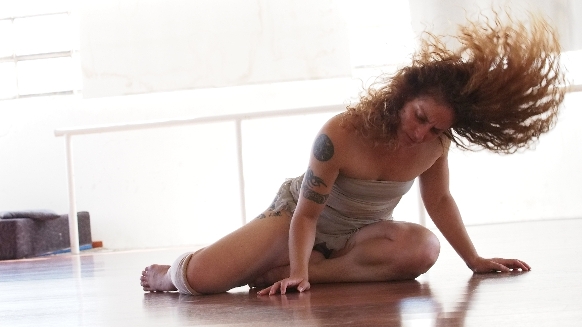 Anat Grigorio – This work invites the viewer to take part in a ritual, to listen to the voice that echoes from the body and observe the moment before falling into renewal. Two women in a white space adorned with microphones. Two sound boxes breathing and moving. Out of their ritualistic games – the precise definitions become more vague and in their stead appears a transparent world, that also has cracks opening in it, questions, a world in the consciousness of breakage.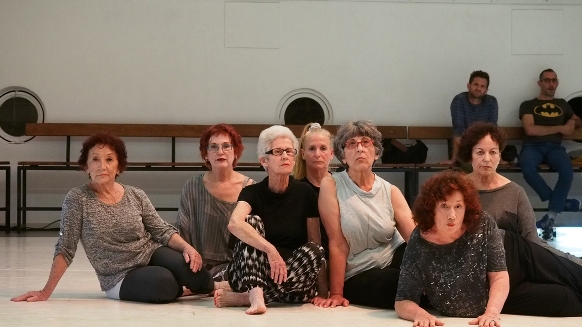 Galit Liss – A work for a group of women aged 60 – 80, that seeks to observe an "artistic process" that takes place in an encounter with performers who are older than is customary, and untrained. Dealing with simple rituals will express the body in its "simple" existence and seek to renew the observation of the body, age and gender not through blurring its presence with dance, but through making it present in simple actions.
Performances
Suzy Studio, Suzanne Dellal, Tel Aviv: Saturday, November 15, 2014 at 19:30; Saturday, November 22, 2014 at 19:30.
Mazya House Theatre, Jerusalem: Tuesday, November 9, 2014 at 20:30.
Curtain Six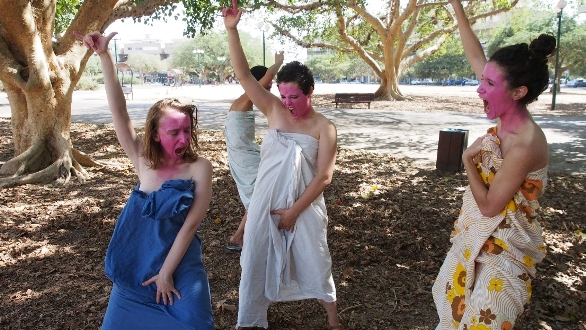 Lilach Livneh – A process of escape, real and experienced – a work that will be presented over the course of several hours in the studio. A work that seeks to escape the concreteness in which we are trapped and see escape as a positive state, through which the lines that are separate in our reality and thought can begin to connect.
Varda Studio, Suzanne Dellal, Tel Aviv: Saturday, November 22, 2014 at 17:00 and 21:00.
Tickets for Curtain Up are 60 NIS per performance. Ticket information:
Suzanne Dellal, 5 Yehieli Street, Tel Aviv, 03-5105656.
Jerusalem Theatre, 20 Marcus Street, Jerusalem, 02-5605755.
Mazya House Theatre, 18 Mesilat Yesharim, Jerusalem, 02-6230002.
*all descriptions of performances are based on texts received from the festival, translated to the best of my ability and understanding.