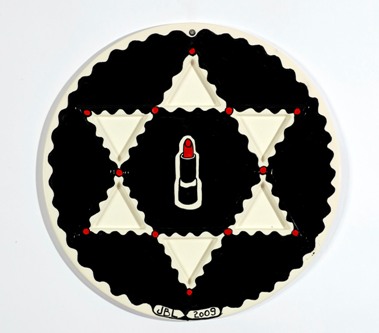 Art exhibitions at Yad Lebanim, Ra'anana are generally worth seeing.  Despite its split display area – showcases with small works in the entrance hall and the main offering in a second floor gallery – curator Orna Fichman succeeds, time and again, in attracting well-known artists to this venue.
The latest star to be exhibiting there is American born Jenifer Bar Lev. Settling in Israel in the mid 1970s she soon attracted attention. This was a time when local women artists were struggling to make their voices heard, and were mostly working in an earnest intellectual style. Unlike her new colleagues, Bar Lev was already pursuing feminist issues, while revealing her intimate thoughts and fantasies through her art.
As regards her style, it is an unusual mix of influences. Reared on Pop Art, which dealt with everyday objects and themes, her heroes must surely have been Robert Indiana and Barbara Kruger whose artwork incorporated texts as well as imagery.  It is also clear that she drew inspiration from other mid 20th century styles such as geometric, abstract and pattern painting. Her art also has folk-art sources, especially quilting, embroidery and ornamental stenciling. As a result, aside from employing stencils in her work, Bar Lev occasionally opts to produce paintings resembling samplers; or paints on a patchwork of different fabrics.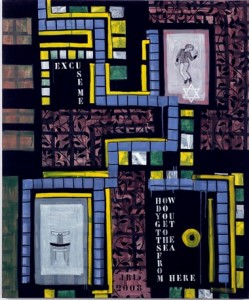 Canvas is however the matrix for the paintings currently on display in Ra'anana.  Produced during the last three years, several of the larger pieces are however direct descendants of the works that Bar Lev showed at a solo exhibition at the Tel Aviv Museum in 1992.  Excuse Me, for example, a large, harmoniously designed composition featuring patterned leaves viewed through black bars, is divided up, like her previous works, into compartments formed and bound by blocks and strips of color. A stenciled text is also present, but the seemingly unconscious flow of words which once covered the surfaces of many of her paintings   is now reduced to a phrase or two. In this picture, alongside a rough depiction of the sun, Bar Lev asks: How do you get to the Sea from Here? The choice of this  question, one that a stranger might asks, seems to infer that  Bar Lev, despite years in Israel, still sees herself as an observer of life here, looking in from outside.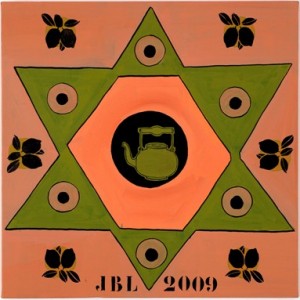 Two motifs recur throughout this painting series: an empty chair; and the Star of David. A chair is a frequent symbol in Israeli art, invariably signifying absence or loss. Or, as when one looks at Van Gogh's Yellow Chair, its presence can cause one wonder about the identity and character of its owner. This may be the intention here, but it seems more likely that Bar Lev's chairs (a stool, an armchair, a sofa) delineated faintly in an enclosed space, represent her home, an island of rest and tranquility. 
Bar Lev's choice of the Star of David as a main motif is troubling in the extreme, trivializing the sanctity of this image. (Most glaringly in several paintings where a dancer balances on one point of the star.) True, it appears as a proud symbol on our national flag, but who can forget its associations with the Holocaust and the stars that Jews were then forced to wear?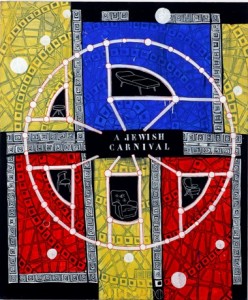 This Star is the dominant image in a set of paintings rendered in sweet pastel colors; and, in the black and white ceramic plates (in one instance edged with red) sited in the entrance gallery. Featured at the center of each one is a single commonplace object such as one might find in a woman's purse or her home: a lipstick, eyeliner, clothes-pegs or a coffee-pot. These items, together with the chair motif, apparently represent the private and secular life of the artist. Religion and the religious community are symbolized by the Star of David; or else, as in the painting A Jewish Carnival where the cycle of life becomes a merry-go-round, by Kabbalistic configurations of the Sephirot.
In her catalog text, the curator alludes to the term 'post-secularism' which usually implies the advent of a new religious era. Fichman proposes a definition which is not commonly accepted, but has been put forward by Yehuda Shenhav, a prominent Israeli sociologist who envisages a post-secular world view where secularity and religion are successfully integrated, rather than replacing one with the other. It is this type of integration that Bar Lev strives to express in this exhibition, but, despite her superior skills as an artist, the works as a whole do not satisfy this writer, either visually or intellectually.    
Art Gallery, Yad Lebanim
147 Ahuza Street, Ra'anana
Information: 09-7610545
Open till March 13th 2010
ANGELA LEVINE