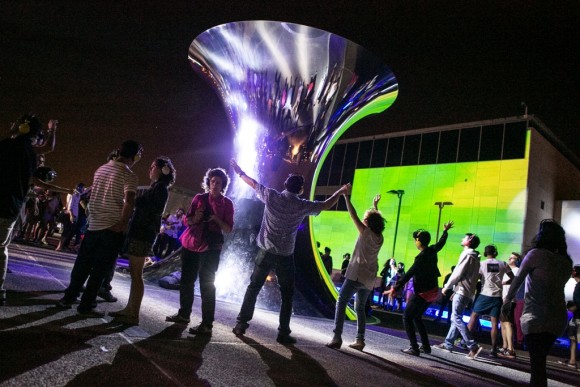 Run through the museum, transform yourself into a colorful rainbow, make music with Damien Hirst's dots – these are just some of the intriguing possibilities that await you at Contact Point, a night of different encounters with the Israel Museum. The Jerusalem Season of Culture and the Israel Museum's hot collaboration, Contact Point will take place this year on Thursday, August 6, 2015. Starting at 20:00, visitors are invited to experience the museum through the multitude of performances, installations and activities created by a cohort of artists engaging with the museum and its exhibitions, culminating with the traditional earphone party on the Ida Crown Plaza by the Anish Kapoor sculpture and everyone dancing almost until dawn.
Artistic Director Renana Raz has come up with a very enticing program for this special occasion – Contact Point celebrating the Israel Museum's 50th anniversary! The full program may be found on the Jerusalem Season of Culture website.  Here are some that caught my eye:
Does art speak to you? Well, on this night it will. The Man on the Wall is an installation in the Pop Art Gallery, not only will the man in the portrait look at you and talk to you – but a microphone will be available and you can talk back! Artists: Ram Mizrachi Spinoza, Mejadra Eyes; Video: Shomit Yaackov;
Music and sound engineering: Rani Megiddo. Throughout the night, with breaks.
Music from a Catalogue – Celebrating the museum's jubilee year, cellist, singer, and composer Maya Belzitsman wrote a musical piece based on the contents of the museum's past catalogues. With 50 years of exhibitions, she had an abundance of material to inspire her composition! Hearing Maya Belzitsman perform is always a pleasure, this should be a very special occasion. Performances will take place in the exhibition 6 Artists 6 Projects at 22:30, 23:30, and 00:30. Each performance is about 25 minutes long, space is limited – reserve your place at a nearby registration point.
Listening to the Enemy – a unique opportunity to hear the thoughts and feelings people from countries such as Morocco, Pakistan, and Malaysia who cannot come to Israel, and have never visited the Israel Museum. Eran Hadas and Lior Zalmanson have created an audio guide to the archaeology exhibit from the impressions of people forbidden to enter Israel, collected via Internet sites used for crowd-sourcing. People were asked to describe the objects on display, explain their function, and talk about their own feelings. Sounds very interesting! Earphones will be available next to the sarcophagi at the entrance to the Archaeology Wing throughout the night.
Auction: How Far Will You Go? – OK folks, this one is bizarre! An auction of objects that played a behind-the-scenes role in the museum is odd enough on its own, but what really attracted my attention here is the currency that will be employed in this auction. Anat Katz and Erez Maayan will be conducting an auction of items that offer a perspective on the stories behind the artworks, in exchange for activities performed by the visitors on the spot. Art afficionados, risk takers and exhibitionists – this one's for you!Auctions will take place at 20:45, 22:00, 11:15 and 00:30 in the European Art Gallery. Space is limited.
Music is an essential element of every party, and what could be more appropriate than talking about collections and collecting? Four collectors of vinyls will discuss and play their collections. In the Cardo: Uri Wertheim at 20:00, Yashiv Cohen at 23:00. In the Route of Passage: Marky Funk at 20:00, Uri Misgav at 23:00. There will be a discussion on the music of 1965 (the year the museum was founded) with Uri Misgav at 23:30 and 00:30.
Enjoy!