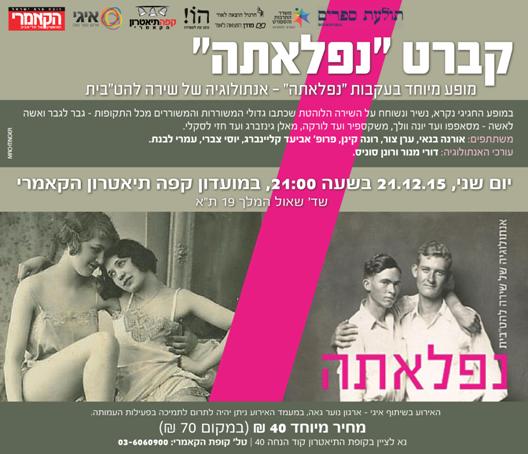 Wonderful, wonderful poems, three thousand years of love, from Sappho to Emily Dickinson, William Shakespeare to Allen Ginsberg translated into Hebrew and collected in Your Love Was To Me Wonderful: An Anthology of LGBT Poetry, along with the work of Hebrew poets such as Shmuel HaNagid, Judah Halevi, Yona Wollach, and Hezi Leskly.
Celebrating the anthology, poetry and love will be a cabaret evening on Monday, December 21, 2015 at 21:00, at the Cameri Cafe Theatre. Join Orna Banai, Eran Tzur, Rona Kenan, Professor Aviad Kleinberg, Yossi Tsabari, Omri Livnat and the Editors of the Anthology – Dory Manor and Ronen Sonis for an evening of songs, poetry readings and lively discourse on words of love and lust – women loving women,  men loving men – from some of the world's best writers.
Discount tickets at 40 NIS (instead of 70 NIS) are available, just say "Kod Hanaha 40" (Discount code 40) at the Cameri box office, call: 03-6060900. Cameri Theatre, 19 Shaul HaMelech Blvd. Tel Aviv.
The event is presented in cooperation with IGY (Israeli Gay Youth).
The title for the anthology is taken from David's poem of grief on the death of Jonathan: Your love to me was more wonderful than the love of women. (2 Samuel 1:26) Link to the anthology on facebook