The Aprons – the indie duo of Talia Peri and Hava Cohen – will be launching their second album, Any Human Heart, at The Zone on Tuesday, April 13, 2016. Their dream-pop songs and delicate harmonies come from a hidden world where beauty and danger dance together. Singer-songwriter Noam Rotem  produced the album, adding touches of electronica and guitar to their distinctive sound – he'll be a guest at the launch concert, together with Ram Orion.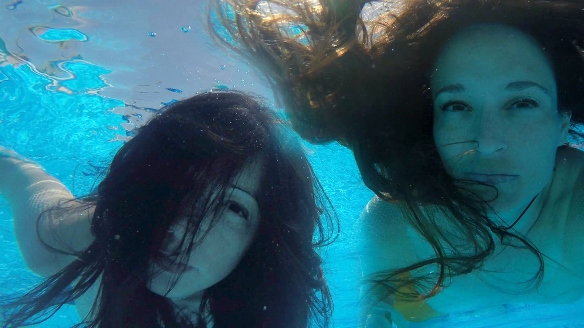 Enchanting with their singing, like Calypso or the Sirens, those mythic beings of old, their ethereal harmonies lure the listener into a dream world. Yet these songs are written by women who are real, not myth, and there is a tensile strength and sharp awareness hidden within the gauzy layers of loveliness. Gaze directed inward, they describe the landscape of the heart and mind, looking at fear, love and loss with clarity, confidence, and no compromises.
Day Off, has an appealing upbeat rhythm, and opens with a light-hearted invitation: "Let's take the day off and go to the park where we'll dance." Yet while the cheerful rhythm continues, a darker guitar layer appears and if one listens to the lyrics, there is something very wrong with this picture: "I'll be the last girl you'll ever want… do as she's told/never grows old."

Other songs, like 20,000 Souls, venture deeper into the dark mysteries of introspection, while others like You and Her and Me survey the terrain of relationships with an edgy contemporary approach and bright sound. The harmonies of the title song, Any Human Heart, echo the connections and intersections described in the song, a reverie of lives and loves; the life of thoughts, feelings, and memories as vivid, or more vivid than that which we call reality.
The Aprons have participated in the CMJ Music Marathon in New York, Indie City in Tel Aviv with Ram Orion, and their songs are included in the soundtracks of 10% My Child, Almost Friends, Out in the Dark, and the AOL production of the Israeli series Connected.
Talia was born in Germany and grew up in Switzerland, her musical training is classical. She is a member of the Pits ensemble, and in the past a member of Elliot. A singer-songwriter, she plays the piano, harp, drums, and bass guitar, the latter three self-taught. Hava is a singer-songwriter, she plays the drums, keyboards and bass guitar.
The Aprons – launch concert for Any Human Heart, with special guests Noam Rotem and Ram Orion. Tuesday, September 13th at The Zone, doors open at 21:00. Tickets are 40 NIS and may be purchased online via this link.