The Tmuna International Festival for Theatre, Performance and Dance will take place from September 15 – October 1, 2016. Now in its 5th edition, the festival is under the artistic direction of Nava Zuckerman and Yair Vardi, offering a platform for creative artists to express their emotional, social and political environment. This year's festival will include international performances from Germany, Poland, and England, reflecting the concerns of contemporary theatre-performance artists. This year's festival will also mark the 400th anniversary of William Shakespeare's demise, with performances, symposium, and workshops.
Tmuna Festival Performances: *
You Happy Puppet By Niv Sheinfeld & Oren Laor
We were told that this is a time when the public needs bread and circuses.
We shall deliver.
We will walk on our tip toes in an attempt to anesthetize the public from the abyss stretching before us.
We know that this will make everything ok.
By: Niv Sheinfeld & Oren Laor | Preformers: Tomer Giat, Yael Sofer, Hilel Perlman | Lighting design: Yair Vardi
Performance: September 15th at 20:30; September 16th at 14:00. Tickets are 70 NIS.
Tmuna Ensemble Presents:
Doctor Prospero by Yossi Yizraely
Encouraged by his success as a hypnotizer in popular shows, Dr. Prospero sets himself to produce a hypnotic pill to cure all fears from which Jews suffer… The tragic results and their unexpected causes are the stuff this play is made of.
Doctor Prospero is Yossi Yzraely's sixth play performed in "Tmuna" theatre. His plays are based on his theory of "The Autonomous and Compressed Pesent".
By: Yossi Yizraely | Diraction and space design: Yossi Yizraely | Actors: Avraham Horowitz, Eyal Nachmias, Yossi Yizraely, Linoy Bason, Roni Blitz, Maya Har Zion  | Lighting design: Rotem Elroy | Music: Tomer Yizraely | Assitemt director and stage manager: Maya Har Zion | Video: Liron Shalev
Performance: September 16th at 19:00; September 17th at 19:00. Tickets are 35 NIS, the performance will be in Hebrew.
Gullet / Chamber Pickled Performance Dinner
By Thalia Hoffman, Ofri Omer, Ayelet Halpern, Maya Elran
A 13 course pickled performance dinner of vegetable, fish, sea-food and meat.
A performance where the audience participates and tastes the close connection between occupying land/people and pickling food, a connection which in Hebrew shows itself also by the similar root of the words.
By: Thalia Hoffman, Ofri Omer, Ayelet Halpern, Maya Elran | Performers: Alon Alperovitz, Ayelet Evyatar, Einav Rosolio, Galit Criden, Marina Garchanik, Michal Ben Yehuda, Michal Igell, Michal Tzuk, Natan Halpern, Nurit Dreamer | Artistic advisor: Yair Vardi | Pickles: Tzuk Farm, Asaf Shinar, Tomer Tzuk | Photografer: Sivan Zteelon
Acknowledgments: Salt of the Earth, Tzuk Farm, Yair Vardi, Hilik Omer
Performance: September 17th at 14:00 and 20:30. Tickets are 100 NIS.
Truth or Dare in Chambers
Bewitched Hand Reflections
Pathos Mathos Company in the artistic direction of Lilach Dekel-Avneri
Pathos Mathos Company invites the audience to take part in a social experiment as we prepare for the premiere of the "Chamber of chambers" project at The Elma Arts Complex in November 2016.
Over the course of the evening we will expropriate the game from its familiar context of friendly gatherings steaming with sexual tension and the tearing down of barriers amongst peers. The game will be repurposed to create an original performative format, blending audience with artists, inviting the players to engage, expose and be privy to personal confessions, and to subvert and challenge the boundaries between them.
"Truth Or Dare In Chambers" is an event in a series of performative studies of the components and themes of biblical mythology and of their manifestations in our culture today which the company has been exploring for the past year.
Playing: Lilach Dekel-Avneri, Dganit Elyakim, Eitan Buganim, Shachaf Dekel, Eran Hadas, Lihi Chen, Keren Katz, Zohar Meidan, Lani Shahaff | Lighting: Rotem Elroy | Assistant director: Itay Plaut
Performance with audience participation required – there are no onlookers. September 17th at 21:00. Tickets are 35 NIS. Admission from age 16 +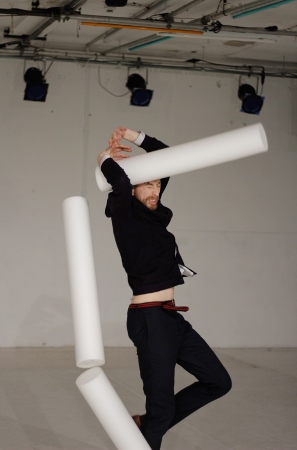 SLAP/STICK By Hermann Heisig (Germany)
"Get ready, take a run at it, address the void:
SLAP/STICK is a solo celebrating involuntary action, the vastness of space, and the constant denial of efficiency.
Inspired in Henri Bergsons text "Laughter- an Essay on the meaning of comic", Hermann dives to the physicality of absentmindedness, exaggeration and mechanical movement.
Using made up Brazilian dances and gestural material of several comedians, SLAP/STICK searches for an essence of the comical body – in what way is this essence pointing towards something constituting us as humans?"
Choreography, Production: Hermann Heisig | Artistic advisors: Elpida Orfanidou, Silke Z., Anna Volkland, Nuno Lucas | Set design: Jaka Plesec | Music: Tian Rotteveel | Lighting design: Benjamin Schälike
Production manager: Susanne Ogan Produced by Hermann Heisig in Co- production with tanz.tausch Festival Cologne and SOPHIENSÆLE. Funded by the Governing Mayor of Berlin, Office for Cultural Affairs and the Cultural Foundation of the Free State of Saxony. Supported by fabrik Potsdam in the frame of the artists-in-residence programme
Performance: September 18th at 19:00; September 19th at 19:00. Tickets are 35 NIS.
Acco Theatre Centre presents:
Mozi Kumbaz Seeks Enlightenment By Smadar Yaaron
Mozi Kumbaz exercises and demonstrates. On the verge of retirement, yogi investigates continued stretching of boundaries of human endurance. On the verge of breakthrough, yogi shares intimate sessions of knowledge through universal postures of empowering body and soul.
By: Smadar Yaaron | Co-creator: Dr. Nataly Turgeman | Artistic consultant and image design: David Maayan | Lighting: Manhal Omar
Acknowledgments: Tami Katz-Freiman, Sinai Peter, Osnat Shnek-Yosef, Hila Golan, Moni Yosef, Yuval Meskin
Performance: September 18th at 20:30; September 27th at 20:30. In Hebrew. Tickets are 35 NIS.
MAKE YOURSELF By Marta Ziółek (Poland)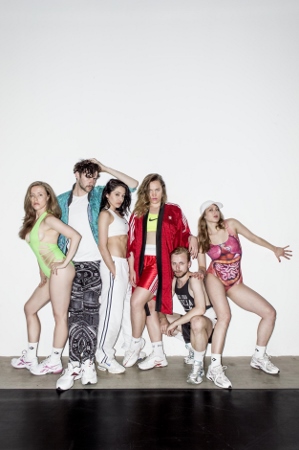 MAKE YOURSELF starts with a training, an order and a body sculpture. The subject of this experiment is a group of 5 performers. For the performance time they put on following names: High Speed, Coco, Lordi, Glow and Beauty. Marta Ziółek as Angel Dust is a moderator and a guide through this experience. We are somewhere between gym, techno party and corporate mindfulness church.
MAKE YOURSELF is a utopian structure, which creates its own style, language and sexuality. It is a kind of trip, which transmutes body into a machine. Here the very individual monologues blend with hybrid group workout and trance practice consisting of rave, kundalini yoga, latino flow & dancehall.
MAKE YOURSELF is a gang, which creates and transforms itself to the Lutto Lento music.
Directing and choreography: Marta Ziółek | Translation: Anka Herbut | Production: Komuna//Warszawa | Artistic advisor: Anka Herbut | Set design: Dominika Olszowy | Costume design: Marta Ziółek | Music: Lubomir Grzelak [Lutto Lento] | Lighting design: Krzysztof Krawczyński | Production manager: Ewa Paradowska | Dancers: Agnieszka Kryst, Ramona Nagabczyńska, Robert Wasiewicz, Paweł Sakowicz, Katarzyna Sikora, Marta Ziółek | Singer: Maria Magdalena Kozłowska
Performance: September 19th at 19:00 and 21:30. Tickets are 70 NIS.
New solo work / Maya Dunietz
New solo work by Maya Dunietz, premiered in the UK August 2016. The piece can be read as a farewell ceremony from a deep and much loved pain, a spiritual house-cleaning, an invitation to peak at new possibilities and surprises, free from old principles, ideals and beliefs.
A spatial invitation to experience new version of the Self
Dunietz will be playing a variety of instruments, such as accordion, drums, xylophone and hosho.
By and performed by: Maya Dunietz
Thanks: God, Nadia and Gal and to my parents who got me to this point
Nava Frenkel / I LOOK AFTER
At this short piece, I examine how old images I created in the past change their shape when I execute them, not the performers who participated in them originally.
By and performed by: Nava Frenkel
Performance: September 20th at 19:00. Tickets are 35 NIS.
Multi By Anat Katz and Erez Maayan
Multi is a movement, social, and neurophysiological research that functions within the tension between wanted ads that demand "multitasking and full efficiency in each of the tasks" and the social necessity to be a perfect parent, perfect partner, maintain a perfect career, and concurrently enjoy all of these things, and between the scientific research that repeatedly proves that the human brain was not designed to multitask, and will eventually fail and get lost amid the multiple tasks.
By: Anat Katz and Erez Maayan | Devised and performed by: Anat Katz, Noa Shavit, Ori Lenkinsky, May Reznikov | Music: Eyal Lenzini | Video: Michal Hermon | Costumes: Aviv Carmi | Lights: Yoav Barel | Production: Leat Katzur
Acknowledgments: Mifal Hapayis, Tel Aviv-Jaffa Municipality, Israeli Choreographers Association, Ministry of Culture and Sports
Performance: September 20th at 20:30. Tickets are 35 NIS.
Sweetie, You Ain't Guilty By Goni Paz
'Sweetie, You Ain't Guilty' deals with the miserable choice between the loneliness of keeping a secret and the horror of sharing it with an audience, whoever that audience may be.
Avoiding resolution, the work (and the one who performs it) attempts to 'fall in-between' – action and paralysis, reality and fiction, tenderness and sharpness, self and (an)other.
In a fluent medial zapping, the spectators move from one image to another to establish an intuitively shared language with the performer. The performance is scattered with attempts to breach comfort zones and aims at moments of both intimacy and exposure, to which the audience is invited. At a site of mutual understanding, or – at least – the collective acknowledgement of the failure to attain it.
By and performed by: Gony paz | Artistic advisor: Ana Zak, Raz Viner, Rotem Elroy | Lighting design: Amir Castro | Acknowledgments: Iris Paz Bareket, Mai Ailon, Faye Shpiro, Kurt Cobain, Michal Ben-Anat, Chihiro Ishiyama, Yair Vardi, Ira Avneri and to my dear surprising family.
Nina Traub / Yearning
I seek to find the peak of my- 'self'
I seek all kinds of 'self'- ones that are not usually with me.
Within and contrary to me.
Uniformity blue is my anchor- my guideline to grasp lightness and unity.
It is bold, sets me apart and empowers me- yet blends me in.
The wide gap between imagination and what I yet to know.
Surrounded by Blue,I long for what i cannot describe.
By and performed by: Nina Traub | light: Hanni Vardi | Music: Eleni Karaindrou- Hearing the time | Acknowledgments: The school of visual theatre and Guy gutman, My teachers, Sia preminger, Eiv kristal, Dror tshuva, My mother, Hanni
Performance: September 21st at 20:30; September 22nd at 19:00. Tickets are 35 NIS.
Tmuna Ensemble presents:
The Conversation Piece By Yair Vardi
Seven artists meet their audience in a salon turned laboratory, a private room historically used as a public space inside people's homes. This piece transforms the traditionally public space of the theater, into the private space of a home. The Conversation Piece searches for Israeli identity as well as for national identity while creating it live on stage. It seeks to find the roots of individual identity and our simultaneous acceptance of and resistance to, the nation state.
How does the Zionist body control our physical one? Why do we buy an airplane ticket every morning and by evening decide to stay in the country? Why is everything political and how are our alter-egos and Herzl related to all of this?
Come visit our salon, let's undress, dress, take off and try on Israel in 2016.
With: Jason Danino Holt, Avraham Horowitz, Ricki Hayut, Yair Vardi, Stav Marin, Nataly Zukerman, Rotem Tashach | Stage: Iris Mualem | Lights: Rotem Elroy | Artistic management: Nava Zukerman | Director's asst.: Michal Ben Yehuda | External asst.: Mor Leedor | Special thanks to Keren Ida Nathan for her collaboration
Performance: September 21st at 19:00; September 22nd at 20:30; September 23rd at 14:00. Tickets are 35 NIS.
Thy Neighbor
By Alma Weich Hoshen & Noga Elkin-Efrat
A journey through stories of suspicion and racism – prejudices that are expressed through discrimination and hate crimes.
The journey combines news stories, historical events, enthusiastic speeches and ridiculous meetings. Testimonies are brought through the eyes of attackers, victims and bystanders.
The oldest story of hatred is told through scenes from Israeli Youth trips to
Poland, soccer violence, encounters between Ethiopians, Asians, black and white people, Arabs and Jews.
The personal and public stories become integrated and tell us that we are all afraid
of the other and prefer our similar.
The fear incites hatred, aggression and blood.
The loss and pain might illuminate the oldest commandment – "Love thy Neighbor" like yourself.
By: Alma Weich Hoshen & Noga Elkin-Efrat | Set design: Aya Ben Asher
Music: Uri Efrat | Lighting design: Dania Zemer | With: Eyal Shecter, Amit Ozer, Sharon Burstain, Yakir Shukrun
Performance: September 23rd at 14:00. Tickets are 35 NIS.
Tmuna Ensemble presents:
Diary of a Mad Man
Directed by Nitzan Choen & Yosi Rahmane
An original adaptation of Nikolai Gogol's classic work: The comedy of a junior clerk whose main job is sharpening quills, who falls in love with the manager's daughter and sets out on a mad journey in pursuit of his love – a journey during which he discovers that he is actually the King of Spain.
By: Nikolai Gogol | Hebrew version and adaptation: Nitzan Cohen, Yosi Rahmane |  Director: Nitzan Cohen | Assistant director: Hen Ohayon | Music: Ran Bagno | Set design: Tal Ariel Arbiv | Lighting: Iris Moualem | Actor: Yosi Rahmane
Performance: September 23rd at 20:30. Tickets are 35 NIS.
Need Some Body By Miri Segal and Maya Magnat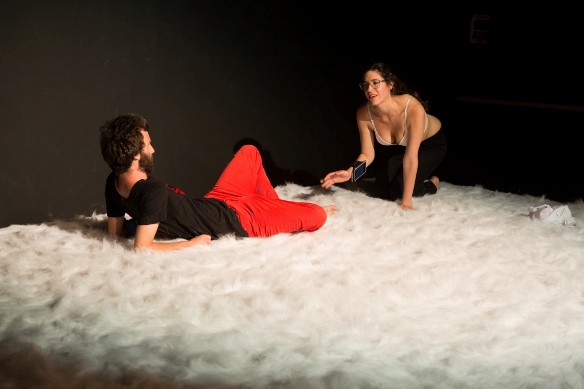 Two human avatars on stage invite the audience to operate them. Each audience pair has 10 minutes with which to control the avatars using text messages and emojis, communicating with each other using their surrogate bodies- the avatars. The mediated communication between operators and avatars examines the differences between text and action, self and proxy, virtual and real, and dares the participants to explore how far they are willing to go. The audience is invited to watch the avatars interpret and act on the messages they receive, and operate them in turn…
By: Miri Segal and Maya Magnat | Artistic advisor: Lior Zalmanson | Music: ccMixter Preformers: Doron Lev and Maya Magnat
Performance: September 24th from 17:00 – 22:00. The audience is invited to come and go as they please throughout the performance. Tickets are 35 NIS.
Not Letting It In
By Jason Danino Holt
Not Letting It In is a 5 hour, singular, improvised event that explores the art of confessions.
In "Not Letting It In" performers from around the world, sit around a table and confess real autobiographical confessions.
The "communal task" given to the performers is to create, along with the audience, a new zone, a temporary community, a haven (or hell?).
a playground of no comment and no judgment.
During the 5 hours the audience is welcome to join, leave and come back as they wish. In this spirit, the audience is welcome to confess as well.
Creator: Jason Danino Holt I Dramaturg: Nataly Zukerman I This show cast: Bar Elyakim, Yossi shaany Yarom, Zohar Miedan ,Orit (Ora) Mamrud, Adi Nitzan, Amit Regev and Jason Danino Holt I Ensemble cast: Yedidia Vital, Guy Gurevich I Producer: Omer Alsheich | Inspirations: Forced Entrainment – "Quizoola", "Speak Bitterness", Sarah Kane – "4.48 Psychosis" | Special thanks to: Shahar Gadesh, Noa Biron, Naama Amit, Ariel Brown, Tal Haran, Yuval Scharf saban, Magi Azarzar, Tom Hagi, Yair Vardi, Gal Lev, Marina Beltov, Hagar Cohen, Ofer Ben Natan, Yael Shaked, Ram Gil, Yuval Artzi, Yoav Barel, Sari Golan, Aviv Hofi, Galay PR, Utopia, Ofer Laufer, Tom Idelson, Erez Hason, Roi Shulberg, Tmuna Theatre.
Performance: September 24th 17:00 – 22:00. Tickets are 35 NIS.
Mixed Media
By Michal Dvir
The performance scrutinizes the different ways in which we delimit and imprison ourselves, the ways in which we surround ourselves with ideas and beliefs, with social norms and conditionings with concept and rules that limit our leeway, dominate our life and fixate our progression. Mixed Media is a conceptual work exploring our tendency, as individuals and society, to live within fixed and defined borders. Borders based on accepted norms which were gradually formed in order to keep society moral and organized. De Facto, these borders limit us and control our life. Throughout the performance we try to question our beliefs and to figure out whether we can let go of them and be free.
By: Michal Dvir | Preformers: Sharon Tal and Michal Dvir | Artistic advisor: Yair Vardi Video: Michal Dvir and Yoav Ruda
Acknowledgments: Nava Zukerman, Yair Vardi, Tmu-Na theatre, Alit Kreiz
Performance: September 26th at 19:00; September 27th at 19:00. Tickets are 35 NIS.
Calipers By Daphna Horenczyk
Blinking shoes in a dark room, funky music and a dancing hooded creature with a hairy face: that's Calipers, a solo dance performance by the dancer and choreographer Daphna Horenczyk. Influenced by elements of street and break-dance she plays with the concept of "fixation" of different body parts on the ground and the possibilities of moving around and over this axis. The limb moored to center stage functions as a point of quasimagnetic push and pull, with the dancer's body circling around it in rhythmical and ever new forms and paths. In Calipers Daphna Horenczyk creates a live body kaleidoscope right in front of us.
By, preformed, and custom design: Daphna Horenczyk | Artistic advisor: Nitzan Lederman | Lighting design: Amir Castro | Music: Azealia Banks, Chicks On Speed, Anarchic System, Sachiko M
Acknowledgments: MAAT Festival – Lublin Center of Culture, Ilya Kull
WHICH DANCE By Ido Feder
Two female soldiers, one is bored and the other is good hearted. Two out of a whole army of women whose contribution to the military project is somewhat doubtful. None the less, these two insist on being a part of something. Thus, in the spirit of Mary Wigman )the maker of the notorious "Witch Dance" from 1921( and other witches, they attempt a small ceremony in which, at least, they might acquire some of the expression needed for the fight.
By: Ido Feder | Dancers: Bosmat Nossan, Shani Granot | Artistic advisement: Yair Vardi and Tal Yahas | Music: "Galgalaz" – The Mizrachi version | Acknowledgments: Shir Hacham and Laura Kirshenbaum
Performance: October 1st at 20:00. Tickets are 35 NIS.
Tmuna Shakespeare Festival
M.C Coriolanus Directed by Itai Doron
Coriolanus is the last tragic historical play that William Shakespeare wrote. The play is based on the life of the Roman general, Caius Marcius Coriolanus, in the beginning of Roman-Republic rule. Coriolanus is a play that deconstructs the common governmental rule to question marks, exclamation points and mainly ellipses. It stimulates an emotional and intellectual debate about the history which we are a part of, our form of government and the role of the people in a democracy. Through the story of the Roman general, Coriolanus, and through the story of two nations at war, we encounter a society which reveres war and honor, and defiles integrity and its leaders. This is the story of history's first dem ocratic republic: A journey towards history in the making, which we are an inseparable part of. The role of heroes and generals, of borders and their infiltration. Rome is here and all paths lead to it.
By: William Shakespeare | Translation: Dori Parnes | Director: Itai Doron | Dramaturgy and adaption: Itai Doron with the ensemble actors | Production: Ronen Shemi |  Stage design: Rona Mishol | Costumes: Rona Mishol | Music: Nir Tibor | Video and technical director: Omri Rosenblum | Lighting design: Guy Galili | Actors: Alon Mintz, Eran Ben-Zeev, Michal Rubin, Ronen Shemi, Ronen Yifrah, Yaniv Calderon
Best Director (Itai Doron), best male actor (Ronen Yifrach) and best female actress (Michal Rubin) at the international fringe festival in Acre 2015.
Tmuna Ensemble Presents: HamletMachine Directed by Nava Zukerman
When I approached Muller's "HamletMachine" I re-discovered Shakespeare's Hamlet.
Both were unrelenting. Shakespeare's "Hamlet" finds himself on a journey to cleanse his house. The house his mother and uncle contaminated with murder, lies and manipulation in order to preserve the crown.
Muller pummels Shakespearean "Hamlet" for his naivete, hindering him from taking a clear stand or from taking action. In "Hamlet Machine" Muller dares pull the Shakespearean Hamlet out of his era and plant him in his own time and place )Eastern Germany(. He expresses, through classical Hamlet's voice, his emotions and opinions on the society and times in which he lives.
I found myself facing two different voices, Shakespeare's "Hamlet" and Muller's "Hamlet".
Inspired by Muller, I went searching for the "Hamlet" of my own time and place.
"I was "Hamlet", says Muller.
I'm from the "Hamlets", wrote And Ophelia? She doesn't fall in the water. She stays around to watch over the pulse of the world."
Nava Zuckerman
By: Heiner Muller | Translation: Doron Tavori | Director: Nava Zuckerman | Music: Tal Levi, Eyal Shecter | Lighting Design: Yair Vardi | Set Design: Ariel Tal Arbiv | Costume design: Liron Minkin | Stage manager: Shay Gavrieli | The Creative Team: Yael Dar, Nitzan Cohen | With: Gil Alon, Benny Eldar, Ricky Hayut, David Zeevi, Einat Weizman Musicians: Avner Toag, Snir Shahino, Erez Daskal
Performances: September 29th at 20:00; September 30th at 19:30; October 1st at 20:00. Tickets are 35 NIS.
Now I Am Alone By Nick Hutchison and Dori Engel
Shakespeare's outsiders gather in one play. The king in exile, the fool, the refugee, the outcast – they all have something to say about society and human nature. The show tells the story of these people and brings, with humour, Irony and pain, this unique point of view – the point of view of Shakespeare himself.
By: Wiiliam Shakespeare | Editing: Nick Hutchison and Dori Engel | Director: Nick Hutchison | Actor: Dori Engel | Costumes and props: Melanie Lombard | Music: Ronnie Reshef | Lighting Designer: Michael Chernyavski and Inna Malkin
Performances: September 29th at 20:00; September 30th at 20:00. Tickets are 35 NIS.
Shakespeare: Page to Stage Nick Hutchison
An interactive workshop for actors and directors, examining how Shakespeare's company, The Chamberlain's Men, (The King's Men after 1603) produced his plays. We examine the repertoire system, which meant an almost complete lack of rehearsal as we understand it, and we perform from cue scripts, the only texts the actors were given at the time.
The workshop explores how these constraints affected Shakespeare's writing, and how this informs our understanding of the plays and how we perform them. It takes in verse work, the versatile tool Shakespeare uses to direct his cast, and language in general; it examines staging, atmosphere, costume and, most importantly, the role of the visible audience, in a theatre when there are no lights to turn down. This workshop will change the way the actor approaches the plays, and fundamentally alter their performance choices.
September 25 – 27th from 10:00 – 15:00 each day. The workshop is 300 NIS. To register, send an email to tmuna@tmu-na.org.il It looks like this workshop will be in English, please contact Tmuna to confirm.
Playing Shakespeare Dori Engel
What does playing in a Shakespearian play mean? What does it require from an actor? What techniques do we need to develop in order to deliver classical texts? Shakespeare challenges actors and brings them to stretch the boundaries of their expression. He combines fascinating characters and extreme situations with complex and poetic language. The workshop invites us to explore tools to deal with these challenges. We will learn to identify the secrets that Shakespeare puts for actors in the text, and develop ways to widen the means of expression.
The workshop will take place September 24th and 25th from 10:00 – 15:00. The cost is 150 NIS. To register send an email to: tmuna@tmu-na.org.il. It looks like this workshop will be conducted in Hebrew, please contact Tmuna to confirm.
The full festival program and additional information may be found on the website, in Hebrew.
*All performance information and descriptive texts provided by Tmuna Theatre.