This year, on International Women's Day, I decided to "Party Like Russians Do" at the Gagarin. After all, the event announcement declared that "everyone is invited – regardless of religion, sex, gender, origin, or accent." The event was a co-production of Julia Kislev, the artistic director, and the "Russian Women With No Sense of Humor" (the translation is mine – I'll be glad to accept corrections) Group. Even though I suspect that I was the only person there with a vocabulary limited to about 3 – 5 words in Russian (I know how to say "I love you" and "thank you") – I had so much fun! Happily for me and you, the photographer Muperphoto was kind enough to provide me with some essential cultural translations, while taking great pictures of the event. Enjoy!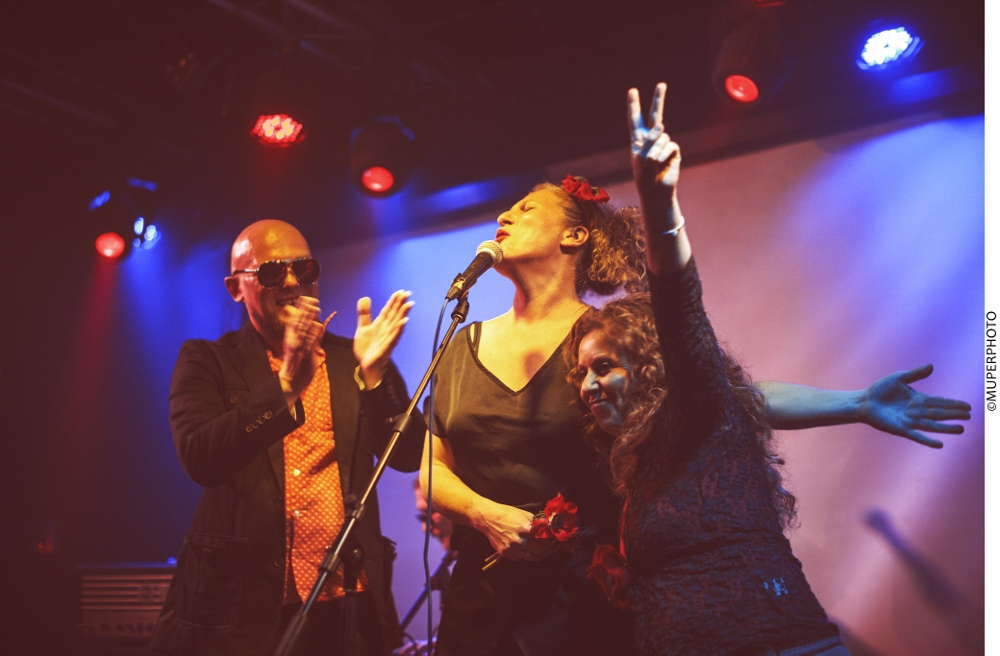 Curated by Julia Kislev, the program was incredibly diverse – as is International Women's Day, Russian-style, in Israel. As Muperphoto and my new friend D explained, in Russia this is a day when women take a day off from working hard year round, and are treated with flowers and other gifts. Sounds good, but D further commented that the attention one receives on this day feels like being a hamster in a cage – taken care of and petted, but still, meant to stay in a cage. The celebrations at Gagarin embraced tradition and revolution, with a feminist, yet very inclusive, feel to the night.
In her introductory remarks, Lena Russovsky, Administrator of the  Russian Women With No Sense of Humor said, "This is first and foremost a feminist holiday…Tonight we celebrate women." Speaking of the independence and rights women have earned, she added, "We can have money and buy our own ticket… we can love and be happy."
Onstage, the talent was abundant, with some of my favorite performers on the lineup. But the night was about more than just a performance, it was a real celebration with a sense of community. DJ Klachik had the dance floor at the Gagarin alive and happening. I stood on the sidelines in observer mode, enjoying the dancers and their moves – vivacious, elegant and everything in between. The dress code was just as varied, with some women in flowered or lacy dresses, some in a more edgy black, and some in sweaters and jeans. What did the men wear? I have no idea. On this night, I was focused on the women. The music was a tempting mix of Russian and international, the kind of music that makes a body want to move. Soon enough I gave in to temptation and moved on out to the dance floor.
Dressed in traditional Middle Eastern belly dance costume, delicately balancing vodka shots in each hand, Ella G was the image of Russian-Israeli fusion. Her performance was dramatic and sensual, with an aura of ease, radiating joy and excitement (photo on the Midnight East Instagram).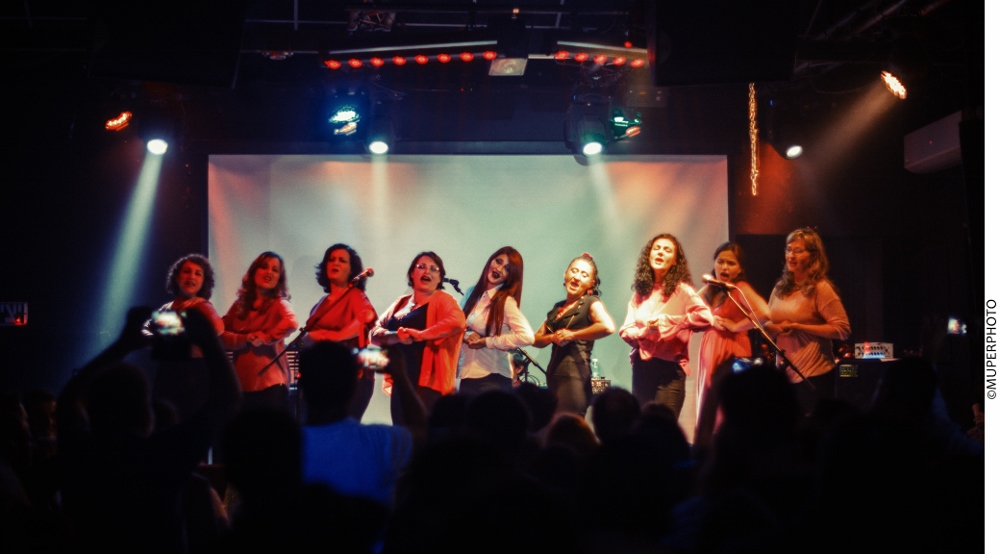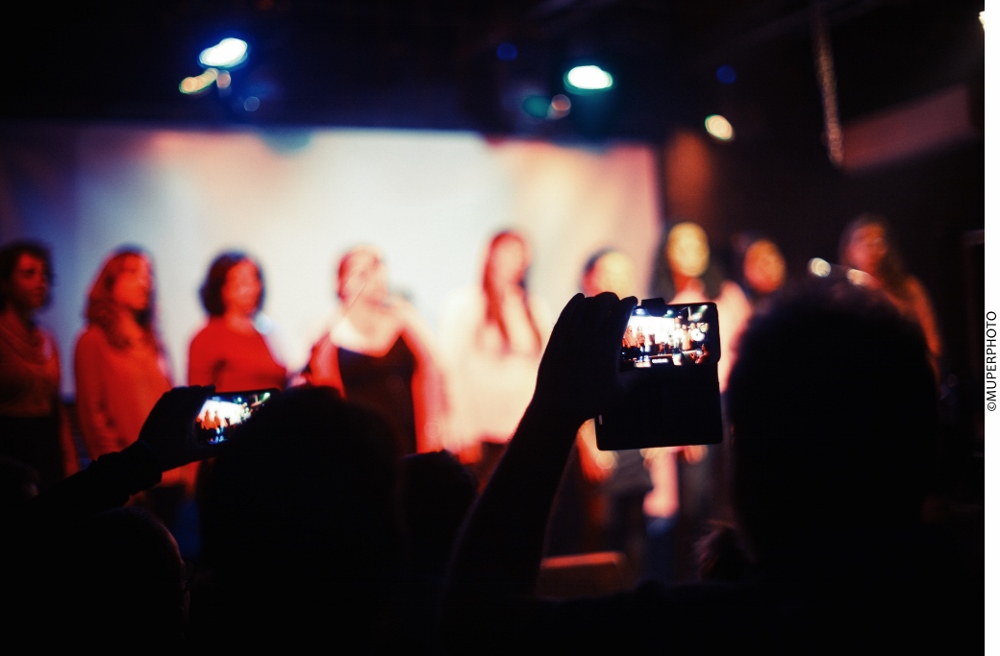 Next up were The Pitches, an a capella ensemble that have been together for just seven months. This was their second public appearance, and they were harmonious and lovely. Their set list was full of cultural fusion, as they sang several songs in Russian that I am familiar with in their Hebrew translation. These are songs considered part of the Israeli cultural tradition and history, the old songs, because Russian cultural roots are deep in this country.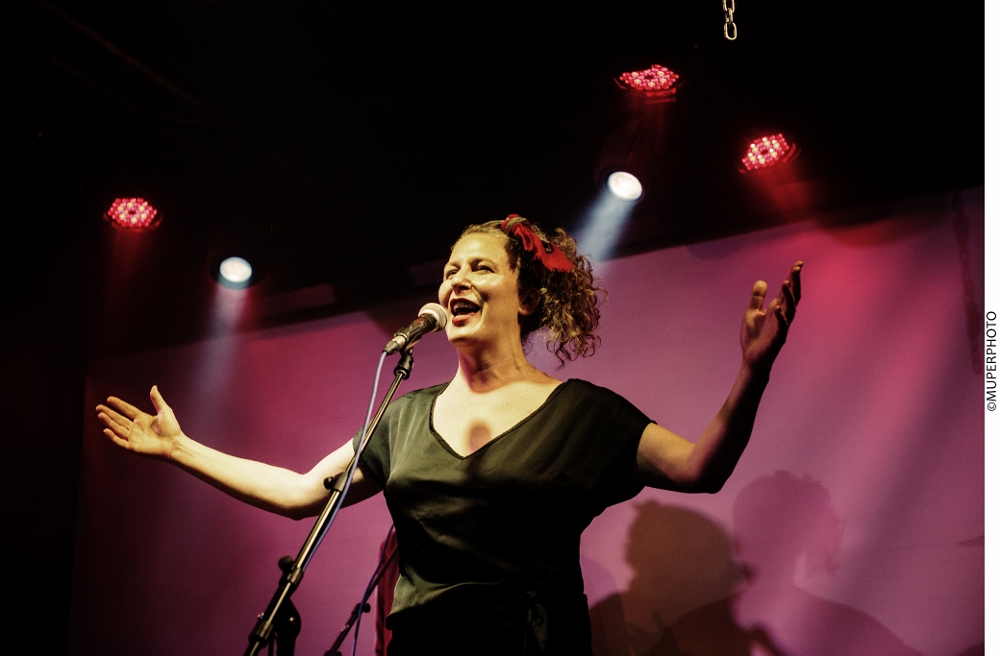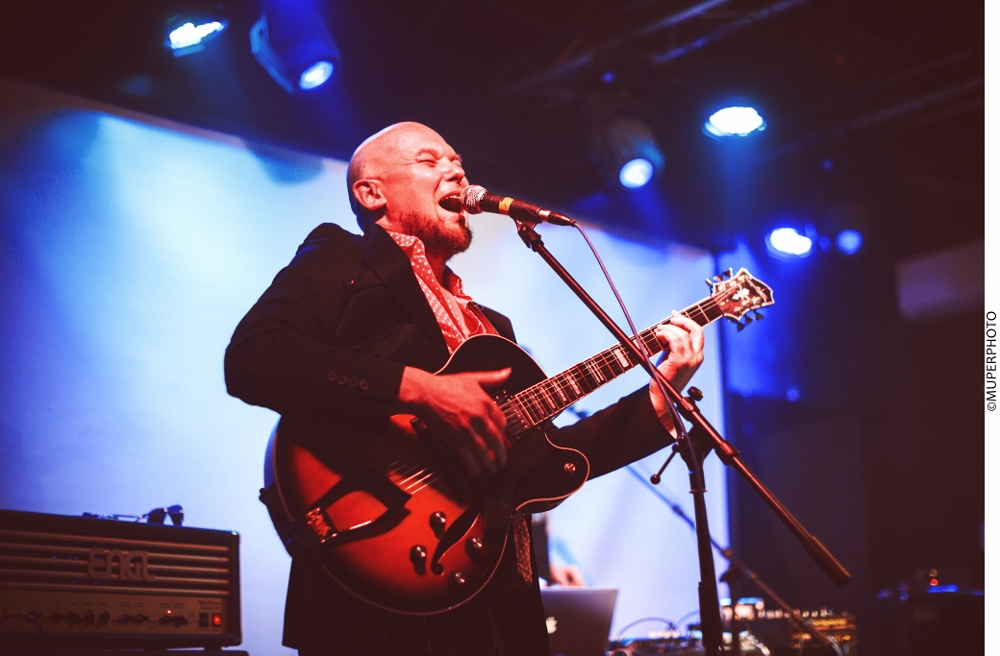 Nadia Kucher is an immensely versatile and talented performer, whether singing or acting her stage presence is exhilarating. She and her musical brother Anton performed with their new band, the JLM Goy Division, with original songs in Russian. Even though the lyrics are Russian, language is not a barrier to pleasure. Enjoy their music here on bandcamp.  My ride came just as DJ Natisha Spaner  came on, and I was sorry to miss her set. I walked out to the small courtyard of the Gagarin, the music in my ears and the party still going strong. Happy International Women's Day!