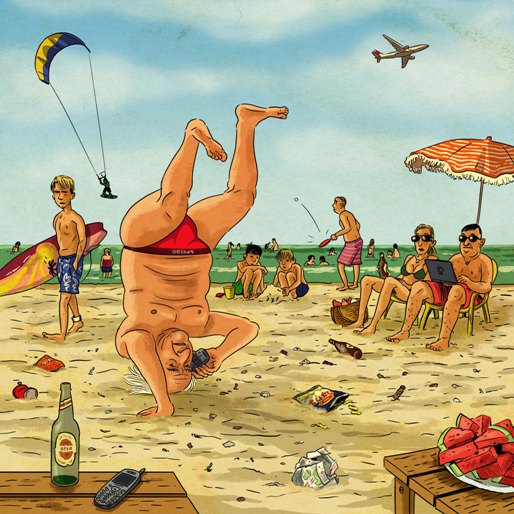 Commissioned exhibitions are quite often a failure. And this might have been the case with "David Ben Gurion and his Legacy in the Mirror of Israeli Art" an exhibition mounted at the request of the President of Ben-Gurion University to mark 40 years since its founding. 
Some curators faced with this task would have limited their selection of exhibits to the wealth of artworks and documental material readily available on this campus – portraits of BG in stone, print and paint, and documentary material housed in the University archives. For students and staff are kept permanently aware that Ben-Gurion, Israel's first prime minister and an ardent promoter of settlement in the Negev, is the University's spiritual founder.
But rising to this challenge Prof. Haim Maor, chief curator of this exhibition, assisted by 26 energetic art history students taking his course in curatorship, have turned this problematic assignment into a success story. As the acknowledgments and the texts in the exhibition's catalog reveal, this team has worked hard; borrowed works from collections, galleries and museums all around Israel, scoured photo archives, and made studio visits to become acquainted with the works of individual artists. As a result, an array of paintings, prints, cartoons, sculpture, photography, artifacts and documents have been assembled, highlighting not only the official persona of Ben- Gurion but also his human and private face. In addition, many exhibits utilize BG's image to make critical comments about his leadership qualities and aims. 
The works on display represent 60 artists and two generations: artists and photographers who were active during the Ben-Gurion era, some of them knowing him personally; and artists of today, whose ideas about him and their response to his achievements are based on images produced by this earlier generation, or else by reading or listening to stories about him.  
It quickly becomes clear from viewing the historical section of this exhibition, that Ben-Gurion was venerated during his lifetime to an extent which would be ludicrous today.  Among the rich display of laudatory material featuring his diminutive figure or his head with its shock or white hair are magazine covers, children's games, craftwork, household ornaments, playing cards and even a liquor bottle decorated with his profile. There are clues here too, that Ben-Gurion actively promoted his own image and mission. For example, through gramophone-postcards, presumably distributed en masse, having titles like "Ben-Gurion is talking to you." The sleeve of one such record  has a picture of BG on its sleeve fondling sheep, the inference being that he was indeed the country's Good Shepherd.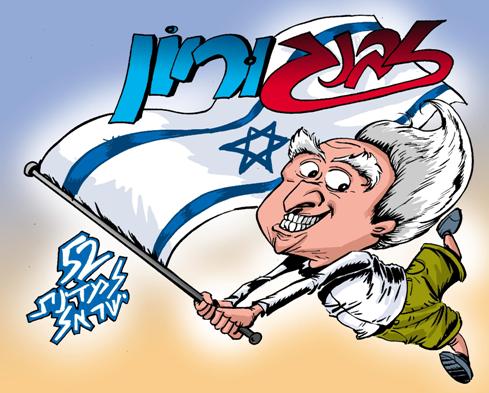 This adulation is taken up only to a limited extent by Israeli artists working today; almost always there is some underlying message or criticism.  In ZbengGurion, for example, an illustration by cartoonist Uri Fink marking the 52nd anniversary of Israel's independence, BG, in regulation pioneer shorts, becomes a superhero, holding up the flag of Israel, so it seems, against a mighty wind. But the desperate expression on BG's face is disturbing. Is he wondering how long he can hold onto to the banner? Or to whom he can pass it on?  The title of this work is also subversive. Zbeng, in Yiddish, means a smack or blow. When allied to BG's name, criticism may be implied, maybe regarding the fact that he advocated force, if necessary, in achieving his aims.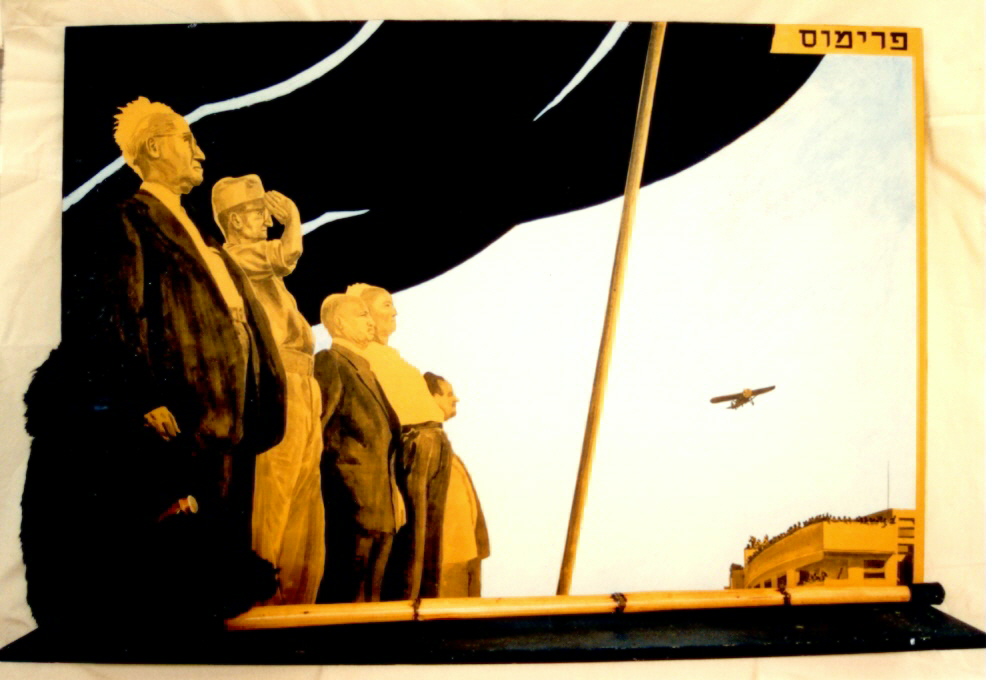 A subversive element is also present in Avishay Ayal's 1986 painting, based on a photo taken on Israel's first Independence Day. Here, BG and other leaders, puffed up with pride, watch the fly past of a single light aircraft known locally as 'Primus', the title given to this work. An innocuous scene? Yes. Until one notes that a toy gorilla brandishing a stick has been placed on a ledge in front of the painting. The presence of this primate, and its warlike stance, may allude to the specter of future aggression on a scale far beyond the comprehension of Ben-Gurion and his comrades on the review stand. 
Some of Israel's best known photo-journalists including Micha Bar Am and David Rubinger are represented in this exhibition, not only by images that became national icons, but also by many that reveal intimate moments in the life of BG but have not been shown in public before. They make for fascinating viewing. A photo, for instance, by Shersel Frank of BG mopping the sweat from his brow just prior to reading the Declaration of Israel's Independence; and another, by Rubinger, of BG lying in a hospital bed, following the attack on his life that took place in the Knesset in October 1957. Asleep or sedated, his mouth upturned in a gentle smile, the Old Man appears to look like any other elderly and amiable grandfather.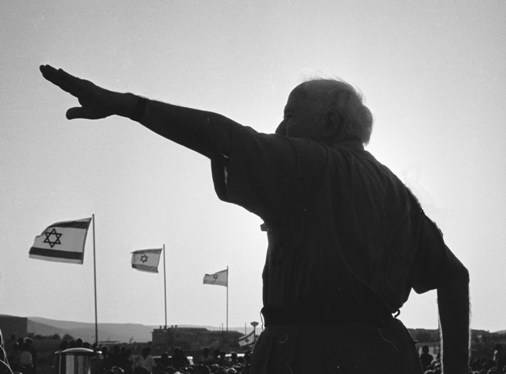 Some photographs, such as Rubinger's well known portrait of Ben-Gurion speaking at the Inauguration of the Sde Boker Center for Desert Research may be viewed in a critical light. With his figure in silhouette, the power of this man, despite his small size, is especially pronounced. However, the dramatic gesture he makes, with arm outstretched resembling a Fascist salute, causes one to  ponder about the fine line that exists between a strong leader and a dictator.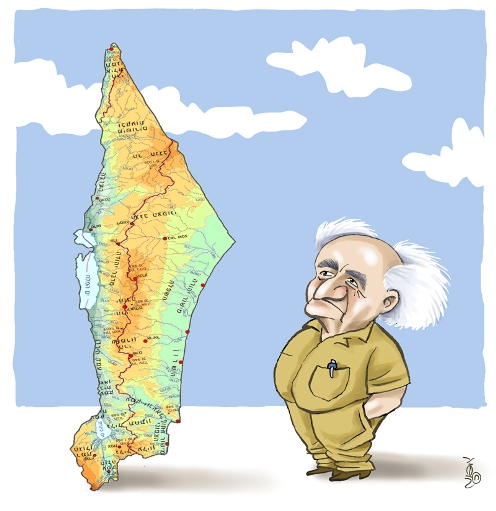 Hungarian born photographer Paul Goldman took a snapshot of BG doing a headstand on the beach of the Sharon Hotel, Herzlyia in September 1957. This image, underscoring the high level of physical fitness that Ben Gurion attained, has become a national icon, also providing the basis for a number of effective artworks on display.  Among them is a colored ink print by Moshik Lin showing the upright figure of Ben-Gurion set alongside a map of Israel turned on its head. A scene that reverses words attributed to BG when explaining his fondness for headstands: "I stand on my head so that the State of Israel could stand on its feet."
Since the development of the Negev was of major importance to Ben-Gurion, and also because of the location of this exhibition, the curators, quite rightly, have included in this exhibition works by artists with special ties to this region. Neta Elkayam, for instance, was born in Netivot, hometown of Rabbi Israel Abou-Hatzira (1890-1984). Known as the Baba Sali, he was a legendary Cabbalist under whose influence the Negev blossomed spiritually and thousands of Moroccan Jews returned to their religious roots.  Merging the memory of this great man with that of Ben Gurion, Elkayam created a portrait she calls BabaGurion, executed in the spirit and in a style associated with rabbinical portraiture. The pose she has selected, one hand to the forehead, the other resting on a pile of books, may refer both to Baba Sali's reputation as a learned sage, and to the fact that Ben-Gurion read and wrote prolifically, completing his memoirs while living in retirement at Kibbutz Sde Boker.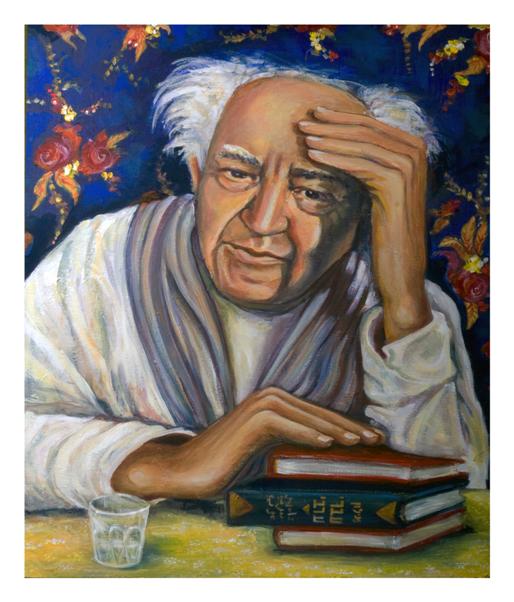 Some of the works by this group of 'Negev' artists voice criticism of Ben-Gurion's settlement policies.  Mother of Mercy, a trio of paintings by Ariel Asseo, is a fine example, supplying, albeit symbolically, the compassion lacking on the part of BG in sending so many new immigrants, his parents among them, straight to the Negev without thought for their feelings and wishes. Using a bleak palette, Asseo paints soulless blocks of apartment housing set against desert and sky. But a miracle has taken place. These bleak buildings are enfolded compassionately in the arms of a cloaked woman, her likeness taken from a 16th century Pieta (Italian for pity) by El Greco where the Virgin Mary cradles her dead son in her arms.
Transported into the 21st century, BG's image is central to Guy Morad's digital print David Ben-Gurion Model 2008, a busy and seemingly humorous scene that is really a negative commentary on our life and times. We are on the beach again, the Old Man is doing his famous headstand, but his body is now supported by only one hand; the other clutches a cell-phone. All around him are signs of material prosperity, self-indulgence and waste. This picture could also have shared the title given to another work, a painting by Tsahi Farber. It shows Ben-Gurion and his wife Paula looking out of a window onto a street where Israelis are celebrating a recent Independence Day by spraying each other with foam. Its title – Well, Was it Worthwhile? 
Long after this exhibition closes, its fully illustrated catalog with its informative texts will remain as an invaluable document illustrating the strengths, weakness and foibles of this great man, as well as a means of assessing his legacy in the light of present day realities. Not all the artwork is of high quality, but in most cases, the message, if there is one, does not overwhelm its artistic content.
The exhibition, open till June 8th, is displayed in two spaces: the University gallery adjacent to the library and the Senate Gallery of the Visitors Center.  
 ANGELA LEVINE