Crocodiles on Your Head, the title of Marsh Dondurma's latest album and illustrated book, conjures an image as hilarious as it is tantalizing and fraught with danger – just the kind of thing children love. It's a fantastic fusion of music and story and I've been having a wonderful time with it, listening to the album and alternating between cuddling up on the couch with the book, and getting up to dance to the music.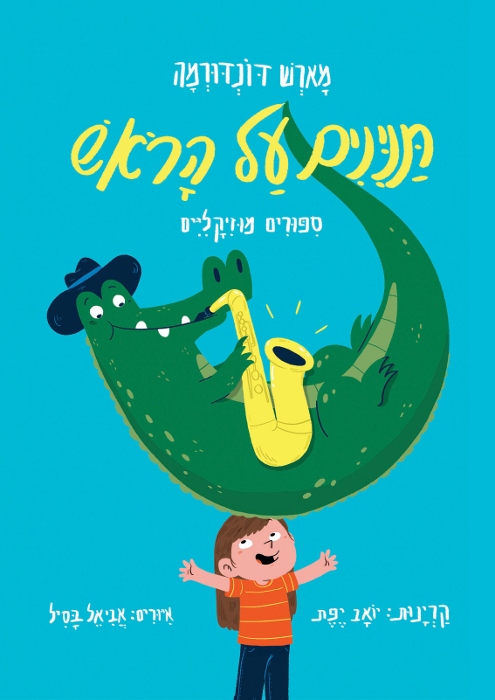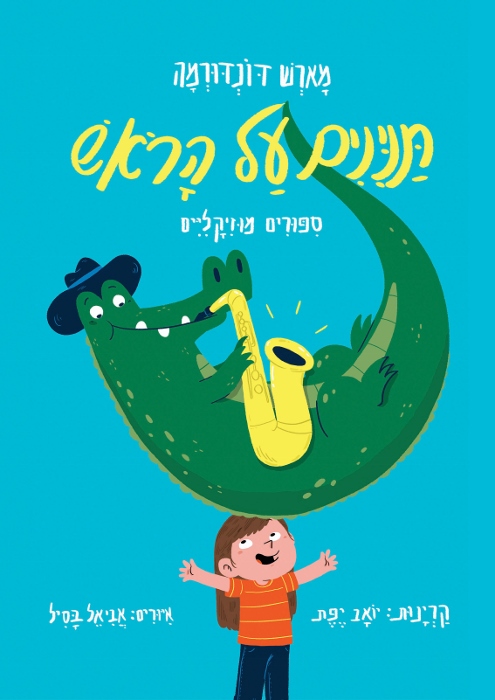 Creating an album accompanied by an illustrated book was a dream project of Dotan Yogev, snare drum player and percussionist (founder of Marsh Dondurma nearly 15 years ago), who sought to recreate the childhood experience of reading while listening, with a contemporary feel. Dreams do come true (especially after a lot of hard work) and Crocodiles on Your Head is so much fun I think actual children will enjoy it too. There's something special about having several senses engaged at once: the tactile feel of holding the book in your hands, turning the pages, seeing the colorful, mischievous illustrations by Aviel Basil, and listening to the stories and music.  Bringing yet another dimension to the experience, Marsh Dondurma present a live concert performance of Crocodiles on Your Head directed by Yarden Bar Cochva and narrated by Yoav Yeffet, which will be performed at the Piano Festival on Saturday, November 16, 2019.
The book and album feature three stories (all narrated by Yoav Yeffet), each with original music: Crocodiles on Your Head – a version of an African folktale, with music by Udi Raz; Maaseh BeHatulayim – a story by Ayin Hillel (pen name of Hillel Omer, 1926 – 1990, Israeli poet and children's author), with music by Aviran Ben Naim; and Kazeh Afifon Bediyuk – an original story by Marsh Dondurma member Noa Segal, with music by Jacob Gorensteyn. In each story, music and text are one, working together to create a narrative arc with a unique feel. Accompanying the stories are three songs – two originals by Udi Raz, and Aviran Ben Naim's arrangement to Shabbat Baboker, one of the most perfect songs (for children or anyone) with music by Yoni Rechter and lyrics by Tirza Atar.
The title story opens in a traditional manner: A family of crocodiles went out for a walk. But then the horns come in with an African groove and the music is always there as the story continues, sometimes as a background instrumental, sometimes as a vivacious chorus that makes you want to join in: "Kama cham, O mama, Kama cham (it's so hot, O mama, it's so hot)." The story takes place in the timeless world of folktales, a more innocent world in which crocodiles tarry to argue with their potential prey, yet a very real world that acknowledges the possibility of being eaten alive. It's a happy world in which the trickster saves the day, and it also offers ample opportunity to reflect on the concepts of greed, revenge, and gratitude. Those who want to dig deeper, or at least wider, will find links to other versions of the folktale below.
The next track is a lively ode by Udi Raz to the shower at the end of the day – so much fun you may want to sing along (I did).
Noa Segal's story about a boy's adventure with a kite reveals a lovely sensitivity to a child's perspective on the world, in which an ordinary morning can turn out to be a birthday with lots of presents. In simple, yet evocative and precise language, she evokes the experience of a wish come true, the realization that things are not always what we think they are, and the joy of discovery and opening up to new experiences. Light as air, Jacob Gorensteyn's music floats throughout the story, ending in song.
As we are in mid-air, birds appear in the next song by Udi Raz. They sing in sweet harmony to an African groove, for that is where they are bound, flying to warmer climes. Why? Because their feathers are cold, of course. But don't worry, they'll be back.
Ayin Hillel captures the sense and nonsense of childhood in his poems and rhymes. Aviran Ben Naim's jazzy take on a tale of two cats – one black and one white – is a fun romp with meditations on friendship and identity, as well as a messy bit of mayhem.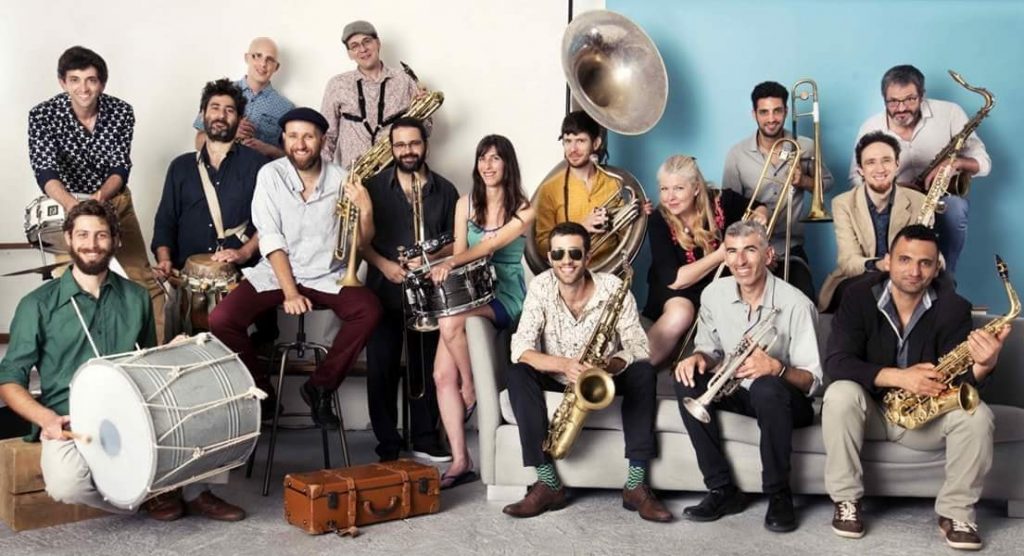 Marsh Dondurma are: Idan Raveh, Eli Preminger, Aviran Ben Naim – trumpets; Luisa Salomon, Maayan Milo, Yaron Ouzana – trombones; Jacob Gorensteyn, Evyatar Levi, Eylon Tushiner, Danny Leibovitch, Anton Falko – saxophones; Udi Raz – Raz – sousaphone; Dotan Yogev, Noa Segal, Oded Aloni, Yair Salzman – drums & percussion.
LINKS:
Marsh Dondurma website, facebook page 
Udi Raz kindly supplied me with links to more versions of the African folktale Crocodiles on Your Head (some are quite violent; you might not want to share them with children):
Alex Haley's Roots: The Saga of an American Family contains a scene in which an elderly woman tells the story to the children. The tale is attributed to the Mandinka tribe, and its lesson is most harsh: "It is the way of the world that goodness is often repaid with badness."
A similar, yet less harsh version (the trickster hare escapes) may be found on the African Story Project. 
The Alligator and the Hunter, a Choctaw legend with a different twist on the theme.