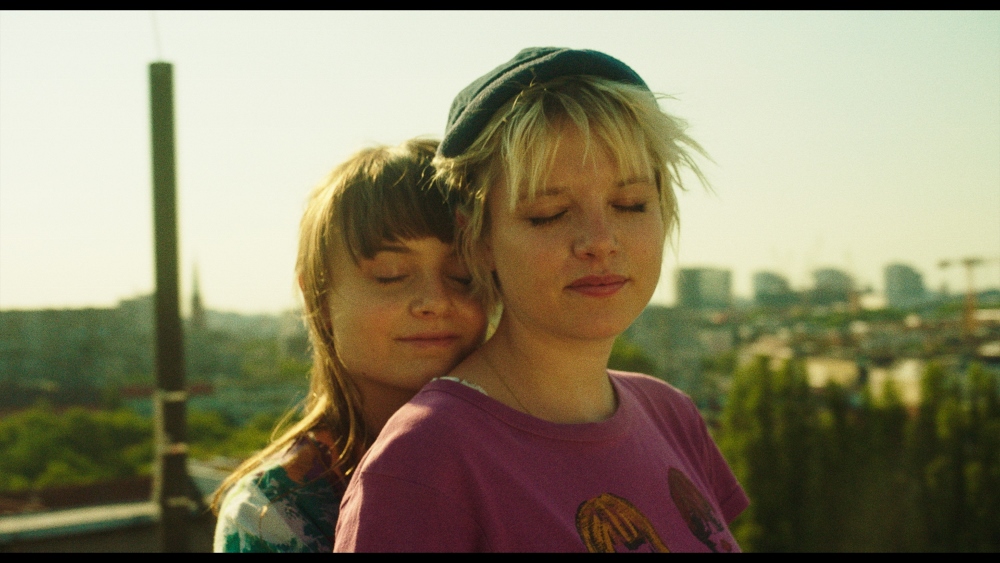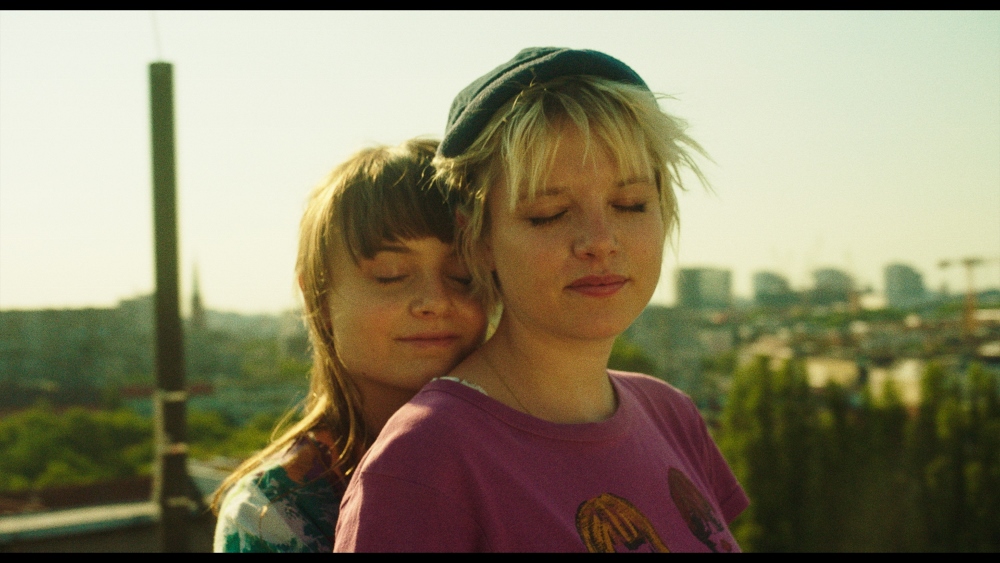 Cocoon is a film I wish I could have seen when I was 14, but at that time, there were no films that reflected the lives of adolescent girls with such honesty. Sensitively observed and shimmering with the warm glow of summer, Leonie Krippendorff's film captures the experiences and relationships of 14-year-old Nora as she, like the caterpillar, grows and changes. Set in Kottbusser Tor, there is a multicultural feeling to the neighborhood, with young people of German, Turkish and Arabic backgrounds hanging out together in school, at parties, and the local pool. Lena Urzendowsky imbues Nora with a wide-eyed intensity, her shy demeanor and quiet gaze reflecting not only a youthful innocence, but an acute awareness of herself and others.
At first, Nora spends all her time with her older sister Jule (Anna Lena Klenke) and Jule's best friend Aylin (Elina Vildanova). She does not appear to have friends her own age, and is a silent tag-along, joining in with the older girls as they take selfies, worry about getting fat, wonder if their crushes like them, hang out at the pool and pub, smoke and drink. Sometimes they treat her as one of the gang, sometimes they ignore her, and sometimes, as older siblings do, they bully her. For Nora, spending time with these girls (who are perhaps about two years older) is like a rite of initiation to the messed-up world of adolescence. The culture of thinness permeates the film, with Jule and Aylin constantly seeking out diet tips, and in one scene, body shaming a school mate. Casual homophobia makes its appearance too, as a boy refuses to walk on the balance beam in gym class because "it's too gay." Peer pressure is a given, it is never challenged, but rather always assumed that one will go along with what the group is doing, even if it is obviously stupid. It's harsh, but accurate.
The relationship between Jule and Nora is deeply affected by their mother's penchant for drink and amiable neglect. Literally left to fend for themselves much of the time, the sisters rely on one another for support. A sister cannot take the place of a mother, and should not have to do so. Although she clearly suffers from the lack of a mother's care and guidance, Nora is far from helpless. Clear-thinking and self-reliant, she does what she needs to do to care for herself, and turns to online videos when she needs advice.
Nora's emerging sexuality is portrayed with delicate sensuality and a sense of verity as rough-housing in the pool with Aylin awakens feelings and sensations that she accepts with pleasure yet wonders at their meaning. Krippendorff conveys the nuances of Nora's sense of identity and ways of relating to the world with precision as she hovers on the brink of adolescence. When the Life Skills teacher has one on one meetings with the students, assuring them that they can ask her anything, Nora is innocent enough to confide in the teacher, telling her that "I sometimes find other girls really beautiful." Yet she is already savvy enough to know she should hide this conversation, telling Jule and Aylin later that she didn't ask about anything during her meeting.
Cocoon is a wonderfully empowering film in Nora's acceptance of her own erotic feelings and sensual pleasure. Her questions to Jule and her teacher reflect a certain childlike naivete, but also the confidence of trusting in her own feelings, and the courage to explore. The metaphor of the caterpillar finds a very literal expression as Nora grows them in her shared bedroom with Jule, yet the close-up shots of the small, furry creature are tender and lovely, creating a visual connection to nature and affirming the universality of change and transformation. As Nora emerges from her cocoon, experiencing the joys, tensions, and sorrows of first love, it is a pleasure to see her spread her wings.
Cocoon will be shown at TLVFEST 200, and will be available for viewing online from November 12 – 22, 2020. Tickets are already on sale, and as the number of views are limited for each film, it is recommended to purchase well in advance. Ticket information is available here: http://tlvfest.com/tlv/he/2020/06/09/cocoon/ 
The full festival program is available in English on the TLVFEST website.
Cocoon
Germany, 2020, 95 minutes, German with English and Hebrew subtitles
Written and directed by Leonie Krippendorff; Cinematography: Martin Neumeyer; Music: Maya Postepski; Cast: Lena Urzendowsky, Jella Haase, Lena Klenke, Elina Vildanova