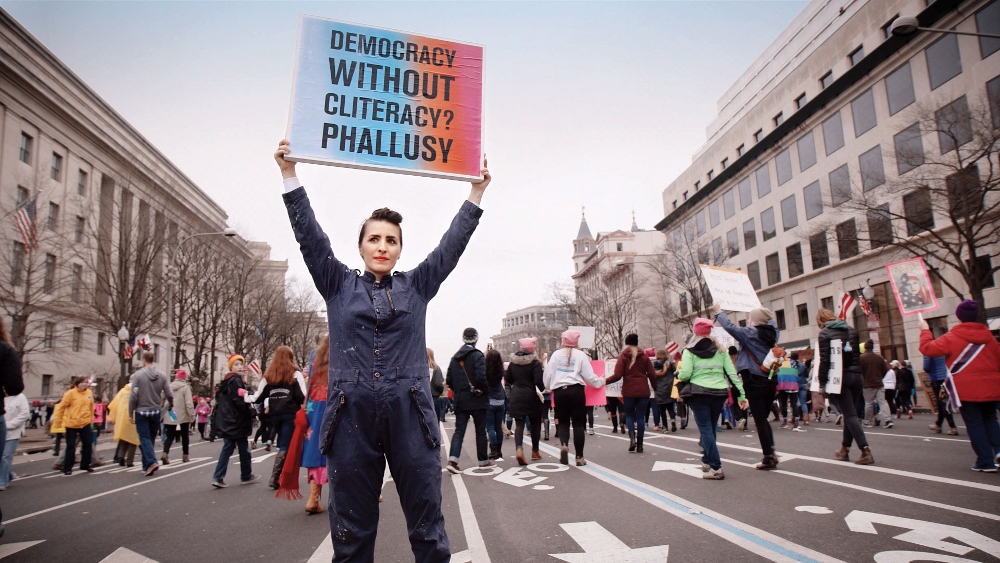 Can you draw a penis? I expect that most people would be able to take on the task with confidence. What about a clitoris? There's more to the clitoris than meets the eye, and although in recent years it has been receiving more attention, historically, in culture and science, female anatomy and sexuality has taken a distant, much overlooked second place. And there is still a long way to go. Maria Finitzo's documentary The Dilemma of Desire, explores female sexual desire from different perspectives – scientific, artistic, personal and political. Engaging, visually vibrant, sex-positive, and empowering, The Dilemma of Desire is a feel-good film that invites reflection and conversation on critical issues in contemporary culture.
Although much of the information presented in the film is grim – the paucity of research on women's anatomy and sexuality, the prevalence of misogyny in many aspects of society, narratives of female sexuality that perpetuate falsehoods, the limiting ways in which girls are brought up, and the lack of sex-positive sex education – it's an incredibly feel-good film because its emphasis is on women taking agency to effect change, in their own lives, and in the world at large. Finitzo focuses on several women with a professional focus on women's sexuality: Dr. Stacey Dutton is a professor who researches the biology of the clitoris; Sophia Wallace is a mixed-media artist whose work celebrates women's sexuality; psychologist Dr. Lisa Diamond's research centers on sexuality, gender, and intimate relationships; and industrial designer Ti Chang designs vibrators from a woman's perspective. The documentary also followed the personal lives of several women – Umnia, Becca, Jasmine, Sunny and Coriamma – over a period of nine months. Talking about their sense of self and sexuality, education, family, work and relationships, as they hang out with friends and family or talk to the camera, these women provide an intimate look at the diversity of young women's lives today.
Is the clitoris so very neglected in science research? Dr. Stacy Dutton quotes figures from Pubmed, a free, online, database of research literature in the biomedical and life sciences. Searching the term "clitoris" she came up with 2,194 references. There were 46,240 for the term "penis". As a skeptic, I had to try this search myself, and it's still, sadly, true: I found 50,633 citations for "penis" and just 2,440 citations for "clitoris". That's at least one of the reasons so little is known about the clitoris and female sexuality. Get on it, scientists! Sophia Wallace's Cliteracy project, with its "100 Natural Laws" is a visually compelling bright filament woven throughout the film, with images of the clitoris in sculpture and two-dimensional media, and thought-provoking catchy maxims such as "The hole is not the whole." Although the film's primary focus is on female sexuality, a stunning montage of Wallace's photographs contributes to the film's breadth of perspective with images of queer women, women of color, trans men, gender-queer people, of whom Wallace says: "this was my world and this was what I was trying to show that was so unseen."
In Dr. Lisa Diamond's classes in Salt Lake City, Utah, students are eager to explore issues of sexuality, a topic that in many of their homes was not at all open to discussion. Ti Chang's elegant vibrators are designed with women's pleasure in mind, rather than the assumption that a vibrator ought to resemble a penis.  The personal journeys of Umnia, Becca, Jasmine, Sunny and Coriamma are very relatable and moving. It is especially interesting to follow them over a period of time, as their lives, thoughts and feelings grow and change. The film also provides points for further exploration, referencing literature, art and politics. Audre Lorde's essay Uses of the Erotic: The Erotic as Power is quoted on several occasions: "As women, we have come to distrust that power which rises from our deepest and nonrational knowledge." The work of several artists is referenced as well: Suzanne Lacy, Emma Sulkowicz, Kara Walker, Carolee Thea, and Kathleen Gilje. Scenes of Anita Hill's testimony before the Senate Judiciary Committee from 1991, and Christine Blasey Ford's testimony in 2018, serve as a reminder of the ways in which prevailing false narratives of female sexuality harm and impact all women's lives in the public, political, and personal spheres.
The Dilemma of Desire will be shown at TLVFEST 200, and will be available for viewing online from November 12 – 22, 2020. Tickets are already on sale, and as the number of views are limited for each film, it is recommended to purchase well in advance. Ticket information is available here: http://tlvfest.com/tlv/he/2020/10/12/the-dilemma-of-desire/
The Dilemma of Desire
USA, 2020, 108 minutes, English with Hebrew subtitles
Directed by Maria Finitzo; Production: Maria Finitzo, Cynthia Kane, Diane Quon