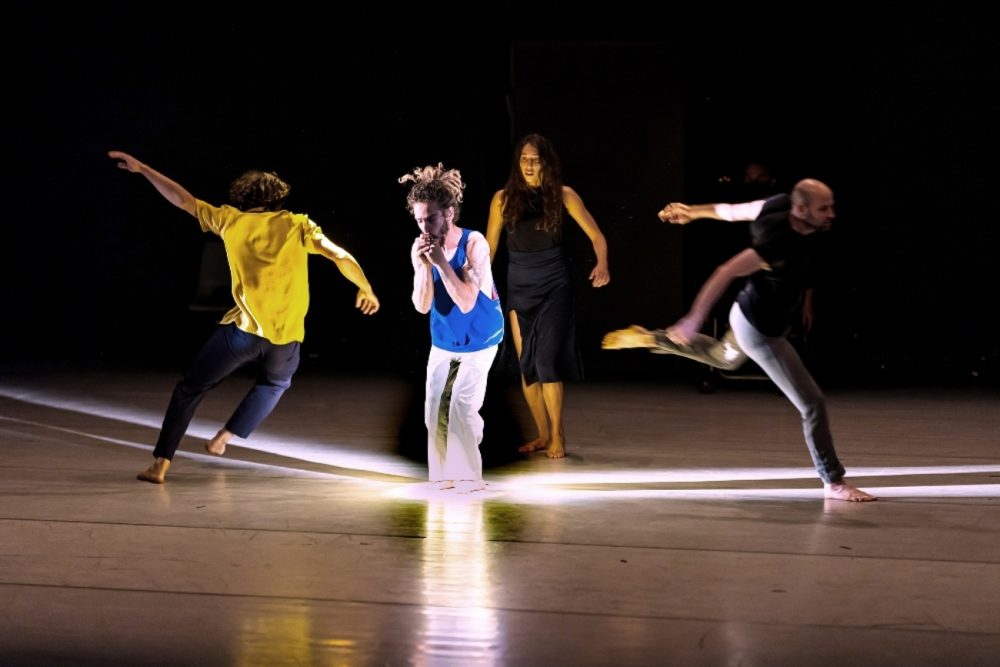 "Constantly risking absurdity/and death/whenever he performs" – in this poem Lawrence Ferlinghetti refers to the task of the poet, yet these words resonated within me as I watched Shape On Us, by choreographer Sharon Fridman and Vertigo – Power of Balance in its premiere this past summer at the Israel Festival 2020. Power of Balance, established in 2000 by Tali Wertheim and Hai Cohen, focuses on integrated dance with an emphasis on contact improvisation. Created with an ensemble of dancers with mixed abilities, Shape On Us is an invitation and a challenge – to the audience as well as the performers – to risk parting from familiar patterns and expectations, to explore moving differently, seeing differently. Now, as the restrictions imposed due to the pandemic are being lifted, and the cultural scene is coming to life once more, Shape On Us returns to the stage with performances in Jerusalem, Tel Aviv, and Ganei Tikvah.

Shape On Us is a wonderfully inventive, playful, lively, intensely physical and emotionally evocative work that raises myriad thoughts on disability, social conventions, aesthetics, and our discourse on disability. There's a lot going on here, and a lot to unpack – intellectually, and emotionally. It is an invitation to think about the ways in which our bodies move, the ways in which we experience and use our bodies; the ways in which we experience the world and relate to others, each from our individual body and consciousness. Fridman's choreography reflects a deep exploration of movement and the possibilities inherent in our different bodies. It is a work full of movement, often with different narratives taking place in parallel. Visually striking, it's immensely appealing, with nuances of shape and form drawing the gaze in close. It takes up space, reaching and moving through the entire performance space in all dimensions; at any given moment, the composition is riveting.
A compelling aspect of this work is the use and non-use of crutches and wheelchairs. These props are employed in different and imaginative ways throughout the work, yet always working with, and enhancing the layers of associations and meaning created in the piece. Yet even more powerful are the scenes in which dancers who usually employ crutches or a wheelchair perform choreography without those aids, exploring all the possibilities of movement and dance.
Shape On Us reflects the first-person experience of disability, as well as the social response to disability. In its exploration of the human body, individual and collective, there is a sense of endless possibility and transcendent beauty.
Performances:
Jerusalem Theatre – Sunday, March 21st at 20:30
Suzanne Dellal Centre, Tel Aviv – Wednesday, March 31st at 21:00; Thursday, April 1st at 18:00 and 21:00
HaBama Centre, Ganei Tikvah – Thursday, April 29th at 20:00
Tickets are 140 NIS and may be ordered from Vertigo Dance Company https://vertigo.org.il/vertigo-company/power-of-balance/