International travel may not be easy or even possible for many of us these days, but the Jerusalem Film Festival, which will take place from August 24 – September 4, 2021, will be bringing a diverse lineup of intriguing films from around the world, including major award winners from leading festivals, and debut films from emerging directors. Although our passports may be sitting at home in a drawer for a while longer, we can still travel through films that will take us to new vistas of sights, sounds, thoughts, and feeling.
Some recommendations for cinematic travelers: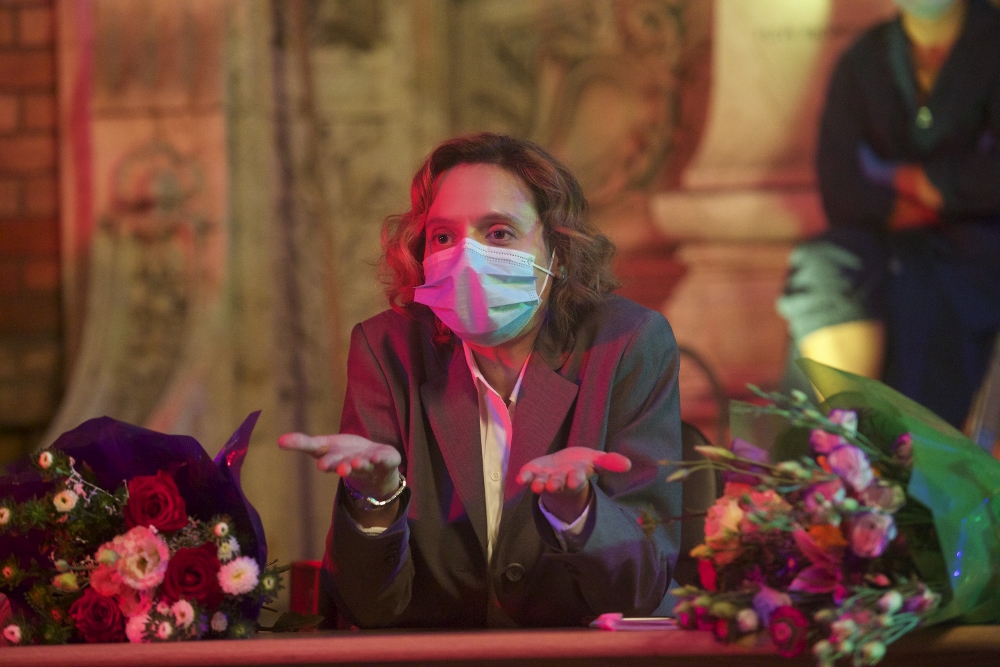 If you like your comedy bold and bawdy, with a bite of social/political critique, Radu Jude's Bad Luck Banging or Loony Porn is the film for you. I enjoyed it immensely. In my review of Jude's 2018 film I Do Not Care if We Go Down in History as Barbarians, I wrote that the film has an "intentionally jarring opening." Jude appears to be a filmmaker with a penchant for thought-provoking openings, as this, his latest film, opens with an explicit sex scene. The sex appears to be mutually pleasurable, and even family centered, as in mid-session there is a brief conversation between the woman and someone outside the room (perhaps a grandmother) about the importance of sanitizing toys before the child of the family plays with them. Radu shot the film during the current pandemic, and while it is not about COVID 19, the pandemic and its consequences are always in the background.
As it turns out, the woman in question is Emi (Katia Pascariu), a schoolteacher, and the video has somehow circulated extensively online. Irate parents have insisted on an emergency meeting, and Emi is on her way. With an abrupt shift in style, the film now follows Emi, dressed in a subdued gray suit, as she walks through the streets of Bucharest. There is a documentary feel to this part as the camera takes in signs of globalism, the damage wrought by the pandemic, and a climate of anger and violence simmering just beneath the surface; as well as the way life goes on, like a flower growing through a crack in the sidewalk.
Then the film shifts again, presenting a "dictionary of anecdotes, signs, and wonders." Note to viewers, the dictionary is of course in alphabetical order in Romanian, but the subtitles convey the meaning. Incisive critique flashes by almost too fast to comprehend, calling out racism, sexism, fascism and complicity in the Holocaust; themes that the director has engaged with in past films. It's riveting, occasionally funny, and often horrifying. Let's circle back mentally to the film's opening scene – graphic sex is considered shocking enough that I felt I ought to warn readers. What about the violence (hatred, corruption, lies) that permeates our lives and screens? That requires no warning, as we have become so accustomed to it.
Once that visually and intellectually intense layer of meaning has penetrated the viewer's consciousness, the film returns to Emi's plight. It is in this final chapter that one comes to know the character a bit better, as she confronts the masked and socially distanced parents in a scene that verges on the surreal as it unmasks the hypocrisy, voyeurism and prejudice of Emi's accusers. It is also hilariously funny. Bad Luck Banging or Loony Porn was awarded The Golden Bear at the 2021 Berlin Film Festival.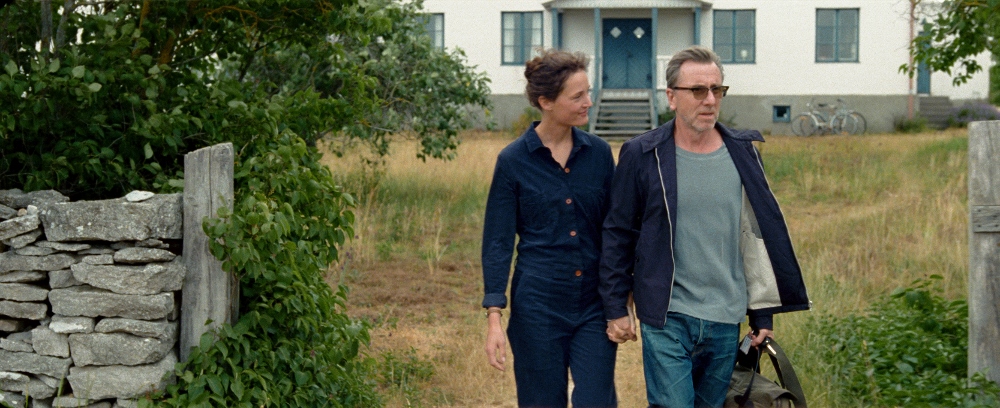 In Mia Hansen-Løve's Bergman Island, filmmaking couple Tony (Tim Roth) and Chris (Vicky Krieps) are off to Fårö, an island in the Baltic Sea, with its unique rock formations, green serenity and rugged shores, to commune with art, nature, and the legacy of filmmaker Ingmar Bergman. Bergman first discovered the island while scouting locations for Through A Glass Darkly, and shot several films there, including Persona, Shame, and Scenes from a Marriage; eventually making the island retreat his home. The island and the film are immersed in Bergman's legacy, there's even a "Bergman Safari" tour. The looming presence of the filmmaker arouses an uneasy mixture of admiration and anxiety in Chris, the lesser known of the couple. Tony appears blithely unaffected in general, perhaps too busy with the activity generated by his own films to concern himself with comparisons to the master filmmaker. Staying in the house where they are told Scenes from a Marriage was filmed in one of the bedrooms, cannot bode well for this couple.
Chris, feeling stuck in her writing, has more time to explore, reflect and worry. The landscape is alluring, and Bergman's home on the island holds just as much mystique for cinephiles and anyone who appreciates design. Yet most compelling in this film are the not-quite-parallel lines Mia Hansen-Løve draws between art and life. Despite the differences, it does not take a huge leap of the imagination to sense that Tony and Chris may be patterned after the director's relationship with filmmaker Olivier Assayas. That connection takes on a dizzying meta-aspect as Chris tells Tony about the script she's writing, the story of her first love. And that's where Bergman Island travels to an intriguing destination. Chris's fictional story of Amy (Mia Wasikowska) comes to life onscreen, yet for the viewer, the relationship between Amy and the lost love of her youth Joseph (Anders Danielsen Lie) is just as real as that of Chris and Tony.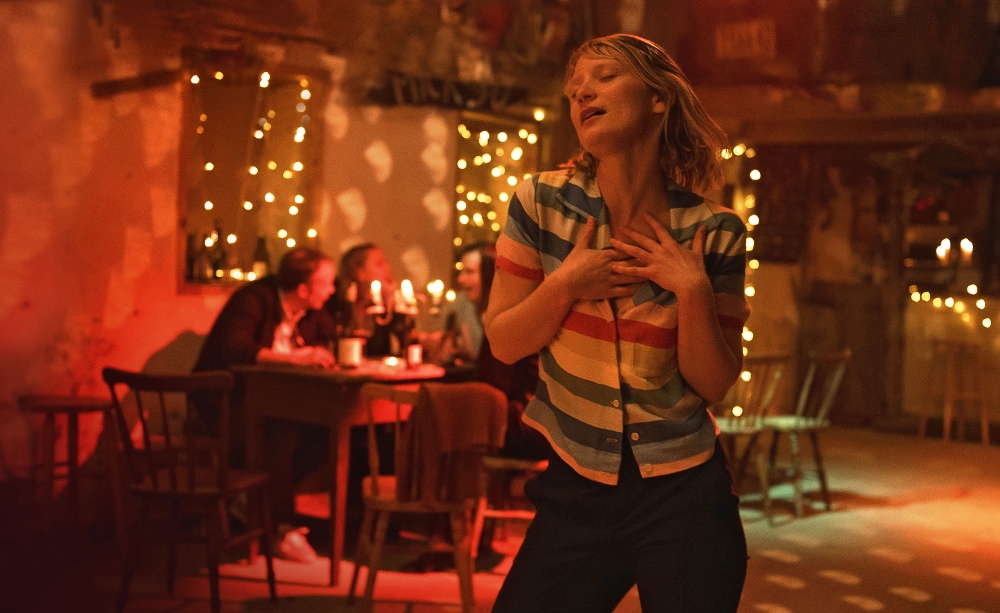 Moving smoothly between its different narratives, the film abounds with elusive hints, myriad traces that are too faint and too numerous to follow, like footprints on a sandy shore. One of my favorite moments in the film is when Chris, during a dinner conversation on the topic of – who else – Bergman, is visibly disturbed to learn that he had nine children without much involvement in their upbringing. She wonders whether it is possible to "create a great body of work and raise a family at the same time." It's a blunt moment in an otherwise lyrical film, suggesting the sharp rocks and dark abyss hidden beneath the smooth surface.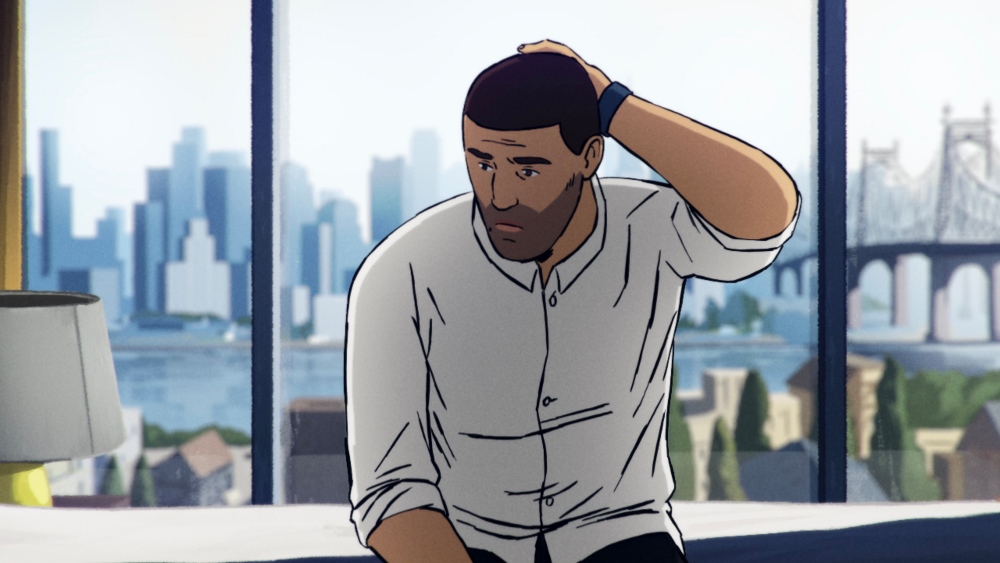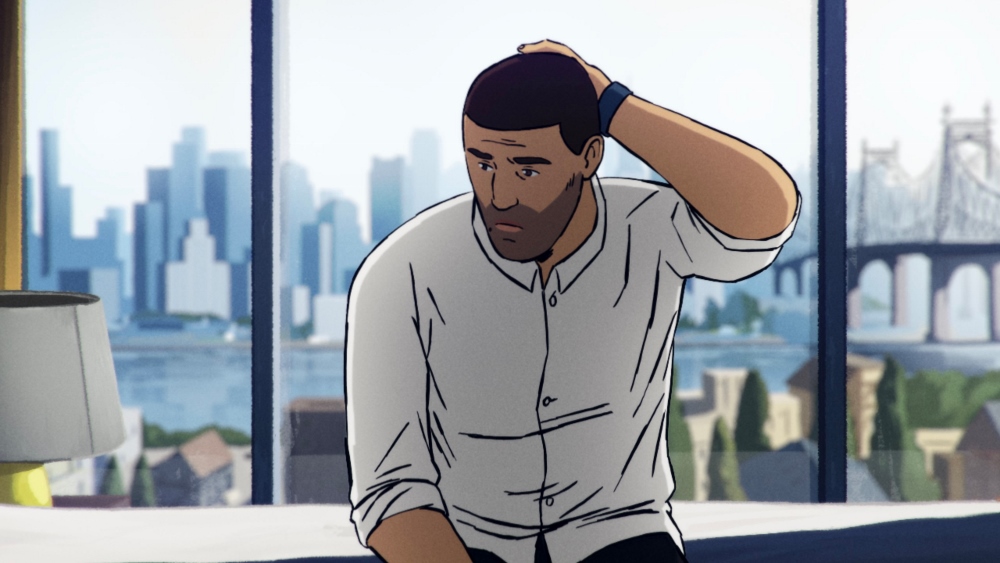 Art finds a path to those places so difficult to reach that one rarely ventures there. In Flee, directed by Jonas Poher Rasmussen, animation enables Amin to tell his story, a story of escape, exile, and reinvention; a story that is almost impossible to tell. Amin Nawabi (not his real name) was born in Afghanistan, and after a tortuous journey eventually came to live in Denmark. There he met Rasmussen while in high school. Yet although their friendship goes back many years, thus enabling the trust involved in telling the story of his escape, as it turns out, there are still some surprises ahead.
Amin and his story are sensitively rendered in 2D animation, protecting the secret of his identity. Although the viewer encounters Amin as a successful academic, who has a loving partner – Kasper, it becomes more and more apparent as the film progresses that the burden of his harrowing past is still painfully present. Presented as an interview between Rasmussen and Amin, the friendship between the two establishes an intimate atmosphere, a safe space. Amin's recollections are augmented by live-action archival footage documenting events in Afghanistan. At times, the art shifts to more abstract black brushstrokes, suggesting the ephemeral quality of memory.  As Amin's narrative unfolds, it becomes apparent that his exile is not only from the country of his birth, but from his sense of self. Picking up the journal he kept upon his arrival in Denmark, he struggles to read his first language, Dari. His sense of identity, friendships, and direction in life are all implicated by his experience as a refugee. As Amin slowly reveals himself to Rasmussen, and by extension to us, we experience not only his suffering, but the wonder of this trust. It is a moving gift, and with it, comes the hope of healing. Flee premiered at Sundance 2021, where it won the Grand Jury Prize in World Cinema Documentary. It then won the award for Best Feature Film at the Annecy International Animation Festival.
Bad Luck Banging or Loony Porn, Bergman Island and Flee will participate in the International Competition at the Jerusalem Film Festival. The festival will take place from August 24 – September 4, 2021. Tickets are available on the festival website: https://jff.org.il/en