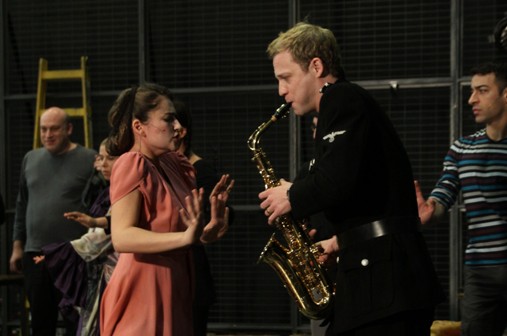 The Cameri Theatre will host the European Theatre Convention (ETC) General Assembly, which will take place October 28 – 31, 2010, under the theme of "Multilingualism in the Theatre of the Future." This occasion will be the first time that this event takes place in Israel. 50 directors, dramaturges, and theatre directors from 17 different countries will convene in Tel Aviv, for the official opening ceremonies that will take place at the Old City Hall in Bialik Center, under the hospices of the Mayor of Tel Aviv, Ron Huldai and hosted by Yael Dayan, Chair Person of the City Council.
The first session will take place on Friday, October 29 at the Cameri Theatre, in the presence of President Shimon Peres, with opening remarks by Noam Semel, Director General of the Cameri Theatre and Jean-Claude Berutti, President of the ETC.
Prof. David Alexander will chair a panel on political satire in Israeli theatre, with the participation of Omri Nitzan, Joshua Sobol, Edna Mazia, Ori Egoz and Ram Levi. The panel will be followed by an open discussion on the current hot topic of performances in Ariel.
The afternoon sessions will be devoted to "Multilingualism in the Theatre of the Future," moderated by Dubravka Vrgoč, Vice president of the ETC, with the following speakers: Haris Pašović, Artistic director of the East West Theatre Company; Jean-Claude Berutti, President of the ETC; and Tomaž Toporišič, Dramaturge, Translator, Mladinsko Theatre Ljubljana.
Rivka Meshulach, Chief dramaturge and translator at the Cameri Theatre will give a talk on "A multimodal approach to overcoming the language barrier", while Ohad Levitan, Chief video technician and Shira Yovel, responsible for subtitles at the Cameri Theatre will provide a "Presentation of technical aspects," and Omri Nitzan, Artistic Director of the Cameri Theatre will discuss the "Relationship between actors and directors in surtitled performances."
As part of the General Assembly, participants will have the opportunity to see several Cameri productions with translation. Ghetto, by Joshua Sobol, directed by Omri Nitzan, will be performed with English surtitles on Thursday, October 28 at the Herzliya Theatre. On Friday, there will be three plays with English surtitles at the Cameri Theatre: Hamlet, by William Shakespeare, directed by Omri Nitzan, Oh My God, by Anat Gov, directed by Edna Mazia; and Thrill My Heart, by Hanoch Levin, directed by Udi Ben Moshe. These English surtitled performances are part of the Cameri schedule and tickets will be sold to the general public. Additional information can be found on the Cameri website.
Founded in 1989, The ETC is a professional platform for theatre practitioners that encourages the intercultural dialogue, organizes meetings, invests in education and training opportunities and initiates research and publications in the fields of translation.
This meeting of the ETC General Assembly is produced by the Cameri Theatre with the support of the Ministry of Foreign Affairs – KASHTUM, the Tel Aviv Municipality and the Rich Foundation.