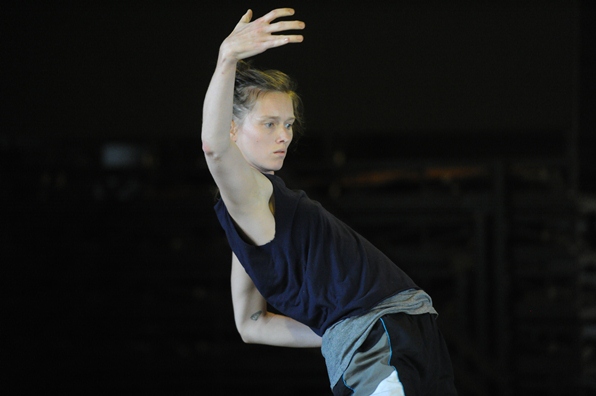 Sugar? Making cotton candy in the entrance to the studio, the dancers smiled and greeted each new guest with the sweet greeting, offering their wares: Sugar? Surprising, inviting and creating a carnival-like giddiness as I walked in, where another surprise awaited: Uzi Feinerman with a banjo in the middle of the studio by a small pine tree, playing and improvising as the audience came in for the Batsheva dancers' performance of "Surrealism in Alaska." There are some musicians that I am always glad to see anytime on any stage, and Uzi Ramirez is one of them. If you are wondering why, just listen. A dancer in a cowboy hat walked onto the stage area, sat in Uzi's lap and lit a sparkler that danced in air as the lights went down. Magic.
One of the pleasures of watching the Batsheva dancers in any performance is that beyond their physical exuberance and mesmerizing expressive abilities, their presence onstage as individuals, even within the context of an ensemble scene, never fails to move me, as each dancer's interpretation takes the movements to different realms of association. Batsheva Dancers Create is a program now in its ninth year, and I have been following these performances with curiosity and enjoyment for most, if not all those years. Through the support of the Michael Sela Fund for Cultivation of Young Artists at Batsheva, the dancers create an entirely independent evening, taking on all aspects of the performance: choreography, dance, music, costumes, lighting design, set design, production and marketing. For the dancers, it is an opportunity to experiment and learn, for the audience these performances are a marathon of short works, an explosion of creative energy.
Surrealism in Alaska was one of my favorite journeys with Batsheva dancers, a long strange beautiful trip, tantalizing the senses and imagination. Excellently conceived and meticulously produced, presenting a diverse selection of 11 works of contemporary dance, with touches of visual theatre and performance art, in which all elements – dance, music, lights, look – came together with a clear sense of artistic vision. Even the cleanup during intermission was fun, elegantly carried out by dancers clad in LBDs and heels. To put it more plainly, although I connected to some works more than others, there was not a single work that inspired that "what were they thinking?" feeling.
Yes, readers, all of you who were not there missed a wonderful program. Just a taste of the sweet diversity:
There were several solos: Doron Raz in Scarlet (choreography: Iaara Moses) – a sensual undulating creature her open curving fingers at times reminiscent of a beast of pray, at times clasped in prayer; Iaara Moses in Ziji (choreography: Luc Jacobs) black lace top and a far-away look of another era as smooth dance moves erupt into powerful emotions; Blackbox (choreography & performance: Chen-Wei Li) took a very different direction as she walked onto the stage in a white dress with white knee socks, clutching two large pillows and a stool. Scissors and two plastic guns, as well as string and a flashlight were given to audience members with precisely gestured instructions: "cut me," "shoot me," "wait for my signal." Evoking thoughts of Marina Abramovic, the eventual progression of events was more allusive than violent.
A slash of light on the bare leg of a dancer opened Lobes (choreography & performance: Stav Struz) as the rooms' dimness lifted, a male dancer (Ori Ofri) was revealed on the floor, the eloquent motion of her hands above his body moving him without touching, evolving into a tender and violent duet. Arrowed (choreography: Bobbi Jene Smith) reflected a very different sensibility: two dancers (Shamel Pitts and Rebecca Hytting) sat opposite one another in a situation that was somewhere between an audition and interrogation, as Shamel impassively directed questions and instructions at Rebecca, varying rhythms and intonations as she was tested physically and emotionally, creating a connection between the word, action, imagery and emotional connotations.
Abstract and angular, dancers Rachel Osborne and Rebecca Hytting eloquently almost connect in recurring images of an arm outstretched, the space between them diminishing yet never quite disappearing, save for brief moments of physical contact in Shelly & Sarina (choreography: Guy Shomroni). Rock Bottom Riser (choreography: Iyar Elezra) dives into the depths, featuring Erez Zohar in a dark business suit and Iyar Elezra in a black and neon green bathing suit, eyes marked with a slash of black, moving through a small square of light on the stage in flickering light, a duet marked by struggle and dark overtones.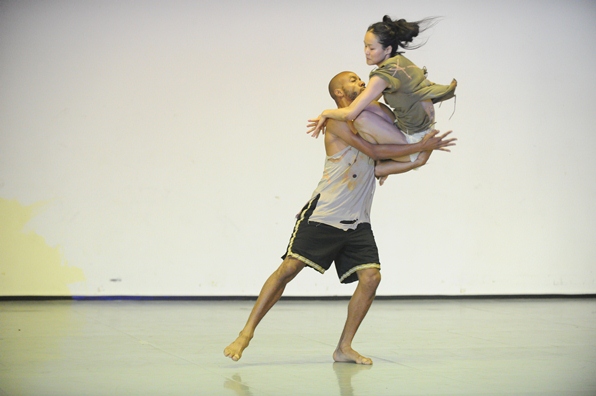 Flesh (choreography: Chen-Wei Li) is all body in motion as it leaps, crawls and spins with rough playful energy, and small moments of intimacy between dancers Shamel Pitts and Chen-Wei Li.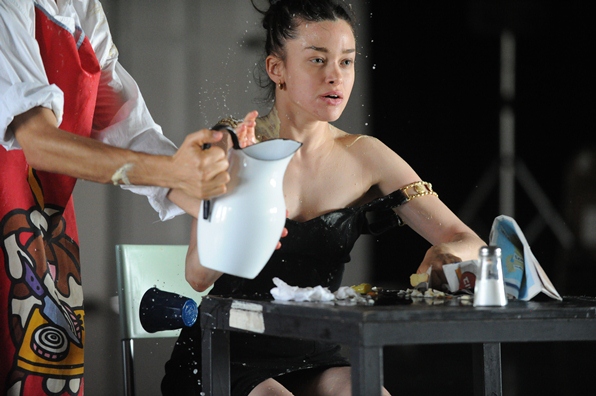 Dinner (choreography: Eri Nakamura) is a funny, erotic feast with a delightfully transgressive feel, as chef/waiter Shahar Binyamini satisfies the hunger of customer Iyar Elezra, who in turn involves the audience in a surprising and mischievous way.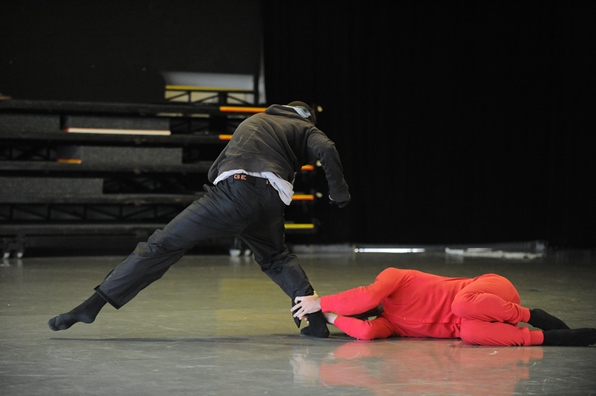 Peering from the Bent Tip of a Grass Blade (choreography & video: Ian Robinson) is a work for four dancers (Matan David, Doug Letheren, Rachel Osborne, Ian Robinson) evoking associations of inner urges and demons, the tension between what is revealed and concealed. Mutual Market (choreography: Shahar Binyamini), the closing piece of the program, is immersed in feminine sensuality and presence. The piece opens with four female dancers (Eri Nakamura, Adi Zlatin, Bobbi Smith, Iyar Elezra), each holding a see-through plastic bag in each hand. Approaching the floor in a slow plié, the bags are released on contact and the water spills and spreads on the floor. Moving in slow unison on the floor, their images reflected in the water, an individual occasionally rippling through the unison. On the wall behind them, a video shows a woman fully dressed underwater, holding two plastic bags literally over-flowing with colorful fruits and vegetables that slowly float upwards. A male dancer enters the stage area, his back towards the audience, gazing at the screen. One by one the other dancers enter, standing silently watching the screen as the lights go down.
Surrealism in Alaska was artistically directed and produced by Iaara Moses and Bobbi Smith; Production Manager: Ruti Tevil; Lighting Design: Alexander Sherbakov; Performance Manager: Luc Jacobs and Yaniv Nagar; Technical Director: Roni Cohen; Sound: Dudi Gal; Dressing: Shoshi Or-Lavi.