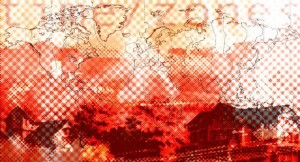 The Center for Contemporary Art in Tel Aviv (CCA) will present time/zones – Relay Station, a tribute to John Cage celebrating the 100th anniversary of the composer/philosopher's birth on Thursday, August 30, 2012 from 20:00 – 23:00. Entrance is FREE.
time/zones is an installation/performance reflecting on the division of the planet into different time zones, with performance, recordings, and video that relate to John Cage's Variations IV. The entire evening represents a relay station for the main event of the Lose Combo ensemble in Berlin, joining other relay stations located in Chicago, New York, Glasgow, Toulouse, Istanbul, Cairo, Tokyo and others…
Links:
CCA site and facebook
Lose Combo site (German)
CCA, 5 Kalisher Street, Tel Aviv. 03-5106111.
Artistic director: Tilda group: Yoni Niv, Adaya Porat-Kligler, Elad Shneiderman; curator: Adaya Porat-Kligler; Lose Combo curator Berlin: Jörg Laue; assistant curator Berlin: Christine Plada.