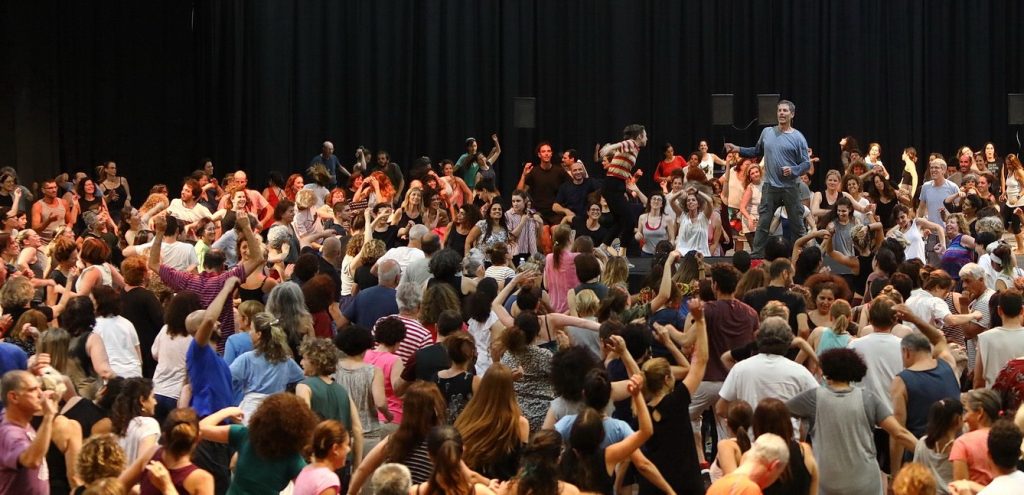 Ohad Naharin, together with Gaga teachers and members of the Batsheva Dance Company will hold a mass Gaga class for the general public on Sunday, May 26, 2019, at Hangar 11, Tel Aviv Port. Proceeds from this event will be donated to the Association for Civil Rights in Israel. Doors open at 19:00, and the class starts at 20:00. An after-party with DJ Boutrous will begin at 21:00.
Gaga is the movement language developed by Ohad Naharin to work with his dancers. If you want to understand the mystique of that exhilarating WOW feeling you get when you watch a performance by the Batsheva Dance Company – Gaga is a big part of the secret. The wonderful thing about Gaga from my perspective is that it is not just for dancers – not at all. Gaga is very much an individual experience – no matter how large the class size – your experience is your own, and you alone determine the level of effort and difficulty. But most of all – it's FUN!!!
The event is open to people age 16 and up, of all abilities, no prior experience with Gaga or dance is required. Wear comfortable clothing and don't bring a lot of stuff, there is no storage available on site. The event will be photographed and filmed, other than the official photographers, photographs are not allowed during the class.
Advance tickets are 65 NIS and may be ordered online via this link.  Tickets at the door are cash only, and the price will be 75 NIS. The event will be filmed and photographed, and other than the official photographers, picture taking is not permitted.
For additional information call: 03-5446999